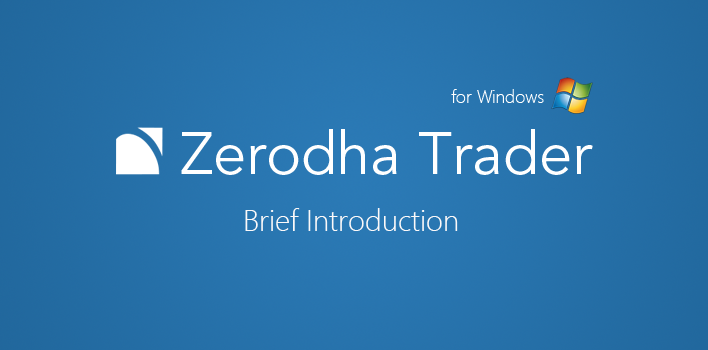 Zerodha Trader (ZT) Introduction
ZT is what we call the downloadable software version of our trading platform. The software is developed by Omnesys Technologies under their proprietary name "NEST." NEST is the preferred choice of some of the biggest retail brokerage firms in India. Omnesys Technologies is headed by Mr. Shrikant Pandit and NSE (National Stock exchange) is a key stakeholder. Omnesys has also developed the NSE proprietary trading platform called "NOW." NEST is very popular among the institutional trading community in India.
Presently on Zerodha Trader (customized version of NEST), you can trade equity, commodity, f&o and currency on NSE, BSE, MCX-SX & MCX.  Zerodha Trader has many advanced features and we will explain about all of it in this category on Z- Connect.
Zerodha Trader works well on Windows and the version for MAC/LINUX is currently not stable.  This would require internet speeds of at least 256 kbps and 512 Kbps for optimum performance. Since it is a software version, you will not be able to use it if you are working in an office where you are not allowed to install external programs or if there are firewalls blocking streaming quotes. You can use our web or HTML5 version in that case.
We will put up posts on ZT for :
1. Installation of the platform and explanation on the various basic features.
2. Using the SPAN calculator, a unique tool available on ZT which will show you the margin requirement even before you take a trade. It will also show you the exact margin benefits offered by the exchange for taking positions that are hedged against each other.
3. Using our charting platform.
4. Advance plugins available through Nest Plus,  auto trading plugins, backtesting strategies and much more.
Do feel free to post any query at the end of each article and we shall answer it on the blog itself, this way everyone reading the blog with similar queries will also be benefited.
Happy Trading