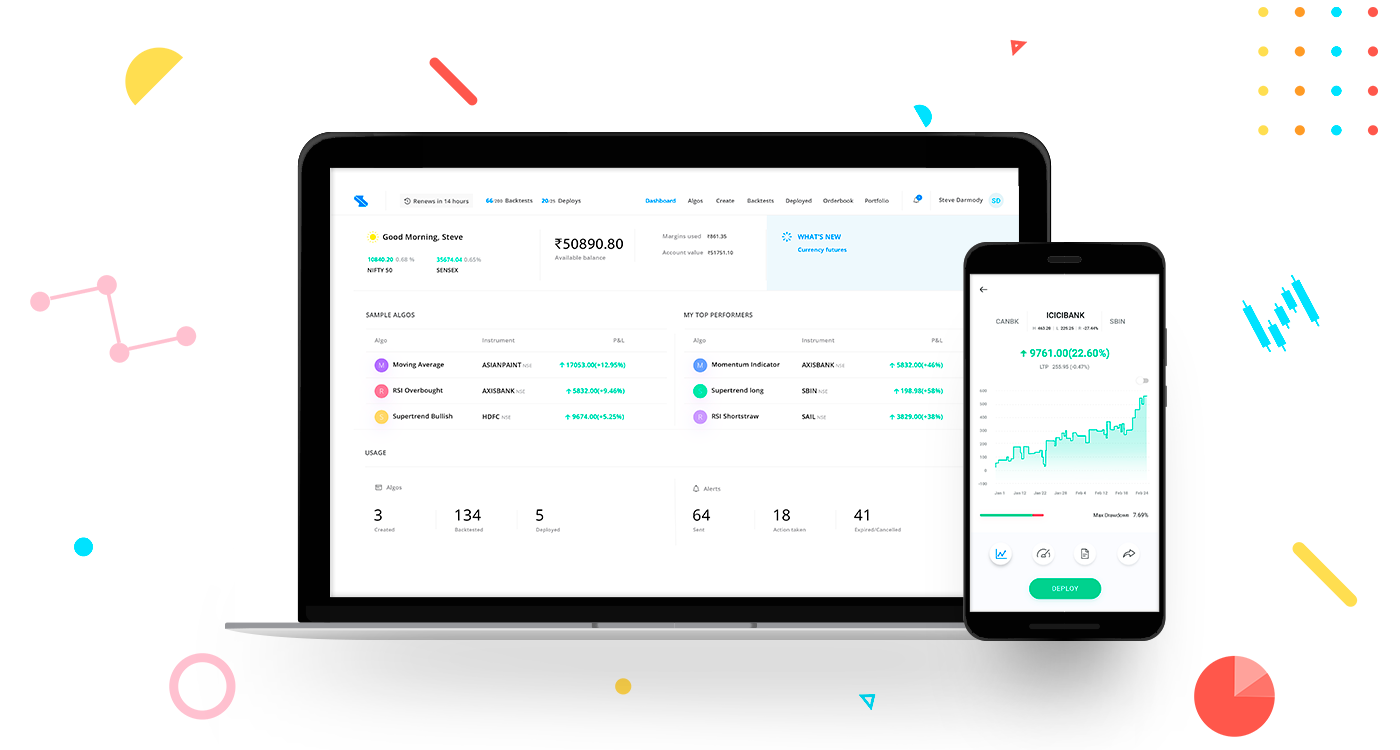 Dear Traders,
We are super excited to announce the launch Streak 1.1. It's just better in every way.
Streak is the world's first retail algo trading platform that requires NO coding skills.
We believe in levelling the playing field, by bringing state of the art algo trading technology, so far accessible only to professionals and institutions, to everyone and making it affordable to the masses. Our goal is to democratize algo trading and we are just getting started. We have built our tech from the ground up in India, for the world.
The journey so far
We started off with wanting to enable every trader and investor to Create, Backtest, and Deploy trading algos live in the market in a minute, without writing any code. After just 10 months, our 32000+ clients speak for us. Even with a limit of 200 backtests per day, per user, over 1,00,000 algos have been created on Streak's intuitive algo engine. Our users have run over 35 lakh backtests, deployed over 1.8 lakh algos and have received over 1.2 lakh actionable notifications. Be it MIS or CNC, orders have flown to the exchange every single day and over 75,000 orders have been placed by Streak.
Visit us at https://streak.tech or download the mobile app on the Google Play store to get started.

Streak works in 3 simple steps:
Create
Streak's all-new new interface is simple, intuitive and ridiculously easy. It lets you create algos under a minute.
It is as simple as typing out technical indicators, keying in stop loss and target profit percentage and selecting the stocks you want to trade with.
Streak has 60+ technical indicators that you can use to create more than 1 million unique algos with various combinations.
You can see a detailed list of our technical indicators here.
Backtest
Streak has one of the fastest backtesting engines in the world that generates performance metrics for multiple stocks in just a click. The backtest results include maximum gains, maximum loss, average gain per winning trade, average loss per losing trade, maximum drawdown and much more. These metrics give you a comprehensive idea of your algo's performance.
Why is backtesting required?
Backtest essentially means testing a trading strategy on relevant historical data before you risk any actual capital. It is important to analyze the levels of profitability and risk before taking any trade in order to gain insight into the effectiveness of a trading idea.
Deploy
Once you deploy an algo on Streak, you no longer have to track the stock manually. Streak bots track the stock movements for trade signals and send one click actionable alerts when all the conditions in a strategy the strategy conditions are met.
You can select up to 20 scrips at a time in a single algo and deploy it them all at once.
Get notified
With Streak's cloud-based technology, you can access all your algos anytime, anywhere. Track the market real-time, get actionable alerts, and manage positions on the go. When your algo triggers entry or exit trade signals, you will receive notifications on both the website and the Streak app and you can place an order with just a click.
Streak Access:
You get a 7-day free trial of Streak and you can use the platform extensively by creating multiple algorithms, with a limit of 50 backtests and 5 live deployments backtesting limit of 50 every day and deploy up to 5 live algos at any given time.
As a launch offer, the basic plan worth Rs 500 is free for all the 900,000 + Zerodha clients till 31st of July 2018. You will have to subscribe, in order to access the daily limits of 200 backtests a day and 25 live deployments.
Get started
We have compiled a set of videos and a step by step guide on how to use Streak, to help you get started.
| | |
| --- | --- |
| | |
| Getting started | User manual |
A big thank you to all our all our 32,000+ users who have stayed with us these past 5 months and have helped make our product better every single day. It has been a great journey filled with extensive user engagement, intensive testing, continuous feedback, and product development and finally, we are ready to launch. We would love to hear more from you. Email your feedback to [email protected].
We couldn't have done it without you! 🙂