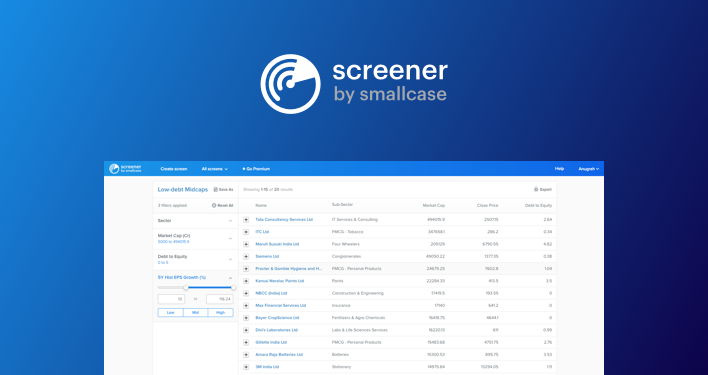 Traders,
I like most of you have always found discovering the right stock to invest/trade in to be quite a challenge, considering most research websites out there focus on just single stock pages. We had also received a lot of requests for a screening tool.
Presenting screener by smallcase – the most powerful & comprehensive stock screener for Indian stocks. With over 70 filters, readymade screens, exports & many more features – screener should help you find the best stocks for your investment thesis, faster & easier. More importantly, all data from the best source available – Thomson Reuters Knowledge Database and available exclusively only for Zerodha clients.
Find below an  introduction to screener from Vasanth, co-founder@ smallcase. Here is a link to the webinar conducted on using screener Tuesday, 23rd May at 12.30 pm on our youtube channel. 
Happy Trading,
Nithin
Introducing screener
EDIT: screener is now part of Tickertape – a platform for all information about stocks, indices & more. Only the name has changed, the team behind this remains the same. You can find the Tickertape screener here – https://www.tickertape.in/screener/
Today, we're introducing screener, by smallcase – a powerful stock screener for Indian stocks. It lets you screen the stock universe easily, by using smart filters & readymade screens to find stocks that match your criteria
When we started building products for retail investors 2 years back, we saw many of them had an investment idea in mind, but found it a challenge to find the right stocks. Examples of questions they had:
Which stocks have more than 20% upside from their current prices
What are some fundamentally strong companies in FMCG sector
What stocks near their 52W high are experiencing strong price momentum
What undervalued stocks are Mutual Funds and Banks increasing their exposure to
How do I find stocks expected to experience high earnings & cashflow growth next year
What are the Buy rated stocks trading at a discount to sector PE/PS multiples
screener helps you discover relevant stocks for the above questions and more with filters including profitability & financial ratios, future estimates, broker ratings, technical indicators, ownership among others
You can also save your filters & their selected criteria as a screen – so you can load this anytime to get the current list of stocks that match the filters
There are also readymade screens that help you discover great ideas like Monsoon Cheer, Low-debt Midcaps, Income Stocks, Money Minters and the relevant stocks for the same
Features
Future Estimates – Screen stocks on the basis of expected future revenues, earnings and cashflows
Broker Ratings & Target Price – Discover strong buy rated stocks with high upside potential
Technical Indicators & Trends – Find out stocks experiencing strong trend or lying in overbought/oversold zones
Ownership Structure & Changes – Invest with institutions like MFs by investing in stocks where they are increasing exposure
Sector Comparables – Compare stocks on the basis of PE, PB, PS and dividend yields of peers & sector
smallcase Special Rankings – Rank stocks on our prop fundamental, earnings, value and momentum scales
All Profitability & Financial ratios – Apply various financial and profitability ratios to discover fundamentally strong companies
Proprietary Premium screens – Use our expanding library of readymade premium screens to discover awesome ideas and stocks eg. Monsoon Cheer, Jamaican Sprinters, Golden Geese & more
Save screens – Save your filtering criteria to a new screen and get an update list every time you login
Take stock data offline – Download your screen results in excel for further analysis and record keeping
screener Pro
There is also a Premium plan for screener – with which you unlock premium-only filters, exclusive screens, unlimited CSV exports & more than 3 saved screens. This is charged at an special introductory fee of Rs. 100 /month only
To take screener Pro for a test drive – you can sign up for a free 14-day trial to use & experience all premium features
Integrated with smallcase
You can add stocks from screen results with the '+' icon next to the stock name, to add it to the smallcase Cart. Build your portfolio & create a new smallcase directly from screener & buy, track & manage it seamlessly on smallcase.com
Filter Guide
Read descriptions of all 70+ filters on our Filter guide here
We have built screener as the most comprehensive, yet simplest way to find the best stocks that match your investment idea

Try it out here – tickertape.in/screener
We sincerely hope you enjoy the experience. This is only the first version, and things should keep getting better from here. Write to us with your queries, suggestions & all feedback at [email protected]
Happy screening, happy investing!