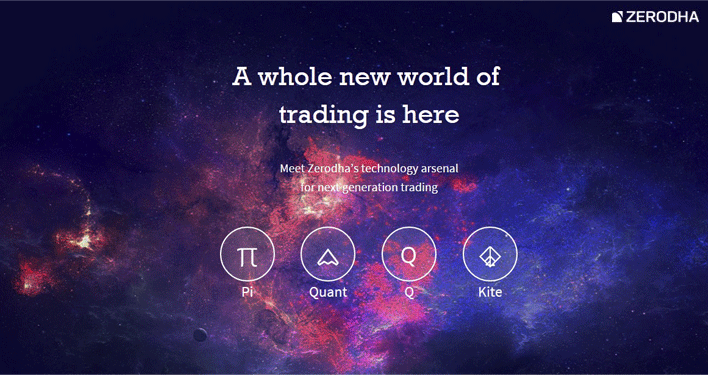 Traders,
Pi is our new in-house desktop trading application built in partnership with Tradelab, a young financial technology business building some cutting edge trading products.
Our Journey – Trading Platforms
Back when we started in August 2010 we were bootstrapped, and the only way we could get the business rolling with limited capital and work at such low brokerages was because of NSE NOW. NEAT on Web or NOW is a shared trading platform of NSE, and completely free of cost to offer for the broking firm who is a member of the exchange. Our first year of business was completely run on NOW, but as we started getting bigger we had to offer more,  trading on multiple exchanges (BSE, MCX, etc.), introduce advance trading products (Bracket, Cover, etc.), and more.
We partnered with Omnesys (now Thomson Reuters(TR)) in September 2011, a vendor for trading platforms. In India, 90% of the brokerages use a vendor (mostly Omnesys or FT), and only 10% (Sharekhan, ICICIdirect, etc.) have their in-house trading, order management (OMS), and risk management platform (RMS). Omnesys helped us scale the business without impacting our bottom line because of their efficient pricing model and open source architecture. We knew that if we had to make a mark in this business, we had to do a lot more than just offer the same NEST platform that everyone already did.
We started committing capital and working on our in-house trading platforms – Pi (desktop trading application in partnership with Tradelab) from January 2014, and Kite ( being developed by Zerodha tech team) from October 2014. Omnesys/TR has a tried and tested OMS/RMS, and hence we decided to stick with it and change only the user interface or the trading front end. So you get the stability of the most popular and reliable execution management system in TR OMS/RMS, and also probably the best desktop trading platform in Pi. Kite our web/mobile platform has a super simple user interface, integrated trading and reporting (Q/Quant) platform, brilliant charting, intuitive search and filters, lightning fast trading, and more.
What this also means is that you as a client can use NEST(our current platform) and Pi simultaneously. You could logout of NEST and login to Pi, and vice versa.
Why the name Pi (
π)? 
The number π is a mathematical constant, the ratio of a circle's circumference to its diameter, commonly approximated as 3.14159. It has been represented by the Greek letter "π" since the mid-18th century, though it is also sometimes spelled out as "pi" (/paɪ/). We love the history and its properties of irrationality and transcendence, and hence the name "Pi". You can read more on history of Pi here.
Pi till now
We released the first beta in October 2014 to a selected few clients, followed by a second release last December, and on January 12, 2015 we released the final beta. We have had over 5000 people test it out over the last 6 months, and have received over 20000 comments and suggestions via email and on Zconnect. You can track all the activity on Zconnect here.
We are all ready for the final release on Monday, March 30th, 2015. Pi will be a continuous project, and we will keep looking at adding as many features and tools as possible in time. So we will continue to call this beta for now.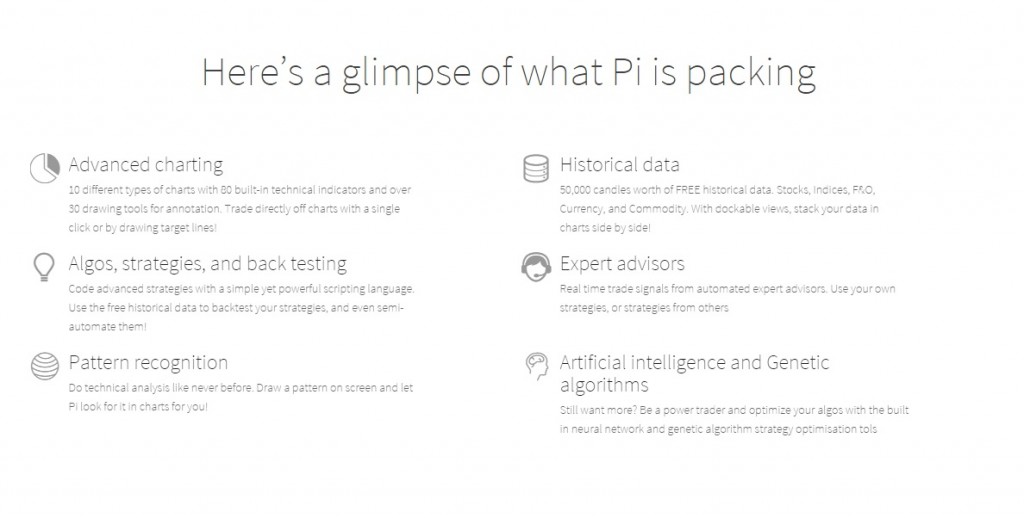 Quick video of Pi – first beta release
Will Pi be free of cost?
Yes it is available free of cost to all our clients, but we are putting a lot of resources behind building and running Pi.
We will have posts on every aspect of trading using Pi in this section of Zconnect, which will also double up as a user manual.
With Pi, Q, Quant, and Kite as part of our arsenal, we will, hopefully, along with offering you the lowest brokerage rates also give you the best trading experience in the country.
Note: To ensure that there are no issues faced while scaling up on Pi, we are releasing new licenses gradually. So your request to get access, might take longer than 24 hours.
Happy Trading,