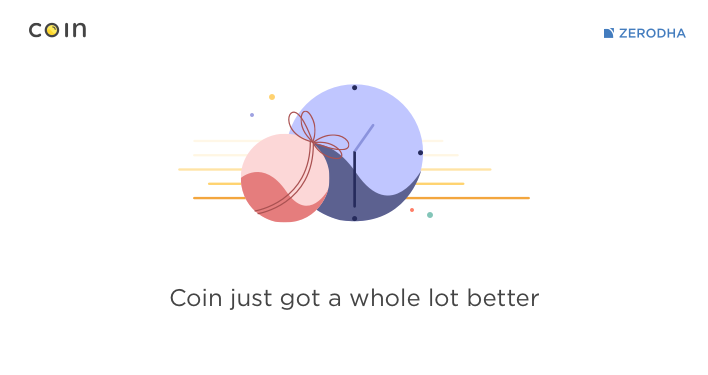 Investors,
Super happy to let you know that we have had 100,000+ clients invest over Rs 2200 crores in the last 15 months on Coin. Even more gratifying is the fact that we have helped our clients save potentially tens of crores in commissions by enabling them to invest in direct mutual funds.
Coin is today the largest direct mutual fund platform in the country. We also recently launched Coin mobile and the amazing response so far has been heartening. Today only 10 percent of retail investors are investing in direct mutual funds. A vast majority of the remaining 90 percent don't know the difference between regular and direct mutual funds. To put this situation in perspective, In the financial year 2017-18, Rs 8500 crores was paid as commissions to distributors. Do help spread the word about direct mutual funds. It is a no-brainer today to switch from regular to direct mutual funds, especially if you are taking your own investment decisions.
We have some updates on Coin based on feedback received from you.
No monthly fees on tax saving direct mutual funds (ELSS)
Most people get started with mutual funds by investing in tax saving funds. A couple of recurring questions that investors keep asking us are the difference between direct and regular and why the monthly fees of Rs 50 above Rs 25000 of investments. Most of the times' these clients end up investing in a regular plan just to save this small fee. They don't realize that these additional distributor commissions paid out continuously can add up significantly if they choose regular plans. Remember that if markets performed the way they have in the past, even a SIP of Rs 5000 in a direct plan over 25 years can potentially mean saving over Rs 28lks just in distributor commissions vs regular plans. Hence we decided to remove the monthly fee on ELSS completely and help investors make the smart choice of choosing direct mutual funds on tax saving funds which are typically held much longer.
So, starting today, we are waiving of the subscription fee for all investments in Equity Linked Saving Scheme (ELSS mutual funds) or tax saving funds even if you cross the Rs 25,000 limit. That means, if you are investing only in ELSS direct mutual funds, you won't be charged the subscription fee of Rs 50 PM even if your total investment cross Rs 25,000. If you are currently investing only in ELSS funds, you can click unsubscribe from Coin to avoid paying Rs 50 PM going forward. Check this post to know more about how to unsubscribe.
Please do tell your friends. All of this letting go of revenue makes sense to us only if we can scale a lot more. 🙂
AMC SIP
On Coin, we simulate all SIPs. This means that each SIP is essentially a fresh lumpsum investment. We decided to do this because of the flexibility it offers. You can pause, resume, and modify your SIPs instantly, anytime you want without the need to submit forms or mandates, unlike other platforms. But a small drawback of this was that when a fund decided to stop accepting fresh lumpsum investments, you couldn't continue investing in that fund. This only happened with a couple of popular small and mid-cap funds which decided to stop accepting fresh lumpsum inflows given the huge run up in these stocks.
We've been hard at work to figure out a solution. Happy to announce that you can now invest in SIP of SBI Small Cap Fund, Reliance Small Cap, and Mirae Asset Emerging Bluechip Fund, or any other fund that stops fresh lumpsum investment in future on the Coin mobile app. For all such funds, we will switch from the lumpsum way of investment to normal SIP mode. This would mean though that like normal SIP's you will not be able to pause/stop/edit amount/change frequency/cancel only if 10 days or more to SIP date.
The investing process will remain the same though and will be available only on the Coin mobile app and not on Coin web. The mobile app is available on both Android and iOS. You can download it here if you haven't yet already.
Profit and loss report for mutual fund investments on Coin
We've also built a reporting module for mutual fund investments on Coin. You can now download the profit and loss statement for FY 2017-18 on Console – our new reporting platform. Currently, only the Tax P&L statement for mutual funds is available on Console. For the Tax P&L statement of all the other segments, you will have to check Q for the time being.
Console will replace Q pretty soon and will be integrated within Kite. It is currently in beta, if you spot any issues, do let us know by filling in this form.  Currently, we are testing out all the calculations. A host of analytics and visualizations will soon be added on Console over the course of the next few weeks.
Also, we are now the 2nd largest broker in India by active clients, thanks a lot for your love and support. 🙂
Happy Investing,