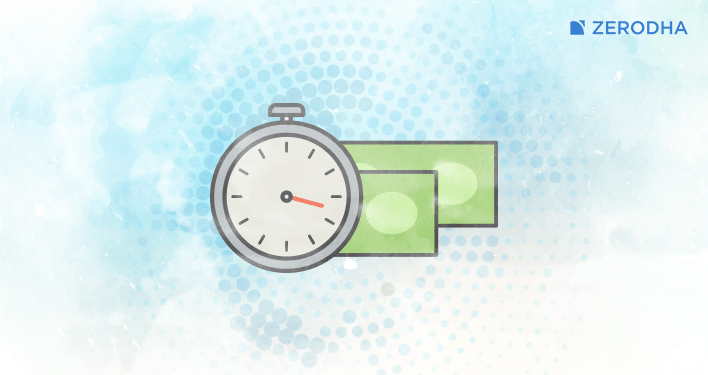 Traders,
We keep getting queries on quarterly settlements, hence the detailed explanation below.
What is Quarterly Settlement of Funds & Securities?
Back in 2009, the market regulator, SEBI, introduced the policy of Quarterly Settlement of Funds & Securities. According to the policy, brokerage firms are required to transfer back all unutilized sums of money kept in the client's trading account back to the client's bank account at least once, in a period of 90 days. Similarly, if any client securities are held with the brokerage firm, such securities need to be transferred back to the client's demat account, once in 90 days. Client securities (Stocks, MF, etc) could be lying with the broker either when they are pledged for trading in the F&O segment or when such securities aren't fully paid for by the investor.
Which accounts need to be settled?
As explained above settlement is essentially the act of transferring unused funds lying in the client's trading account back to the client's bank account. To avoid operational inconvenience, SEBI has relaxed the rules for accounts with balances less than Rs.10,000, these accounts are deemed settled without funds having to be transferred back.
Additionally on the day the brokerage firm is settling funds, the brokerage is allowed to block upto 125% of any margin being used for F&O position held by the client to ensure that there is enough funds to manage any MTM loss, and only transfer back the rest of unutilized funds.
However, if your account has a balance less than Rs 10,000  but you haven't made any trades in the month/quarter considered for settlement, in this case the money in the your trading account will be sent to your bank account as per this NSE circular.
The settlements are done separately for Equity & Commodity segments.
How does Settlement work at Zerodha?
Settlement of stocks
Unlike traditional brokers, at Zerodha we don't hold back client stocks in our pool account. This is because currently we don't offer margin trading facility and hence all the stocks are fully paid for. Whenever our clients buy stocks, they're transferred to their respective demat accounts. (P.S: We'll be starting margin trading facility in the future :)). Stocks that require settlement are those pledged by clients as margin for trading F&O.
If stocks are pledged but margin is not utilized, stocks are unpledged and transferred back to the client demat account once in a quarter. A new pledge request has to be initiated if the client wants to use them as collateral for trading F&O again.
Settlement of Funds
On the day of settlement, all excess unutilized funds in the last quarter (90 days) are transferred back to the client bank account through NEFT/RTGS. RBI accepts RTGS requests until 06:00 pm and NEFT requests till 07:00 pm. To determine the excess funds that need to be transferred, the daily trade process needs to be completed which happens around 07:00 pm on every trading day.
Since the cut off time for NEFT would have lapsed by the time trade process for the day completes, such transfers get processed only the next working day. While credit through RTGS (for funds > 2 lacs) is much faster, NEFT can sometimes take upto 8 working hours. The NEFT service also remains closed on every second and fourth Saturday owing to the banks being closed.
Operational inconvenience due to settlement
Once funds are received to the client's bank account, the client will have to initiate a transfer back to the trading account in case he wishes to continue trading. One may have to incur costs for transferring funds back to the trading account in the form of bank transfer or payment gateway charges. More importantly a client also gets exposed to a situation where the money gets stuck in the entire to & fro process when a trading opportunity arises.
Similarly, when unutilized pledged securities are transferred back to the demat, there could be upto 2 days turnaround time before they get pledged back to obtain margins.
On several occasions in the past, we've received complaints from clients ruing the loss of trading opportunity because of this. However being a SEBI regulated intermediary, we've to abide by the rules and regulations set forth by the regulator.
Is there a way I can ensure that I don't miss any opportunity?
Yes. If a client hasn't utilized all funds for an overnight position in the trading account even for one day in a quarter, he could buy liquid bees or liquid mutual funds any one day in the quarter and sell them the next day morning as soon as market opens. With liquid mutual funds, this trade can be done is such a way that the funds get debited only after market closing and credited before next day opening. Liquid funds are fixed income instruments and have no brokerage (at Zerodha) or STT charges. This way a client can ensure that funds are never blocked when markets are open and also not have to bear any bank or gateway charges.
If the client doesn't have the bandwidth to do this on their own, client can request us to track, remind, and place an order for this. To do this, visit console.zerodha.com and set preference as 'Buy overnight liquid fund' as shown below.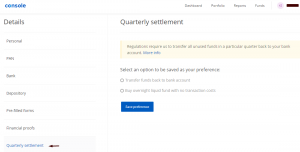 Update: Effective December 2019, the greyed out content is redundant.
In case of pledged securities, the only way out of not having to go through the entire pledge/unpledge requets would be to take a F&O position utilizing the collateral value completely on at least one day during the quarter.
Happy Trading,
Team Zerodha