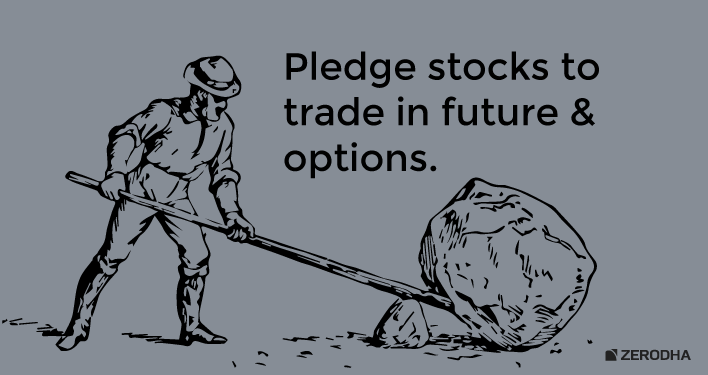 Traders,
You can now pledge almost 1000 approved securities (Stocks & ETFs) to get collateral margin which can be used for trading futures and options on equity and currency.
Pledging a Stock
Visit the holdings page on Console and in the holdings table, hover the cursor on the stock you want to pledge and click on 'options' and select pledge for margins.

Once you do, you will get a pop-up, which will show how much margins you will be eligible for. Enter the quantity you wish to pledge and click on Submit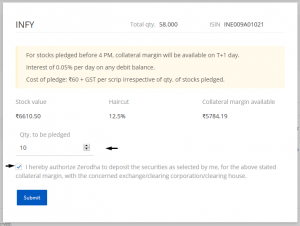 You now need to authorise your pledge requests as explained in this post.
For all pledge requests placed before 4:00 PM, the collateral margin will be available to trade on T+1 day (next working day).  All requests placed after 4:00 PM will be processed only on the next working day.
Margins will be provided after the applicable haircut. Check this list for the applicable haircut on various stocks. A haircut of 10% would mean that if you pledged stocks worth Rs 1 lakh, Rs 90,000 (90% of 1 lakh) will be added as collateral margin to your trading account.
You can see this margin under the heading Direct Collateral on our trading platforms Pi (desktop), Kite (Web/mobile), and NEST.
You will be able to use this entire margin after haircut for taking intraday or overnight positions in Futures, and for writing Options of equities, indices, and currencies. You will not be able to use this margin to buy Options or take further positions on the equity segment.
Exchanges stipulate that for overnight F&O positions, 50% of the margin needs to compulsorily come in cash and the remaining 50% can be in terms of collateral margin. If you don't have enough cash, your account will be in debit balance and there will be an interest charge also called delayed payment charges of 0.05% per day applicable on the debit amount. So assume you take positions that require a margin of Rs 1 lakh, you will need at least Rs 50,000 in cash irrespective of how much collateral margin you have. Assuming you don't have this Rs 50,000, whatever you are short by will be the debit balance for the day, and interest will be applicable for that amount. Check this link for more information.
Liquid bees are considered as cash equivalents by the exchange, so the above 50% rule wouldn't apply. So margin received from pledging liquid bees will be as good as having cash in your trading account.
All interest accumulated will be debited once every month on the ledger. A link to see cumulative interest calculation can be found on the holding page itself. Check the picture below.
All pledged stocks will be debited from your demat account until they are unpledged again. The entire process of pledging and unpledging will cost Rs 30 per scrip irrespective of the quantity. So if you pledge 100 shares of Infosys and 200 shares of Reliance, the total cost (pledging + unpledging) will be Rs 60 (Rs 30 x 2). This charge will be debited from your ledger the day you place the pledge request.
You will continue to get benefits of all corporate actions like dividends, splits, bonuses, etc. on the stocks you have pledged.
Unpledging a stock
On the Holdings table in Console, you can see the pledged quantity marked next to the symbol name. Hover your cursor on the stock and click on 'Options' and choose 'Unpledge'.

Enter the quantity you wish to unpledge and click on Submit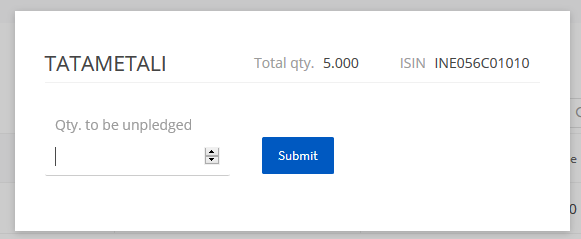 For all unpledge requests placed before 2:00 PM, stocks will be credited to your demat account on T+1 day. Any request after that will be processed on the next working day. So for example, if you unpledge at 1:00 PM on Monday, you will get the credit of stock in your demat account before trading commences on Tuesday. Anything unpledged after 2:00 PM on Monday, you will receive the stocks only before trading commences on Wednesday.
Do note that if you start running trading losses on F&O using collateral margin, and don't provide the requisite marked to market (MTM) additional capital, we will have the right to square off your pledged holdings to make up for the losses.
Pledging of stocks is a good way to run strategies like covered calls (pledge stock and short OTM call options), arbitrage between stock and future, and also for taking higher leverage. We will soon start accepting mutual funds also to provide collateral margin.
Happy Trading,