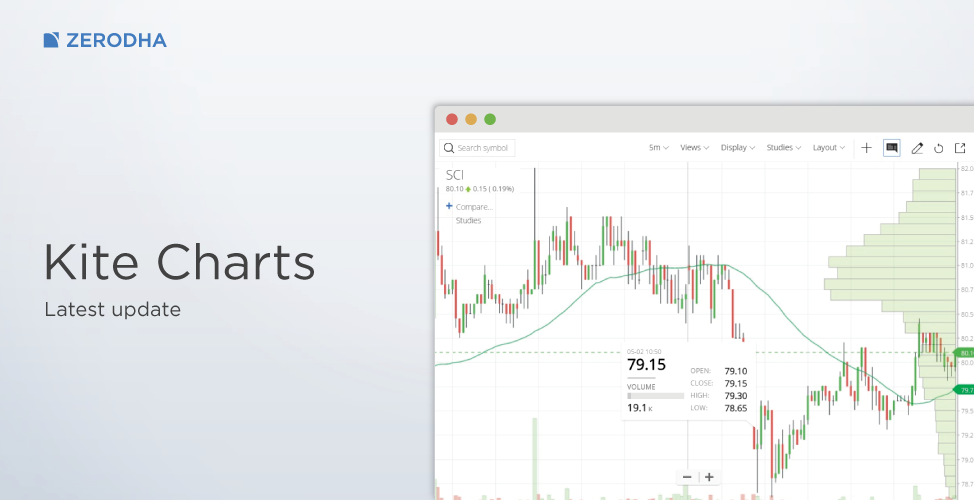 Traders,
Check this charting video and user manual for all features on Kite charts. Below are the latest updates.
Lot more data & Quick trends
End of day data from  1996 for top stocks and  intraday data from  Feb 2015 (more than anyone out there). Below is a 21 year chart of Shipping corporation of India. New charts nimble even with large amounts of data.
Click on 1 Day, 5D, 1Month, 3M, 6M, YTD (Year till date) to see the  trend for the selected time in one click. Based on time period selected, candle size changes from 1 min to 1 month by default for best fit for overall view.
LTP and % change: Last traded price of the stock and  % change from close of the last candle/point to the current price on the chart.
New information box
Use crosshair or info box to either disable or view Open (O), High (H), Low (L), Close (C), Volume (V).
New popout and refresh icons.
Classic info box within chart with slight transparency instead of top panel, giving more charting area.
Easy view and layout save
Add studies/indicators and save views. Views/templates can be applied on other scrips when charts initiated.
Click on layout to save preferences like candle time frame (1 min to 1 month) and theme. Candle time frame auto saved as layout preference in 30 seconds. If chart either popped out or new charts opened without saving layout or waiting for 30 seconds, default candle time frame of 1 min gets applied.
Easy add/remove/edit – studies or indicators
More drawing tools
Initiate drawing tool panel as shown below, click on the same to hide to give more charting area.
Tips if using charting on mobile
If using charting on mobile, keep crosshair and info box disabled for better experience.
If crosshair, info box, or drawing enabled, two finger swipe to drag the chart left/right.
Avoid loading large amounts of data on mobile.
Do watch Kite charting video and read user manual for rest of the features.
Note: If you are not able to  see the latest change as shown in the post above, clear cache and force refresh your browser (Ctrl+shift+R).
Happy Trading,