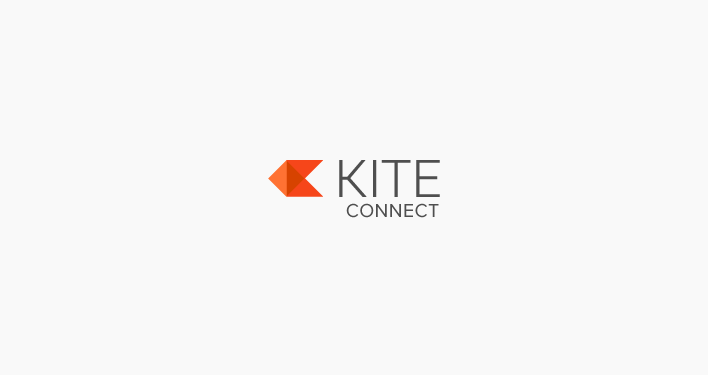 Traders,
Indian trading community, unfortunately, lags far behind their international counterparts in terms of leveraging the power of cutting edge technology when trading. Considering that we have the largest population of software developers (behind US) in the world, this is dismaying.
This has been a chicken and egg situation. Except for a privy select group with industry connects and large capital, retail investors have never had any way to programmatically access their trading accounts. The tech savvy crowd, because of this, have generally stayed away from the capital markets.
Let me introduce to you, Kite Connect, India's first market APIs for retail clients.
Among the many projects we are currently working on, Kite Connect is what we are most excited about because of its potential to be the catalyst for change in the way India trades. Perhaps, more significant than all we have done to the broking industry—lowering costs (and even going completely brokerage free), bringing in transparency, offering better platforms, and always promoting a client-first attitude.
Using Kite Connect, you can, with any programming language of your choice (from excel VBAs to Python, Java, C# or even your command line console), place and manage orders, build – multi asset risk modelling systems, stock screeners, quant based strategies, equity stock selection models, option greeks calculators, backtesting, machine learning, and more. You could even build your own personal Kite or Pi.
For the first time in Indian broking history, you truly own and control your trading account and data. You have the power to build your own trading/investing experience, any way or any how you like it, without being confined to a frontend offered by your broker. The opportunities are limitless.
If you are a Zerodha client, you can signup for a Kite Connect developer account and get started immediately.
What is Kite Connect?
Kite Connect is a set of simple HTTP APIs built on top of Zerodha's exchange-approved web based trading platform, Kite. It enables users—clients of Zerodha—to gain programmatic access to data such as profile and funds information, order history, positions, live quotes etc. In addition, it enables users to place orders and manage portfolio at their convenience from an interface of their choice.
Why provide programmatic access?
There is a burgeoning population of tech-savvy investors who want to invest in the capital markets, but at their own convenience and by their own means. With a client base of over one lakh users, at Zerodha, we have, time and again, received feedback from our clients expressing their wish to personalise their investment experience beyond the capabilities of the platforms we offer.
Choice for retail users
Currently, the only mode of investment available to a client of Zerodha is the platform we provide, although it may not necessarily suit the client's need. As a stock broker, we may not have the technological prowess to keep up with the changing needs of tech-savvy investors, posing to them, a conundrum of technological inflexibility. By providing programmatic access, users are no longer locked to a platform they are not comfortable with.
Data portability
Furthermore, by nature, all data generated by a user is locked inside our ecosystem. For instance, our clients who use third party portfolio and order tracking applications, or even spread sheets for analysis, need to manually replicate their position data on an ongoing basis. Providing programmatic access ensures that users are not locked out of their own data, and that they retain freedom and ownership over it.
Control and management
We have developed a "Developer Console" for Kite Connect that allows users to track and manage their own programmatic API access. A user may, at any point, pause or resume, or invalidate such access, and monitor all activity.
______________________________________________________________________
Kite Connect is meant for tech savvy traders/investors and developers. We will not be able to cater to requests to build platforms or tools. You will have to create yourself a developer login, agree to the terms and conditions, and pay the applicable fees before being able to start using Kite connect. Visit https://kite.trade to get started and make sure to read the terms and conditions.
Happy Trading,