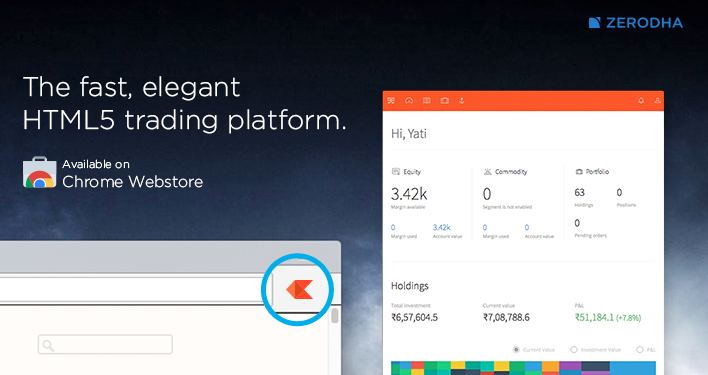 Traders,
I am very excited to let you all know that we have won the prestigious "Economic Times – Startup of the year award – 2016" in the bootstrap category. Coincidentally Aug 15th is also our sixth year anniversary. I, on behalf of the entire Zerodha team, want to take this opportunity to thank you all for the love and support over the last six years.
Chrome extensions
We've just introduced Chrome browser extensions for Kite and Pulse. If you are using Chrome, click on this link and click on "Add to chrome". Once added, both the extensions will start showing  up on your Chrome browser.
Kite Chrome extension
Access your Kite account from any website with just  a single click on the extension. Click anywhere outside to hide the Kite popup.
Once the extension is installed, you will also see Kite buy and sell buttons next to NSE equity scrips on popular websites like yahoo finance, NSE, and Google finance to help you place  your orders. If you own a website and want the chrome extension to support your website, send us an email to [email protected]
Pulse  extension
Pulse aggregates latest business, finance, and market news from the  last 24 hours from all major Indian news sources in one place – ad and clutter  free.
Happy Independence Day,