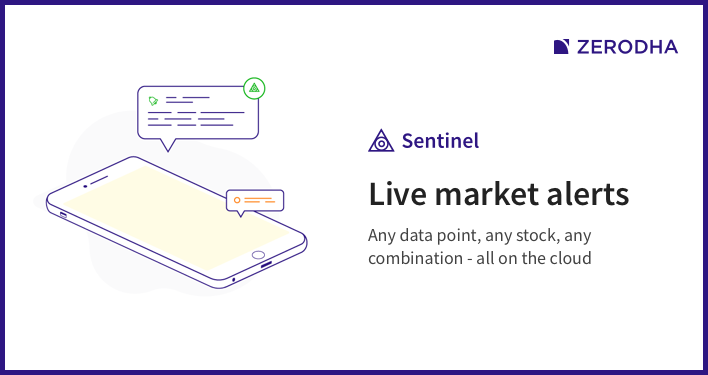 Traders,
One of the more popular requests we had from all of you was for a price alerts tool. A notification on your mobile/email whenever the underlying hits the price you have set. The challenge with existing tools is that the alerts are just based on last traded price and they run on your machine. If your machine is off or you are logged out of the trading platform, the alerts don't work – which is exactly when you need the alerts.
Enter Sentinel
Market alerts residing on the cloud waiting to be triggered – today, tomorrow, or months from now, even when you're away. Alerts can be set for all 80,000+ stocks, bonds, commodities, F&O contracts, and currencies across exchanges on OHLC, bids and offers, and more, in addition to the price. Create advanced alerts that combine multiple triggers using simple, easy-to-use operators.
The alerts are sent on Kite web and via email. Alerts will also be sent on Kite mobile soon. We will soon have trade buttons on these alerts for you to execute any trades planned based on them instantly.
How to set an alert?
When you log into Sentinel, you'll land on the basic alert creation dashboard. You can set basic alerts based on parameters such as price, traded quantity, day change (price & % change), volume and open interest.
You can also trigger an alert by comparing the attributes of two different scrips similar to IFTTT.  In this example, an alert will be triggered if the closing price of Infosys is greater than that of TCS.
You can also access Sentinel right from the marketwatch on Kite web and we'll soon have it on Kite mobile as well.
Advanced alerts
On Sentinel, you can combine multiple triggers to create advanced alerts. For instance, set an alert for when the close price and volume traded of Infosys is greater than that of TCS. With Sentinel Trigger Language (STL), creating complex triggers is as easy as writing a formula in Excel. Read more on how to create triggers using STL here.
Instant notifications
You'll receive a message on Kite as well as an email when an alert is triggered.
History
You can view all your triggered alerts under history. You can click on the details option to view the time and OHLC values at the time the alert was triggered.
Creating advances alerts can take a little getting used and hence we have created a page with a few tutorials and explanation of all the parameters that go into creating an alert. You can also interact with the trading community on TradingQ&A if you need help building your triggers.
We will soon have these alerts also delivered as push notifications on your mobile, even if you are not logged into the app. This is just the first version of Sentinel. Many more cool features coming soon. Since this is still in beta, please let us know if you spot any issues by filling this form.
Happy Trading,