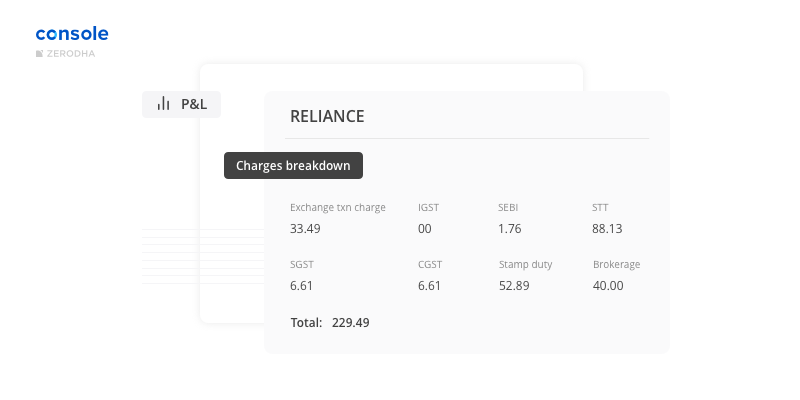 P&L statements typically display charges on an overall basis. So if you search between a time period, you'd see total charges across all trades in that period. Along with this, on Console, we now have scrip-wise charges. This means that you will be able to see what portion of the overall charge was due to which stock or F&O contract.
Additionally, on the equity Tax P&L statement, scrip-wise charges are further divided into intraday (speculative) and delivery. So, if you have traded a stock for intraday and delivery, you will see how much due to intraday and how much for the delivery. This is important, especially for taxation, where you have to ascribe expenses separately for speculative business (intraday trading) and capital gains (delivery based). When trading F&O, both intraday and overnight are considered similarly for taxation, so the charges will not be shown separately, but you will see contract-wise. Also, the scrip-wise charges are available only from April 1st, 2019 onwards.
We have also recently added the account value curve on the Console dashboard to track your total account value historically, a daily P&L heatmap visualization on the P&L page and many more cool features planned that can help track and improve your trading account performance. We will do a full-fledged launch of Console once all the new features planned are ready.
Also, if you have missed, over the last few weeks, we have made Sentinel free, waived all DP charges for investing into direct mutual funds on Coin, and clearing charges are now zero for all F&O trades.
Happy Trading,