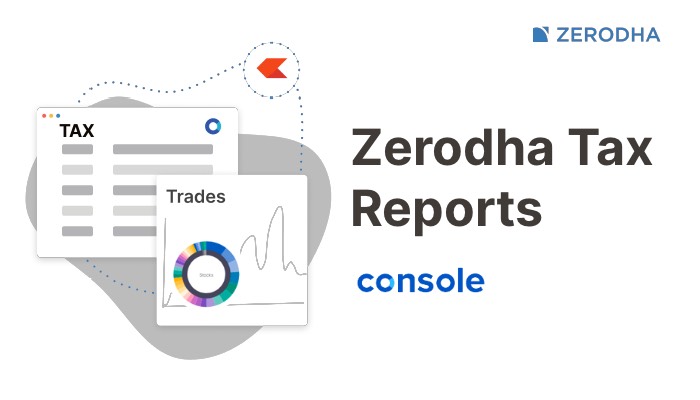 As a trader, it's extremely important to file your taxes, regardless of whether you made a profit or loss. Most people assume that just because they've made losses, it's not necessary to file taxes, but that's a mistake—you may get a notice from the Income Tax Department regardless of that. We also understand that filing your taxes can seem complicated, so we've built reports on Console to make this as easy as possible. 
Here's a brief overview of the various reports on Console and how they can help you in filing your taxes. 
Tax profit and loss (P&L) statement
1. Your tax P&L report gives you a breakup of: 
Speculative equity intraday trades.

Non-speculative F&O trades.

Capital gains from delivery trades.

Charges, taxes, and net gains or losses.
2. The tax P&L report also includes a tradewise P&L for all segments, including a provision for grandfathering long term capital gains (LTCG) on equity and equity mutual fund investments made on or before January 31, 2018. Tradewise P&L contains all the information you need to report long term transactions under Section 112A in your ITR. 
3. In 2019, a tax on all buybacks was introduced and profits from buybacks are no longer taxed in the hands of the investors. So all buybacks trades are shown separately in the tradewise P&L so that the profits from all buybacks can be reduced from the total short term capital gains. 
4. The tax P&L report also contains scripwise and tradewise computations of the turnover as per Section 44AB, which can be used to determine if a tax audit is required. 
5. All the dividends for the previous financial year are shown separately. Dividends have to be filed under the income from other sources head in your ITR. 
6. All the charges and credits that are not part of your contract notes are shown on a separate sheet as other debits and credits. To know what are other debits and credits, see What do 'Other credits & debits' in the Console P&L report mean?
How to download your tax P&L statement?
To download the tax P&L, follow these steps:
Click Reports and then Tax P&L.

Select the

Financial year

(FY) and the period (quarterly or annually). 

Click on the arrow button.

Click on Download Tax P&L report for all segments to download tax P&L the report.
Other reports that can help you when filing taxes
Tax P&L reports are generated based on all the data we have on trades, corporate actions, and stocks transferred in and out of Zerodha at the time of generating the report. The accuracy of the reports can also be verified by comparing contract notes, tradebook, and the funds statement.  
To make things easier, we allow contract notes for up to 1 year to be downloaded in one go. Contract notes can be downloaded up to a year at a time. 
Contract notes include all the trades executed on a particular day. They contain a breakdown of all the charges incurred for the transactions. To download contract notes, follow the steps below:
Click

Reports

and

select

Contract note

under statement.

Select

Report type

as

PDF, XML

etc.

Select a

Date range .

Select

Category

and

Trade type.

Click on E-mail and the contract note will be sent to the registered email address. The password for the contract note is the account holder's PAN number in capital letters.
The Tradebook contains all the trades executed in a particular segment for a particular period.
To download the tradebook, follow the steps below:
Click on

Reports

and then

Tradebook. 

Select the

Segment.

Select the date range and click on the arrow button.

The Tradebook can be downloaded in XLSX or CSV format by clicking beside the Download button.
You can see the statement of all your transactions along with your billing details with Zerodha in the Funds Statement available on Console.
To download your funds statement, follow the steps below:
Click on

Funds.

Click on

Statement.

Select the segment (Equity or Commodity).

Select the date range and click on the arrow button

.

You can download the statement in XLSX/CSV format by clicking on them.

How to file your taxes?
We understand that filing taxes can seem complex and people need assistance. We've written an entire module on taxation when trading and investing on Zerodha Varsity. We've also partnered with Quicko to make the filing of taxes easy. 
We recently recorded a webinar with Quicko on how to file your taxes. The webinar has a detailed walkthrough on how to file taxes, common queries about taxation, audit applicability, AIS, taxes on gifting, and more. Please do check it out.   
You can also download the glyde app by Quicko to file your taxes easily.
Here are some things to remember while filing your taxes for FY2021-22
The last date to file your ITR is July 31, 2022.

Income from various trading and investing activities has to be reported under the ITR head as mentioned in the table below:

In case you have only traded equities on a delivery basis resulting in capital gains, you can use the ITR 2 to file your returns.
If you have traded equity on intraday basis and F&O resulting in business income, you will have to use the ITR 3 or 4 to file your returns.