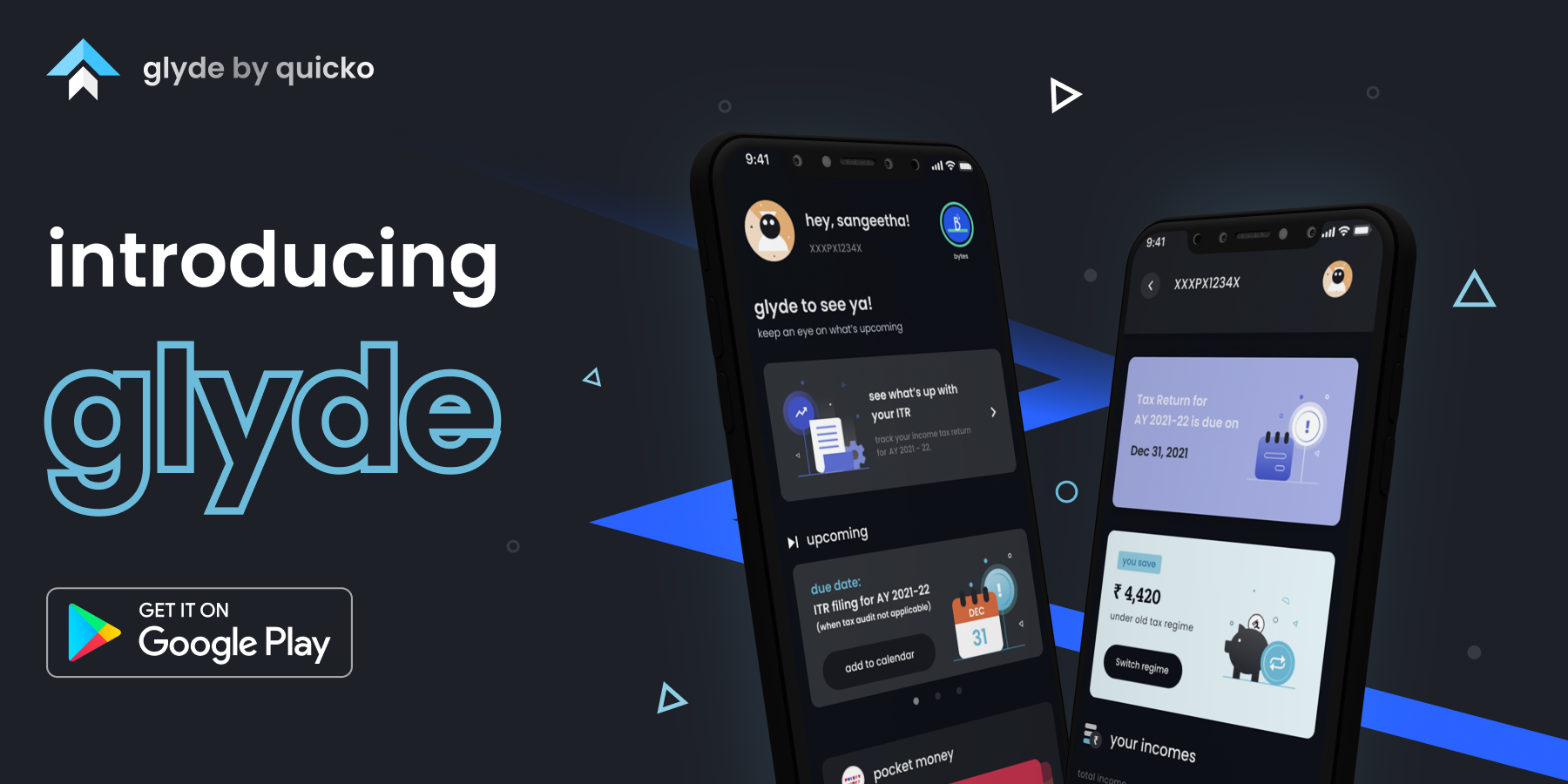 When we started off, one of the things we were aware of was that taxation for traders was never simple. We have explained how taxation works for traders and investors in the Varsity module on taxation. We could always do more, so we partnered with Quicko, a startup to help people file taxes easily, via our Rainmatter initiative in 2020. Now, by popular demand, Quicko has launched a mobile app, Glyde, to help you file taxes easily. Check out the post by the Quicko team below introducing the app.
---
If 2021 had to be summed up in one word, it would be "change". Classrooms changed into Zoom meets, laptops became movie theatres and mobile phones transformed into trading and investing devices. So we thought, why not change the way we do taxes as well?
That is when we came up with glyde – our all-new mobile app.
Fancy a tour? glyde on…we mean hop on
Superfast Onboarding: Setting up your profile can be a nightmare for many. Filling up that long list of details that never seemed to end, choosing which ITR to file and whatnot. We definitely don't want you to go through that all over again. with glyde just enter your PAN, verify via OTP and you are all set to embark on your tax filing journey.
Get pre-filled ITR: Tired of chasing your employer for Form 16, tracking your tax credits from Form 26AS, collecting & arranging documents including investment proofs & trading statements… We could go on and on. Let's just cut to the chase. Simply connect your Income Tax Account and glyde will fetch your incomes, deductions, tax credits, bank accounts to present you with pre-filled ITR. Your job? Just review it.
Plugs into your favourite apps: A big hello to all the investors and traders out there. We just had one question. Do you enjoy sifting through your trades for hours to figure out your short term or long term gains? No? Then why spend time doing that? With glyde, just log in with your Kite account and import all your equity, intraday, mutual fund and F&O trades, calculate, review & file your taxes without breaking a sweat.
E-file instantly: Wondering how long will it take to file your ITR, hours, minutes? Swipe to file your ITR and receive an instant Confirmation and Acknowledgement number. Oh wait, you have to e-verify your ITR too! How? At once using Aadhaar OTP.
Track Refund on-the-go: You have filed & e-verified your ITR on time. What next? Where is your refund? When will you get it? Feeling clueless. With glyde, track your refund and know where it is – every step of the way.
That's not all. We didn't just want to build something awesome and just stop at that. Coming your way are exciting updates where you will be able to spot tax saving opportunities, make instant tax payments & earn badges along the way and more.. In short, your taxes will get a whole lot rewarding!
So what are you waiting for? Start glyde'ing already.