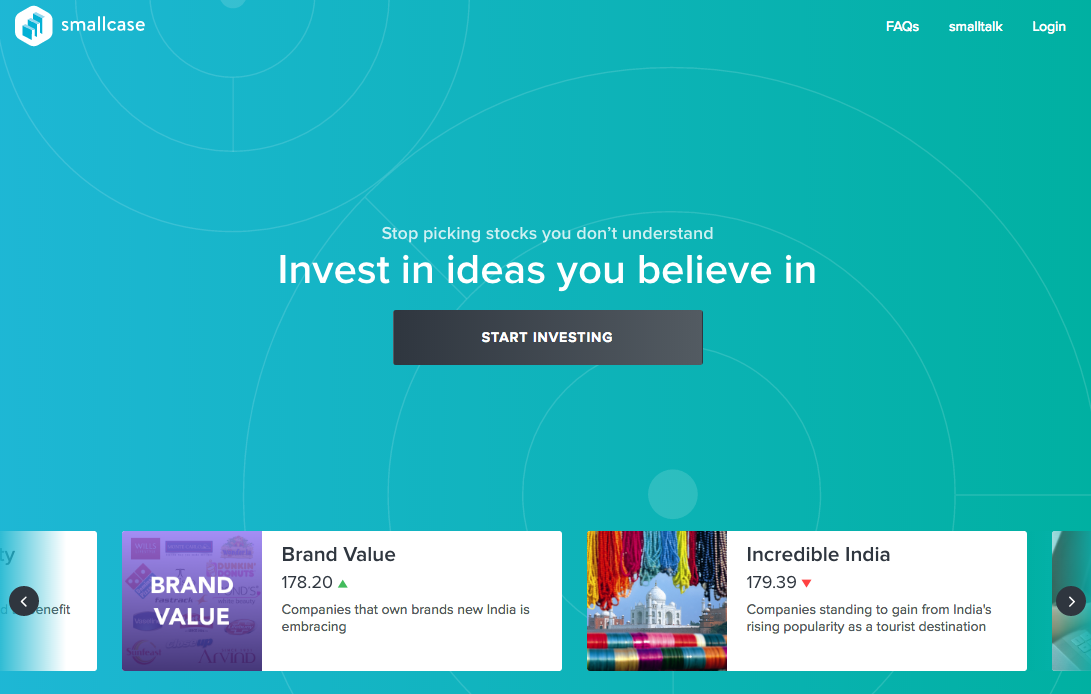 Traders and Investors,
I am super excited to introduce you all to smallcase, a fintech startup who have leveraged our broking as a service model to setup India's first thematic investing platform. With smallcase, you can buy portfolios of stocks that reflect market themes like GST, rural demand, India's growing middle class, monsoon with just 2 clicks.

Find below a post from Vasanth, [email protected] introducing you to this new way of investing.
smallcase is a new way to invest in stocks
Invest in ideas
Thematic investing is the most natural way to invest. Retail investors like you and me invest in stocks thematically, based on ideas we think will play out in the future for eg. investing in retail chains because India is becoming a consumption-heavy economy, or buying pharma/IT stocks due to possible rupee depreciation. Most mutual funds are also thematic instruments.
At smallcase, we identify themes — driven by long term trends, govt policy reforms, sectoral shifts, technology, culture, demographics — that we believe will catch on in the next few years. We have come up with over 40 of these themes (we call them 'smallcases') and created portfolios of stocks around them. Each smallcase holds between 10–20 stocks, and is intelligently weighted based on the theme it reflects.
For example, next week, the government is hopeful to pass the GST bill in the monsoon session of parliament. We have a smallcase called The GST Opportunity, that seeks to benefit from the companies & sectors that will gain with the passage of the GST bill. It is an equi-weighted portfolio of 13 stocks from different sectors viz. FMCG, Logistics, Entertainment, Automobiles, etc.

Through smallcases, we seek the biggest opportunities in the Indian markets.We only pick themes that have massive potential and have not yet played out in the markets. Once we identify a theme, our research team picks the right stocks for each smallcase, based on our proprietary models. We also rebalance every portfolio each quarter, so you don't have to track the markets every day
Some of the most popular smallcases right now (other than GST)



Here's how this works
Buying a smallcase is exactly like buying a stock. You confirm the amount you want to invest in a smallcase, and place all constituent stock orders with a click!
You can also track & manage your smallcase anytime. Every quarter, when we review our smallcases to ensure they continue reflecting the underlying theme — you get a Rebalance Update to apply the same changes.
What does this cost you?
smallcase is a thematic portfolio investment product, quite like mutual funds & portfolio management services, but significantly low-cost compared to them
We only charge you Rs 100 when you buy a smallcase. No transaction fees when you rebalance or exit a smallcase.
Start investing
Our platform is built on Zerodha's Kite APIs, so if you're already a Zerodha user, you have instant access to smallcase! Login with your Kite credentials directly at smallcase.com/login and start investing now

All stocks that you buy with smallcase are held in your demat account and can be seen in your Kite holdings as well. All buy & sell orders for smallcase stocks should be done through the smallcase platform, as trades from Kite/Pi will not be reflected on smallcase — impacting your smallcase returns & P&L.
If you don't have a Zerodha account as yet, you can sign up atsmallcase.com/login — you should hear from us in the next 24 hours
Say hi
We are building new features to give you an effortless & delightful investing experience. All ideas, suggestions, questions are welcome! We are building smallcase for you 🙂 Mail us at [email protected] or comment below
Happy investing,
Team smallcase