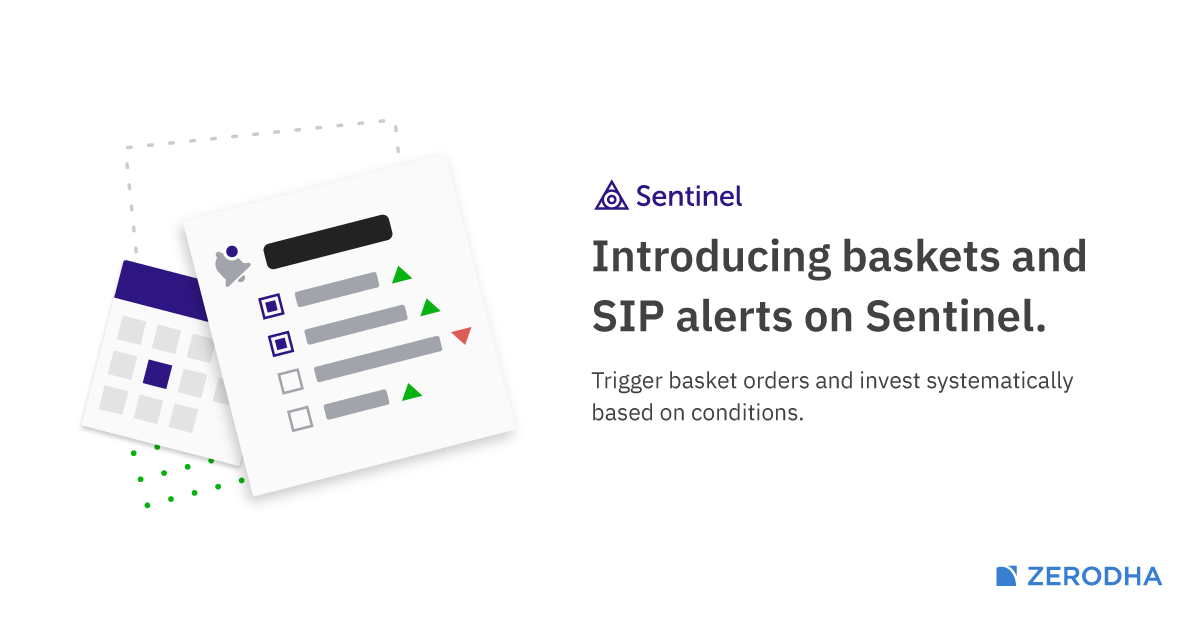 Traders,
With Sentinel, you can create real-time market alerts that reside on the cloud. These alerts, unlike other platforms, remain active until they are triggered, even if your device is inactive. Sentinel has been live for 6 months and is now a whole lot better with the launch of baskets. You can now use triggers to initiate a basket order on a group of scrips, create equity SIP (Systematic Investing) alerts, longstanding order alerts that can work like GTC/GTD (Good till cancel/Good till day orders), one fires another order, and multi-leg derivative orders.
Baskets
Baskets on Sentinel allow you to create a basket of stocks, ETFs, F&O contracts and then use sentinel triggers to generate an alert which can initiate a buy/sell order for the entire basket. In this example, I have created a basket of Bank stocks and a trigger to execute the basket when LTP of Banknifty is > 26900. When the condition is triggered, you will get a notification on Kite and on your email. When you click on the notification you will be redirected to the baskets page where you can execute the basket. Mobile notifications will be introduced soon.
SIP alerts
You can now setup a SIP in stocks and ETFs on Sentinel with the new SIP alerts feature. You can create weekly, fortnightly, or monthly alerts as a reminder for you to invest. You can also tag a basket of stocks so that you can execute the basket orders in just a couple of clicks. This feature is available only for Sentinel pro users and through the advanced triggers screen.
Longstanding orders
Currently, all orders on Kite are valid only for a day as exchanges don't support GTC/GTD (Good till cancelled/Day orders). Baskets feature can double up as a longstanding order alert, similar to GTC/GTD orders. You can, for example, setup a stoploss for your holdings/positions or a buy alert for the stock you've been wanting to buy at a specific price.
All you have to do is to create a basket with the stocks and contracts you wish to trade, create an alert with price to buy/sell a stock at your price, and tag the basket to a sentinel trigger. When the alert is triggered, you can execute the order almost instantaneously.
One triggers another Order
We have had this request for a long time. If nifty >11000 buy Nifty futures, or if Nifty >11000 buy Nifty 11000 Calls, essentially trigger an order to buy/sell an instrument based on change in a different one. It is now possible using sentinel baskets. Create a basket by adding scrips that you want to trade (Nifty Fut/Options in the above example). Create a trigger on the instrument (Nifty index) which should initiate the order placing alert and link it to the basket.
Multi-leg F&O orders
If you are an F&O trader, you can use baskets to execute multi leg strategies. Here's an example of a bull call spread, if Nifty >11010 Buy Nifty Jan 11000 calls and Short Nifty Jan 11200 calls. I have created a basket with the contracts which is tagged to this condition. I have shown this using advanced triggers available on Sentinel Pro version, but this can also be set using the free basic version.
Short strangle
Here's another example of a Nifty short strangle if the premium of Nifty 10900 CE and Nifty 10800 PE is > 159.
Baskets are available on all plans but SIP alerts will be available only on the Pro plan. You can compare the pricing plans here. Check out the Sentinel User Manual to learn more about using these features. You can also interact with the trading community on TradingQ&A if you need help building your triggers.
Happy Trading,