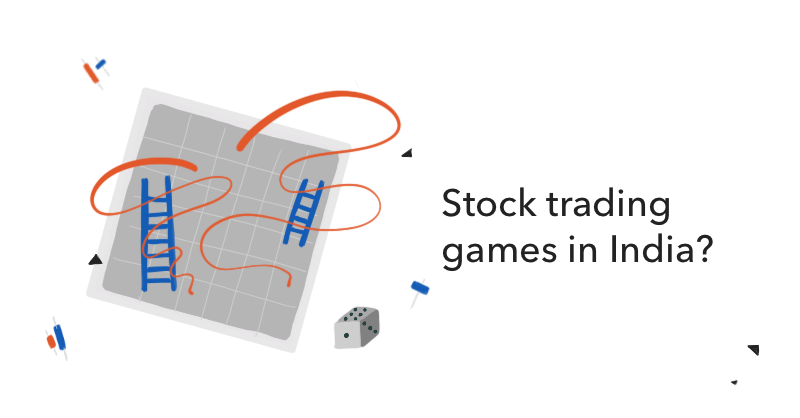 Update 28th Oct 2022: This Yourstory article claims that NSE has issued cease and desist notices to stock gaming apps. As we mentioned in this post below, regulations don't allow the exchange market data feed to be used for any fantasy or gaming app. 
Update 21st Apr 2023: NSE published a circular prohibiting the use of stock market data from the exchanges in gaming and virtual trading applications. 
_________________________________________________________________________________
Retail participation in the stock markets across the world hasn't been this high in a long time. Low interest rates, work-from-home giving more time and bandwidth to think about personal finance, and people looking for an alternate source of income are the factors contributing to this increased activity.
Historically, the startup community in India hasn't focused on building products for the capital markets. Mainly because of the small TAM (Total Addressable Market) of around 70L Indians who invest once a year which makes it tougher for startups to justify high valuations. Compliance and regulatory requirements also act as a deterrent. But this rush of new investors over the last 4 months has set an expectation that the TAM can expand quite fast. While the people already investing in Indian stock markets are around 70L, there are at least 4 crore Indians who have the ability to invest. That sounds like a great opportunity, and there is sudden interest not just from startups, but also VCs looking to back companies who are going after this opportunity.
Instinctively, I guess we'd all think that the easiest way to address this audience is by bringing in elements of gamification to the stock market, where people can trade with demo/fake money while also learning how to trade. With the success of Dream11 and other fantasy leagues, the monetisation plan for this could also be the same — everyone pays a fee to play the game, the winner takes most and the platform takes a cut. Or maybe social trading where traders with good performance track records share their trades and it automatically gets copied to everyone who is following the user?
We have spoken to at least 5 startups in the last couple of months who are at different stages of building a product based on the above two ideas. I thought it would be a good idea to share with everyone what we shared with these startups — why this product isn't feasible in India right now.
Regulations don't allow for any competition/game/league
Check this document from SEBI from earlier this year (page 25).
No person shall organise or offer any scheme/competition/game/ league on securities or related to the securities market.
In a regulated business, you can't do something that the regulator explicitly disallows. That said, SEBI has now opened up a regulatory sandbox where you can try getting approval for innovative ideas that can help retail investors while also growing the capital market ecosystem. But, there is another issue.
Exchange data feed cost
Exchanges have revenue from two sources — transaction costs and data feed. Internationally exchanges earn the majority of revenue from data feed. For example in the US, for the quality of data you receive on trading platforms in India for free (market depth, OHLCV, etc) you might have to pay over $15 per month. Majority of the retail trading platforms in the US give you only last traded price data — that too from small exchanges with inferior quality due to low trading volumes, who might be giving data for free to catch up with the larger ones (the US has over 12 exchanges). In India, exchanges earn mostly from the transaction fees generated from the trades executed — which is the right business model for an exchange, which doesn't allow them to create an entry barrier for small investors.
But, data feed is free only for stock brokerage firms or members of the exchange to power trading platforms of customers registered on the exchange. Which means that if the data feed is being used for any other purpose, there is a cost to it. This cost is quite high for live data feeds, which makes it prohibitive to run a fantasy stock market game at scale. While the delayed data feed is cheaper, you can't really run a game if the person playing it knows the price of the stock in advance.
Update as on 8th Aug 2020, we got to know from the exchanges that they are not allowed to provide data to any virtual trading or gaming platforms. Also that they would take action on those who scrape data from exchange website or other broking websites, and use it on the platform.
Social trading
Social or "copy" trading is where someone with a profitable track record, publishes his or her trades live on the platform. These trades are generally accompanied with the rationale for taking the trade, and/or a feature for subscribers to copy all such trades. The influencer gets a revenue share from the platform for the trades generated or gets to collect a fee directly from followers.
Platforms like Etoro, Zulu, etc. have made this concept popular in the CFD (Contract for difference) world. CFDs work in jurisdictions where regulations aren't tough. They are banned in most countries, including India.
The reason such a platform can't be built in India is again because of regulations. While you see a lot of people sharing trading ideas on Twitter, even that is grey. But it is still okay because there is no monetary consideration when you share an idea on social media. As soon as the person sharing the idea is collecting fees in some form, the Registered Investment Adviser (RIA) or Research Analyst (RA) requirements kick in. An RIA license is required if you give an idea specifically to a certain individual and an RA license if you give out broad trading ideas to an audience. While it is possible to build a platform where everyone trading is either an RIA or RA, it is very tough to scale it as the regulatory requirements to be an RA or RIA are quite steep. A recent circular from SEBI also bans RIAs or RAs from providing free trials, so even if there were RIAs or RAs, you can't offer trials to first time users to try out the product. SEBI has also banned automated trading for retail, which means that the platform can't allow a follower to automatically execute trades every time the influencer trades — which is the main attraction of the copy trading platforms, hence "copy" trading.
While the above article might sound pessimistic, we like the ideas. There is a way to execute these well with proper checks and balances to ensure retail investors' interest is not compromised. For anyone working on this idea, I guess the starting point is to have an MVP (Minimum viable product) and apply to the SEBI regulatory sandbox and get the regulatory nod for this by proving that this will help investors and the ecosystem. If you get the necessary go-ahead, please do write to us on [email protected]. 🙂 We will not only be able to fund but more importantly, help you get access to an audience who can validate the idea and product quickly.
Cheers,