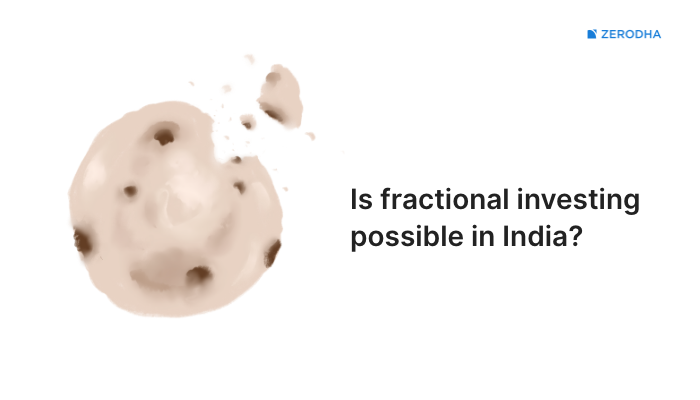 Thanks to the dramatic increase in the internet native young investor crowd, we keep getting questions about why fractional shares aren't allowed in India like the US. Coincidentally, we recently, along with a startup, had applied to SEBI under the SEBI Regulatory Sandbox to try and enable a way to allow fractional trading of shares in India, but the application was rejected. The requests made under the Sandbox were relaxations towards Clause 25.1 & 25.3 of the SEBI Master Circular for stockbrokers, with respect to the way client money and securities are currently handled by intermediaries. We thought of sharing a few things we learned along the way.
Robinhood & race to 0 brokerage
Robinhood changed US broking when it launched free investing and trading in 2015. It took a while for the incumbents to react, but In 2019, Interactive Brokers (IB) and Charles Schwab sparked a pricing war among US brokers. IB set the ball rolling by launching a Lite plan with 0 brokerage. Schwab quickly followed suit and went to 0 brokerage across all segments. In a span of a week, pretty much all the major brokers like TD Ameritrade, E*Trade, and Fidelity went to 0. This also sparked a wave of consolidation, with Schwab acquiring TD and Morgan Stanley acquiring E*trade.  
The US always had fractional investing given the way the system of holding shares works there, but wasn't popular among retail investors because not many brokers offered it. But now that pretty much all the major brokers went to 0 brokerage, fractional share investing became attractive since investors didn't have to pay $5-$7 a trade. Soon after the pricing wars, everyone from Schwab, IB, Robinhood to Fidelity announced fractional share investing offerings. It made sense because millennials didn't have a lot of money in their accounts. The median account balance in Robinhood was $240 for example, it would be higher among other brokers but not dramatically high.
The timing couldn't have been better because new traders, investors, and trading volumes hit record highs post-pandemic in the US and around the world. Fractional trading took off. Now people with even $10 dollars could buy a slice of Amazon, whose share price is $3200+.
Stockbrokers in India vs the US
Before we talk about why fractional trading isn't possible in India, there are a few differences you need to understand about how Indian and US brokers work. In India, brokers are only allowed to act as an agent of clients placing orders. All orders have to be sent to the exchanges, where they are matched and executed. In the US, a broker can also act as a dealer and a broker. They are commonly known as broker-dealers. 
A "broker" is broadly defined in the US as any person engaged in the business of effecting transactions in securities for the account of others. 
Unlike a broker, who acts as an agent, a dealer acts as a principal. A "dealer" is defined as any person engaged in the business of buying and selling securities for his own account, through a broker or otherwise.
Broker-dealers in the US have a lot more flexibility in terms of where and how they execute orders. They can either send orders to stock exchanges as an agent/broker or be the counterparty to trades as a principal/dealer or send it to a market maker for execution. Market markers in the US typically pay brokers commissions for orders sent to them—this controversial practice is known as payment for order flow (PFOF). Just to be clear, this isn't possible in India. All orders are sent, matched, and executed on stock exchanges like NSE, BSE, and MCX.  
All big US brokers in the US like Robinhood, Charles Schwab, and Interactive Brokers are broker-dealers.
Beneficial ownership and the concept of street name
In India, when you want to invest, you open both a trading and demat account. A trading account is an interface through which you place orders. A demat account is where all the securities like stocks and bonds you purchase are held. To offer demat services, a trading member (broker) becomes a participant with depositories like CDSL and NSDL. All shares in India are held by depositories, and investors have beneficial ownership of the shares that they purchase, and they can access them through a depository login apart from the broker login at any point in time. 
Things are a little different in the US, there's no concept of demat there. So, US investors just open a trading account. In the US, dematerialized shares purchased can either be held in the investor's name or in the broker-dealer's name (street name). The street name concept allows the broker-dealers to own stocks in their own name and enables them to pass a "book-entry" for which the client is the beneficiary as per its records. Pretty much all the major brokers follow the street name method of holding securities. 
Street name method of holding securities is one of the reasons brokers were able to offer trading at 0 brokerage. Since the securities are held in the street name, brokers can generate revenue by lending these securities to short-sellers and offering seamless margin funding—these revenues, in turn, subsidized 0 brokerage.   
How does fractional investing work?
US broker-dealers enable fractional transactions by transacting with clients on a principal basis, keeping the ownership of shares under the street name by default. This allows them to maintain ownership of the shares and create fractional units for transacting with their clients (on a principal basis) by creating book entries towards each client owning a part or multiple parts of shares. 
Think of it this way. When US investors buy shares, they are held in the broker's name and the broker maintains a ledger of individual clients and assigns the shares.  
Brokers used the same ledger mechanism of recording stock ownership to offer fractional investing. When an investor buys a fraction of a stock, the broker-dealer buys the stocks and divides them among investors, and holds the stock on its own books. Fractional shares can only be sold back to the broker-dealer from where they were purchased. As you might have realized, the price at which these fractional orders are executed can be an issue. But the SEC has defined fiduciary rules that broker-dealers must follow in terms of what price it transacts principally with their clients, called the National Bid & Best Offer guidelines. The guidelines ensure that fractional orders aren't executed at prices higher than the market prices. 
For broker-dealers or market participants, there isn't much risk in offering fractionals. The broker-dealers at all times only bear a maximum market risk of 1 whole share of the stock in which they are enabling fractionals. Broker-dealers maintain inventory of a full share and pass book entries based on the fractional orders from clients. Broker-dealers typically follow certain internal policies of fractionals being made available in a certain share, such as 0.1% of a share & all orders have to be made in multiples of such a fractional percentage.
For example, if Stock X is at a market price of $1000, the broker-dealer would allow clients to transact the stock at multiples of 1$ (i.e. 0.1%). The broker-dealer would keep an inventory of 1 share of Stock X on its books worth $1000. If there are now 3 clients who place orders of say $200, $350 & $150, the broker-dealer would pass separate book entries towards Client A, Client B & Client C, and have a remaining inventory of $300 under its own name in its books. The maximum market risk towards the stock price that the broker-dealer would be taking, in this case, is towards $300. The maximum at all times, in this case, would be the price of one share, i.e., $1000. 
Does India need fractional investing?
Fractional investing makes sense in the US because there are a lot of stocks with higher prices. 
Companies at current market prices of stocks – US vs India
India
US

Share Price (in Rs.)

Number of companies

Share Price (in $USD)

Number of companies

0-100

2483

0-10 (upto ~Rs. 750)

2956

100-500

1028

10-50 (upto ~Rs. 3,750)

3712

500-1,000

289

50-100 (upto ~Rs. 7,500)

752

1,000-5,000

278

100-500 (upto ~Rs. 37,500)

661

5,000-10,000

20

500-2,000 (upto ~Rs. 1,50,000)

58

> 10,000

16

> 2,000 (> Rs. 1,50,000)

8
In India, mutual funds & ETFs are the best way for retail investors to get diversified exposure to equities. You could make the case that fractional investing enables younger and newer investors to get a taste of the markets with smaller amounts. 
In India, there are just about 17 companies that have a market price >Rs. 10,000 & about 300+ companies at market price >Rs. 1000. While the requirement may be lower than that of the US on an absolute basis while comparing the per capita income of the US at $52,000 vs India being at $2,000, the requirement of having such an ecosystem in place may appear sooner than later.
Directing indexing is one use case for fractionals. Direct indexing is essentially buying all the individual stocks in an index in the same weights. The advantage is that it allows you to use broad indices like Nifty 100 as a starting point and customize them. Owning shares of an index directly allows tax-loss harvesting, for example, which wouldn't be possible if you owned a Nifty 100 index fund. 
It also allows customization for specific use cases like If someone wants to own Nifty 100 minus TCS for example, because they have TCS ESOPs. It also allows advisors and investors to apply ESG strategies on Nifty 100 by screening out stocks like sin stocks, oil & gas stocks based on their values. smallcase, with whom we've partnered through Rainmatter had been allowing direct indexing since 2017 before it became a thing in the US. You can build your own smallcase and invest in as little as 1 share, but you would still need a few thousand rupees to buy a smallcase which can be reduced using fractional shares. 
Since Indian brokers can only act as agents of clients and not the principal, offering fractional investing isn't possible. In India, brokers are just the agents who collect orders and send them to the exchanges. Once an order is executed, the shares are held in the name of the clients in a demat account with a depository like CDSL and NSDL. A lot of complex regulatory changes are required if fractional investing were to be made possible in India.