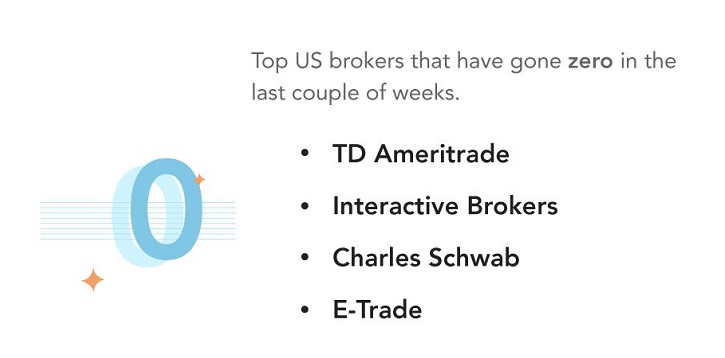 October 1st, 2019 was quite eventful for the brokerage industry. In the US, Interactive Brokers introduced a"Lite" plan with no commissions, followed by Schwab, TD Ameritrade, E-Trade, and more. These firms were charging up to $7 per trade. Stock prices of most of the large brokerage firms dropped 10% to 30% in one day. These aren't small stocks. The market cap of some of these firms is greater than three times the market cap of the entire Indian broking industry. The combined drop in market cap in these stocks was close to $15 billion dollars in the last couple of days!
In India, the new regulation that doesn't allow brokerage firms to pledge client securities to an NBFC or any third party went live from 1st October. This means that brokerage firms who offered margin funding (allow clients to buy stocks for more money than what's in their account, and charge interest for the shortfall) by keeping the unpaid securities in their own account, and in turn pledged it to another NBFC to raise funds, can't do it anymore. So brokerage firms going forward can only lend to the extent of their own capital. This will cause more damage to most of the traditional brokerage firms than the pricing disruption Zerodha started.
Margin funding clients would not only generate more brokerage due to leverage but also pay an interest of between 18 to 24% on the additional funds used. For the brokerage, with stock as collateral, the broker could earlier borrow as much based on the collateral and at rates of around 10% since it is secured. Under the new regulation, not only will the cost of borrowing without a collateral go up, the maximum funding a broker can take will be limited by the profitability and size of the business. 
Over the last couple of days, news articles of US brokers going to 0 commissions have been forwarded to me by countless people, wanting to know my view on all of this and what happens if this happened in India as well. Over the last year, we have been working with a US partner to enable investing in US securities for Indians, and a result, I have spent significant time researching the markets there. With that, I think if this race does catch up in India, it will be a certain end for traditional brokers who rely mainly on retail broking for revenue, especially with the new limitation around margin funding. 
The reason US brokerage firms can withstand this 0-commission onslaught is because they have many more ways of earning compared to their Indian counterparts. 
Float Income
Idle balances lying in a trading account earns interest income for a brokerage firm. In India, due to quarterly settlement rules, brokerage firms are required to send back any unused balance back to the client's bank account. This rule was brought in thanks to a handful of bad apples misusing client funds. This also hurts brokerage revenues indirectly. Clients having money in their trading accounts have a much higher chance of trading than when in the bank account. If you were to compare this to US brokerage firms, most have internal rules set saying that they will not send back any money to the client's bank without a fresh KYC if there was inactivity for a quarter, the exact opposite to our quarterly settlement rule. What this has meant is that US brokerage firms earn billions of dollars on idle client float. When I speak to our US counterparts about the quarterly settlements, they are shocked to hear that such a rule exists in India and question how brokerage firms manage to survive. 
 
Payment for order flow
In India, all orders placed on a broker's trading platform are sent to the exchanges in real-time for matching and fulfillment. Exchanges here earn by charging transaction fees on such orders. Contrary to this, in the US, exchanges' main source of income is from selling data feed. So, to generate more transactions and better quality data, they offer rebates to brokerage firms to attract order flow. Typically exchanges have a maker-taker model, they pay rebates for providing liquidity (limit orders) and charge for taking away (market orders). For example Nasdaq will pay you 20 mils ($0.002) per share to post and charge 30 mils ($0.003) per share to remove liquidity.  Brokerage firms this way have another source of revenue. 
The crazy bit is that the order flow isn't required to be sent to the exchanges at all. This can be sent to high-frequency trading firms or matched internally. These HFT firms, in turn, pay the brokerage firm rebate for all orders sent to them instead of the exchange, typically around 10 to 20 mils ($0.001 to $0.002 per share). This is not legal in India. The SEC (Securities and Exchange Commission, US capital markets regulator) mandates non-exchange matched trades to be executed at least at the National Best Bid and Best offer (NBBO) at that point, so client trades aren't compromised. But HFT firms can make money by market-making with this order flow even within this tight range. For a retail client, this makes no difference at all if orders are matched at an exchange or sent to an HFT. According to my friends in the industry, Robinhood's largest source of revenue is payment from selling order flows. The company is valued at $5 billion. 
Securities Lending
The structure of our depository system, like our payments system, is a newer and advanced system as compared to the US. This is mainly because India didn't have a legacy when we went online in the 1990s. We have depositories like NSDL and CDSL where we hold Demat accounts that remain unaffected even if a brokerage firm goes into trouble. In the US all securities are essentially held in book or street name with the respective brokers, what they call a "books and records system". This means the securities are all held by brokers. This also gives an opportunity for the brokerage firm in the US to be able to lend these securities to people looking to short stocks or borrow for various trading strategies and earn an additional source of income (Unlike India, borrowing stocks to short is extremely popular in the US). The earning potential for these stocks held by the broker is typically based on the number of people wanting to short the stock. For example, early this year when Marijuana stocks were moving wildly, there were periods of time where one could earn as much as 100% or more annualized returns just by lending these stocks. Regulations in the US does mandate the brokerages to share some of the lending fees with the person who owns the stock, but the entire thing is quite opaque to the customer. Most never get to know how much was earned. 
In India, brokers can't lend securities as they sit in the clients' Demat accounts with the depositories. Also, with the new set of regulations that came out on the 1st of Oct 2019, even securities bought by a customer that are unpaid for, cannot be pledged. 
India does have an SLB (Stock Lending and Borrowing) platform where clients can participate directly, and know the exact lending fees being earned. This platform sees very little activity today, but may grow over time. 
Support of the humongous advisory industry
A brokerage firm in India can grow its footprint either by hiring employees or through partners/authorized persons (AP). An AP introduces the client and then gets a certain share of the brokerage generated for as long as the client continues trading. While it is possible to add clients, the biggest issue is that most clients end up making mistakes, losing capital, and then turn inactive. To sustain and grow the business meaningfully in such conditions, a brokerage has to actively keep adding more clients. It is almost like being on a treadmill. If you were to look at the number of active direct equity investors in Indian capital markets, the growth in numbers has been abysmal. We have been stuck essentially at the same number of active investors for a long time.
 We as Zerodha have put in immense amounts of effort in building solid educational initiatives and tools that help clients take better trading decision. I don't think this is enough. There is a need for a large professional advisory ecosystem like in the US. Advisors who have spent their entire professional lives learning the markets, who have much better odds of helping their clients survive volatility. This, according to me, has been one of the main reasons for the growth of capital markets in the US. Professional advisors who end up turning their investors into professionals. While we might be ahead of the US in terms of technology in the capital markets, but we are decades behind them when it comes to retail customers' professionalism and understanding of capital markets. 
In India, historically, distributors of products have been advisors as well. Mutual fund distributors advising on mutual funds, brokers advising on stocks, insurance agents advising on insurance policies, and so on. Since the distributors also earned from the manufacturer, there is significant conflict of interest, and high yielding products get sold the most. SEBI has been taking the right steps by pushing the RIA (Registered Investment Advisors) business, who can only earn from advisory fees and not through distribution. Advisory fees that the client has agreed to pay upfront knowing there is no conflict of interest in the product being sold. But this hasn't really taken off like it should have, mainly for one reason. 
In the US when a client agrees on advisory fees, there is a tripartite agreement with the broker which allows the advisor to send his invoice to the broker and have his fees collected from the client account with the broker. Let's be honest, how many of us would make the effort of paying separately to the advisor every month or quarter? The advisor would have to spend crazy amounts of time and effort to get the fees. But in the US, the ability to collect fees easily guaranteeing cash flows, has spawned off an advisory business that has flourished, significantly helping the overall markets grow in size. Brokers in the US also earn a portion of the advisory fees collected.
Similarly, SEBI has to solve the problem of easy collection of advisory fees to help the ecosystem grow. For enough good-quality qualified professionals to look at advisory as a business, they should know that there is a way to build certainty in their cash flows to sustain. Until then, the Indian broking industry wouldn't have the support of an advisory industry for introducing new customers, or retaining existing customers.  
The day SEBI comes up with a regulation that disallows brokerage firms to advice and place trades on behalf of customers, that would be the final nail in the coffin for the traditional brokerage industry. Most old school firms today survive only because they are being run as a quasi wealth-management firm using a brokerage license.
So, as things stand today, and for all the above reasons, I think if all brokerage firms in India like in the US did start dropping the price to 0, the industry in its current form will not be able to survive. At the current very shallow market size, I don't think there is space for more than 3 to 4 zero cost brokerage firms to sustain. There will be dissolutions and forced consolidations. The current 500+ active retail brokerages might end up getting reduced to a fraction of that number. I think traditional firms have to stick to their core competency and build a business around advisory services, which gives them an option to charge more. We need such firms to grow the Indian capital market ecosystem as well.
Let us know if you want us to write about anything related to the world of investing and trading by posting in the comment section below. Here is a link to all the posts till now, and do check out https://rainmatter.com.
Best,