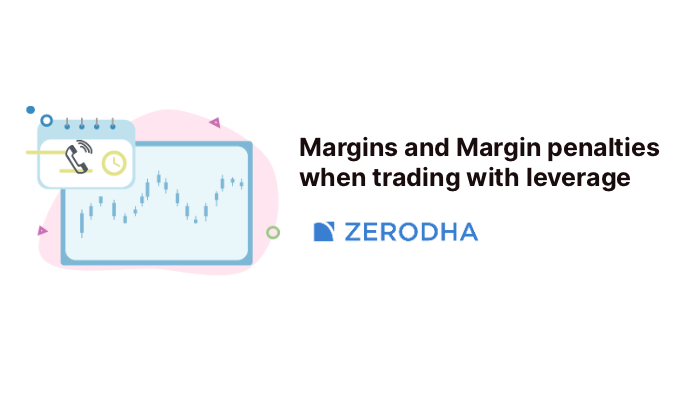 Leverage
When an equity or F&O trader takes a position greater in value than the funds or margins available in their account, such positions are said to be leveraged. This is typically done with the idea of generating a higher return on capital, but it entails taking a higher risk. Leveraged trades also give the ability to take a short view of a stock or the market, i.e., to profit from a trading idea that predicts stock prices going down. Using F&O, a trader using leverage can also hope to generate returns by predicting volatility, arbitraging, and employing more such strategies. F&O is also used to hedge either a single stock or an entire portfolio. In the case of F&O, leverage is baked into the product, unlike in equity.
Here are some examples of how leverage lowers the fund requirement to enter certain trades.
A short intraday trade of 100 shares of stock X trading at Rs.1000 with a 5X leverage (~20% margin requirement) would mean that one needs to have only Rs.20,000 margin to short the stock worth Rs.1,00,000.
To buy one lot of Nifty futures (lot size 50) trading at 17000, one would only need to have roughly 12% of the contract value, which equates to Rs.1,02,000 (contract value calculated as 17000*50 = 8,50,000). Since leverage is baked into the F&O contract, it is not possible to pay the entire contract value of Rs.8,50,000 and trade without leverage, unlike in equity, where one can pay in full for the purchased shares.
Margins required for writing (shorting) options, similar to futures, is only a percentage of the actual contract value.
When buying options, unlike in intraday stock, futures, or short options where the maximum loss is potentially unlimited, the loss is limited to the premium paid. So, while option buying seems to be a non-leveraged trade, technically, it is the riskiest and most leveraged product.Let me explain. To buy one lot of Nifty 17000 calls at Rs 100, the premium required is Rs 5000 (50 × 100). But, by paying Rs 5000, the exposure from the position is 17000 × 50 = Rs 8,50,000, i.e. leverage of 170 times! While Rs 5000 is the maximum loss, how fast you can lose this money can be determined by the contract exposure value of Rs 8.5lks. That is quite fast!
Leveraged trades contribute to over 90% of exchange trading volumes, but most of these volumes are from just about ~15% of active traders. Leveraged trades provide significant liquidity, cushioning volatility during events, and significantly help reduce impact costs for investors.
Margins
With a leveraged trade (apart from option buying), since the exposure is larger than the funds available in a trader's account, a trader can technically lose more money than the funds available in the account. So, in the above example, if a trader bought 100 shares of stock X at Rs 1000 with only Rs 20,000 in the account, and if the stock price suddenly drops from Rs 1000 to Rs 500 for any reason, the trader would lose Rs 50,000. This additional Rs 30,000 loss beyond the Rs 20,000 available with the trader is the liability of the brokerage firm to settle.
If tens of thousands of customers lost money on the same stock, a brokerage firm that is not well capitalised could potentially go bankrupt if they're unable to recover the debits from clients, thereby risking not just other customers, but the entire market. As you can imagine, the higher the leverage, the higher the risk. Not just for the trader, but to the brokerage firm and in turn, the overall markets.
To keep this risk in check, regulators require brokerage firms to collect a minimum margin for all leveraged trades. This minimum margin is called VAR+ELM (Extreme Loss Margin) for equity and SPAN+Exposure for F&O. Until last year, brokerage firms had the flexibility to give additional leverage over and above the minimum for intraday trades. This was a selling point for many firms. This is no longer possible after the introduction of peak margin regulations and today, margin requirements are uniform across the industry.
Using our margin calculator, you can check the minimum margin requirements or leverage across equity, currency, & commodities while trading with us. You can read this post to learn more about how margin requirements have changed historically.
Margin penalty
Margin penalty is a way for regulators to ensure that minimum margins are collected. Until last year, the minimum margin requirement was only on an end-of-day (EOD) position. This meant that for any open position, there had to be that minimum margin available in the trading account at the end of the trading day. The exchanges didn't track margin requirements intraday. They charged a penalty if the required margins were not made available at the end of the trading day. After the introduction of peak margin checks that happen intraday, the penalty is also applicable for intraday margin shortfalls on positions.
The clearing corporation (CC) takes five random snapshots of all intraday positions and margins across customers during the day to determine whether a sufficient margin is available during those snapshots. If sufficient margins aren't available either at the end of the trading day or in the intraday snapshots, a margin penalty is charged on the net shortfall amount. The penalty is 0.5% of the shortfall amount lower than Rs 1L, and 1% for higher than Rs 1L. This can go up to 5% in the case of shortfall for more than three instances in a month. These penalties are collected by exchanges and deposited in the core Settlement Guarantee Fund (core SGF).
Speaking of margin penalties, they are of two types.
Upfront margin penalty
This is applied if there isn't sufficient margin in a trader's account at the time of entering a trade. For example, if a trader had Rs 1L in the account and the brokerage firm allowed the customer to enter a position with a minimum margin (SPAN +Exposure) of Rs 1.1L, this would mean a shortfall of Rs 10,000, resulting in a penalty on the shortfall amount.
Non-upfront margin penalty
Theoretically, a non-upfront margin includes all such margins that need to be collected after the client enters a trade (after fulfilling the upfront margin requirement). When the client does not fund such additional margin requirements on time, it leads to a shortfall where a penalty may be charged. For example, if there are marked-to-market (MTM) losses in a futures contract, there is time until T+1 day to add the funds, failing which, it is considered a non-upfront margin shortfall and a penalty is applied. Similarly, when exchanges add ad-hoc margin requirements owing to volatility or physical delivery margins to stock F&O contracts on the last week of expiry, they are considered non-upfront margins.
Here are more detailed examples of upfront and non-upfront margin penalties.
Who bears the margin penalty?
A broker should bear the penalty if they allow a customer to trade without sufficient upfront margins. It should be on the customer if the customer doesn't bring in additional margin requirements after taking a trade. In the same spirit, regulations state that an upfront margin penalty can't be passed on to the customer by the broker, and that non-upfront can be passed.
This is where it gets tricky, especially in derivatives (F&O, CDS, MCX). After the introduction of the peak margin penalty last year, there are certain situations where even if the broker collects sufficient upfront margin while entering a trade, if margins go up after entering a position due to unpredictable market conditions, that resulting shortfall is also considered an upfront margin shortfall, putting the obligation on the broker.
For example, if a customer holds a Buy Nifty futures and a Buy Nifty put position, the margin required is only ~Rs 25k as the put limits the risk of the futures position. If the put position is closed, the margin for futures goes back up to Rs 1lk. If the customer now doesn't have sufficient margins (Rs 1L), it is considered an upfront margin violation. Similarly, suppose the margin required for the F&O portfolio of a customer goes up by the end of the day; even if the broker had ensured sufficient margins pre-trade, it is still considered an upfront margin shortfall. When you short options, there is no concept of marked-to-market losses that need to be funded by the next day, like in futures. When a short option loses money, the margin required goes up, which, again, is considered an upfront margin penalty.
In the above cases, most brokers had taken a stance that since they ensured that sufficient pre-trade margins were available, any penalty on shortfalls owing to unpredictable market volatility or any other reason after taking a position is not an upfront margin penalty but non-upfront, which can be passed on to the customer who took the position. Typically in these scenarios, customers are alerted of the margin shortfall and requested to add funds or close certain positions to cover the shortfall.
However, the stock exchanges recently published a circular stating that these scenarios should be considered cases of upfront margin penalties and that the broker shouldn't pass them to customers. Brokers have been asked to refund all such upfront margin penalties collected from October 2021 (when peak margin penalties started) to customers.
Brokers and broker associations have been consulting with the exchanges and SEBI to understand why these scenarios, where margin requirement changes post-trade owing to unpredictable market conditions, are considered as upfront margin shortfalls as it is also impossible for brokers to ensure compliance in these scenarios. Only customers who are in control of their positions, can. SEBI identified one such anomaly and corrected it to an extent by issuing a new circular applicable from August 2022 that doesn't consider any intraday margin increase for peak margin penalty calculations. However, this doesn't cover all the scenarios described earlier.
Following the latest update to the regulation, Zerodha has stopped passing any such post-trade upfront margin penalties from Aug 2022 to customers. We have also been computing and refunding any upfront margin penalties from October 2021 that were passed on to customers. If you believe you haven't received a refund for such a case, you can create a ticket here. Only upfront margin penalties (and not non-upfront) will be refunded.
In my view, which may be biased because I am the CEO of a brokerage firm, that brokers have to bear these penalties even after ensuring sufficient pre-trade margin availability in accordance with regulations, is unfortunate. This is despite having mechanisms to alert customers on intraday shortfalls owing to unpredictable market conditions. We are building a function in our risk management system (RMS) that will not allow exiting any position if the post-exit margin goes up and the funds available aren't sufficient for the new margins. We are also working on squaring off positions as soon as possible when the margin increases and if there are no free funds. While the change in RMS is a complex technological problem, squaring off positions instantly without giving sufficient time for the customers is bound to create its own set of issues.
Ideally, if the margin goes up on the F&O portfolio either due to volatility or in the case of option writing due to position moving against the customer, there should be time provided till T+1 day to bring in additional margins. This is like in Futures, where there is time till T+1 to transfer any marked-to-market losses. In cases where exiting positions increase margins, it should be treated as a non-upfront margin penalty, and the onus should be on the customer to comply with the regulation.
Hopefully, this post helps you understand how margins and margin penalties work when trading with leverage on Indian exchanges.