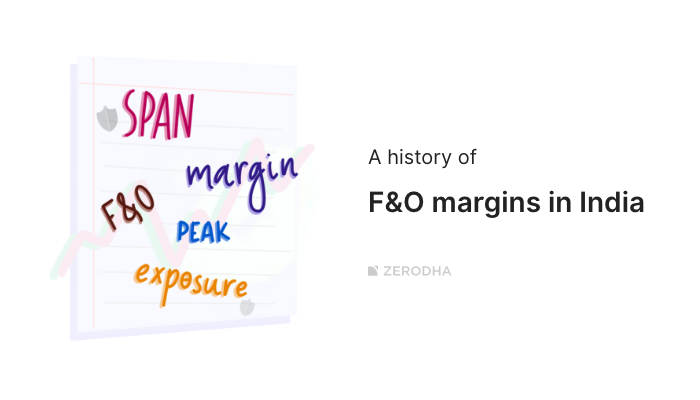 Queries around F&O margins are perhaps the ones that are most asked by our customers. We launched our margin calculator in 2013 and have continuously tried to educate users about the nuances of the margin system over the years. Since this is a popular topic, here's a post on how the margin requirement for F&O has evolved over the years and how we compare to other markets. 
When NSE introduced Nifty F&O in 2000, followed by stock F&O in 2001, it replaced the Badla system in India. Over the last 20+ years, trading volumes in F&O have gone up exponentially. Until 2008, trading was mostly in futures, but it is mostly options today. The interest in options shot up once the minimum contract value for F&O went up from Rs 2L to Rs 5L around Nov 2015, which meant that small traders who didn't have sufficient margin to trade futures shifted to trading options. STT for options trading reducing from STT on Strike+Premium to only Premium from 2008 also helped.  This trend has only continued after the restriction of intraday leverages on margins in 2020. Today NSE is the largest derivatives exchange in the world.
Why margins?
When you buy options, the risk is limited to the premium paid. But when you trade futures or short options, the risk is technically unlimited. Margins are collected from customers to reduce the risk of counterparty default and ensure that there are no systemic risks due to these defaults on the entire market. 
When SEBI originally introduced F&O, it laid the framework for margin collection for market participants trading these contracts. The upfront margin required to enter contracts with unlimited risk—futures & short options—was called Initial margin. This initial margin is the sum of SPAN and Exposure margins. 
SPAN (Standard Portfolio Analysis of risk) is a popular system developed by CME (Chicago Mercantile Exchange) used to calculate risk and margins for F&O portfolios adopted by many exchanges worldwide. When launched in 2000, the SPAN margin was collected to cover for the worst possible movement in the contract for a single day (called MPOR or minimum Margin Period of Risk). This worst possible scenario is calculated using the Price Scan Range (PSR) of the underlying index or stock. PSR is calculated using the daily volatility of the underlying. Back in 2000, it was set at 3 standard deviations of the daily volatility for index contracts and 3.5 standard deviations for stocks.
Exposure margins are charged over and above SPAN margins to cover for risks that the SPAN margin may not cover. When F&O was introduced in India, this was set to 3% of the contract value for index and 5% (or 1.5 standard deviation, whichever is higher) for stock F&O. 
Short Option Minimum (SOM) is a minimum margin for all strikes of short option contracts that fall beyond the PSR. For instance, if the Nifty spot is at 16000, and if Nifty has a PSR of ~1000 points (covering a 7% movement), all contracts beyond 17000 CE or 15000 PE would be considered risk free under SPAN and no SPAN margin was required. While exposure margin was still charged, that wasn't considered enough. So, to cover this, an additional minimum short option margin (SOM) of 3% was collected. 
Introduction of penalties for not collecting SPAN – Aug 2011
While SEBI had mandated that the broker provide margins to the clearing corporation on behalf of their customers for all F&O positions, it didn't mandate that the broker collect these margins from the customer in the first place. In the 2000s, brokers competed by offering trading with margins lower than the required SPAN+Exposure. This was the era of percentage brokerage, where a customer trading with more money meant more revenue to the broker which compensated any funding costs. This system of excessive leverage hurt the industry during the volatility of 2008 with many brokers almost going bust. The capital market ecosystem in India was extremely lucky to have survived that intense volatility without any severe damage. 
To control this risk, SEBI introduced the concept of daily reporting of customer margins and short margin penalty in 2011. If the customer hadn't parked sufficient SPAN margin for open positions at the end of the day, there would be a penalty called "short margin penalty". This minimum collection of SPAN reduced the overall risk in the markets significantly. The penalties were as below: 
| | |
| --- | --- |
| Amount of short margins | Per day penalty % |
| (< Rs 1 lakh) And (< 10% of applicable margin)  | 0.5 |
| (≥ Rs 1 lakh)   Or  (≥ 10% of applicable margin) | 1.0 |
Did you know? A key impetus for us starting Zerodha in 2010 was that there were discussions in the markets on SEBI introducing margin reporting and short margin penalty after the market collapse in 2008. We thought we could potentially disrupt pricing if we didn't have to compete with other brokers by offering high leverage taking much higher risks. This is what led to us launching a flat fee pricing model (of Rs. 20 per executed order in 2010) for the first time in India. 
Penalties for not collecting SPAN & Exposure – June 2018
While collecting SPAN was mandatory for all end of the day positions, exposure margins were optional. In June 2018, SEBI mandated brokerages to start collecting exposure margins on all end of the day positions. This was again to reduce the overall risk in the markets. We had shared details of this change and its impact in this Trading Q&A post.
Change in Margin Period of Risk or MPOR – Dec 2018
The minimum Margin Period of Risk (MPOR) was changed from 1 day to 2 days in Dec 2018. This meant that the worst possible scenario calculation had to now cover for 2 days, which, as you would imagine, resulted in a significant increase in margins. The initial margin requirement went up by almost 40% for many contracts. We had explained this in detail in this Trading Q&A  post. 
Review of margin framework for equity & F&O – June 2020
While margins to trade F&O were always required, this wasn't the case with equity or stocks. Margin requirements were made mandatory for trading stocks in June 2020(Margin collection was made compulsory in Jan 2020, penalties were implemented from Sep 2020). Certain changes were made in the way initial margins were calculated in F&O that greatly benefited customers who took hedged positions that reduced their overall risk. A couple of important changes were: 
Increased coverage of risk in SPAN from 3 standard deviations to 6 standard deviations. This caused an increase in SPAN margins which was offset by the reduction in exposure margins by ~40%. Exposure margins are now 2% for index and 3.5% for stock F&O. 

Short Option Minimum(SOM), which went up to 5% for index (7.5% for stock F&O) in Dec 2018 was removed. This meant that low to zero risk portfolios would only have to maintain exposure margins. For instance, for a Nifty credit call spread, margins came down from Rs 1lk to Rs 30k. 
More details on these changes are explained in this Tradingqna post
Introduction of intraday peak margin penalty (Dec 2020)
Until now, the responsibility of the broker to prove that the customer had enough margins for the open position, was on an end of day (EOD) basis. All short margin penalties imposed by the exchanges were based on this EOD position. What this meant was that a broker could potentially allow customers to trade with high leverages intraday without any margin in their accounts, as long as there was no end of the day position. There was a significant intraday risk that brokerage firms were taking and SEBI decided to fix this. 
SEBI introduced the peak margin framework where the clearing corporation takes snapshots of position in customer accounts at 5 random intervals during the trading day. If there isn't sufficient margin at any time to hold the position, an intraday peak margin penalty is charged. Intraday trading contributes significant turnover to the exchanges and most intraday trades until now had brokers offering some additional leverage or asking for margins lesser than the minimum SPAN+Exposure. Since this regulation could potentially create a huge impact, SEBI gave a period of 9 months to transition. So from Sep 2021, any customer trading F&O even for intraday was required to have a minimum SPAN+Exposure margin in the account. Similarly, for equity, the margin requirement was set at 20%. This post on Tradingqna explains this in detail. 
Issues with peak margin penalties 
While there is no doubt that the introduction of the peak margin penalty has reduced the overall risk in the industry, the way it has been implemented has had some undesired second-order effects that are hurting the trading community. 
SPAN+Exposure margins change 5 times during a trading day. The change is based on intraday volatility. If a customer is holding a position from before and if margins go up due to intraday volatility, the account can potentially be short of the minimum SPAN+Exposure required leading to peak margin penalty. A penalty charged without providing enough time to add funds to the account for an existing position is quite harsh. 
This peak margin requirement when margins rapidly increase intraday due to volatility is impossible to comply with. Even if a customer holds 10% additional funds to cover for such unpredictable intraday margin spikes, in reality, the margin requirement can go up to arbitrary levels on volatile days, leading to a penalty. 
The last SPAN+Exposure for the day is released after the closing of market hours. If by any chance the margin required goes up from the 4th snapshot to the 5th snapshot, there is no way to notify customers and collect the additional margins towards the close of the trading day. 
While there are other smaller issues with the implementation of intraday peak margin requirements, the above two have serious adverse effects both on brokers and the trading community at large. We have been requesting the exchanges, clearing corporations, and SEBI to find a way to address these. The easiest way would be to consider only SPAN margin requirements while calculating intraday peak margin requirements as the risk for intraday positions is much lower than overnight positions, for which SPAN margin suffices. 
Indian exchanges vs global exchanges
Benchmark 
Comments

Margins

In India, both SPAN and Exposure margins are charged while globally (CME, ASX, etc) only SPAN margins are collected. Exposure margins are only introduced ad hoc on days with unexpected volatility.

Margin collection frequency

Euronext and CME issue intraday margin calls that have to be fulfilled within a given time frame.





In India, peak margins snapshots are at random intervals making it impossible to accurately assess or fulfill margin shortfalls.

Intraday margins

CME charges

25-50% of initial margins

as intraday margins.





In India, 100% of the initial margins(SPAN +Exposure) is required to be maintained
Timeline 
The 2000s- Introduction of F&O in India

2011- Introduction of penalties on SPAN margins

2018- Penalties on SPAN +Exposure

2020- Revamp of margins to help hedged positions

2021- Introduction of peak margins
Best,