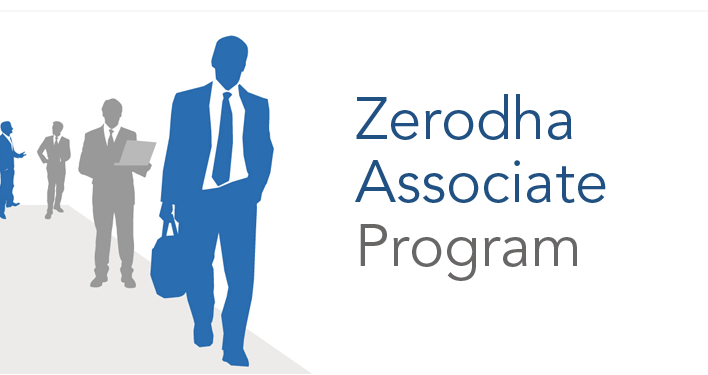 This referral programme has been stopped on April 25, 2018, and restart on Jan 1, 2020. Read more here. 
Traders,
As a low cost business, it is imperative that we keep our operational costs low without compromising on service or quality of the trading platform. At the same time for us to grow our business, instead of spending money on newspaper/TV ads, we want to share the same with all of you (Zerodha Clients). We call this our Partner Program.
Why?
A typical broking company spends between 10 to 15% of revenue on marketing/advertising, but we decided that instead of sharing this revenue with a media company, we'd be much more happier sharing it with our clients. Today through our associate program, we share 10% of brokerage revenue generated from all the clients whom you refer and who trade with us, for as long as they have an account with Zerodha.
How?
A lot of you refer us clients without caring about the incentive we share with you. We at Zerodha would love to share this revenue as a token to say thank you. So we would appreciate if you follow the steps for us to be able to track the people whom you referred, allocate the lead entered to our sales team, get the sales team to follow up and open an account and then share 10% of brokerage with you.
Here are the steps to follow:
Step 1: To be part of the Partner Program, you need to be our client. So if you don't already have an account with us then open an account first.
Step 2: Once your account opened and you are satisfied with our performance and are ready to refer – Please login to Q (http://q.zerodha.com) as shown below with the ID/password which was emailed when your account was opened with us. If you don't have this email, please send a request to [email protected] asking for your password details of Q.
Login to Q and click on Refer a client as shown below. You can quickly enter the name, number and email ID of your friend or family member.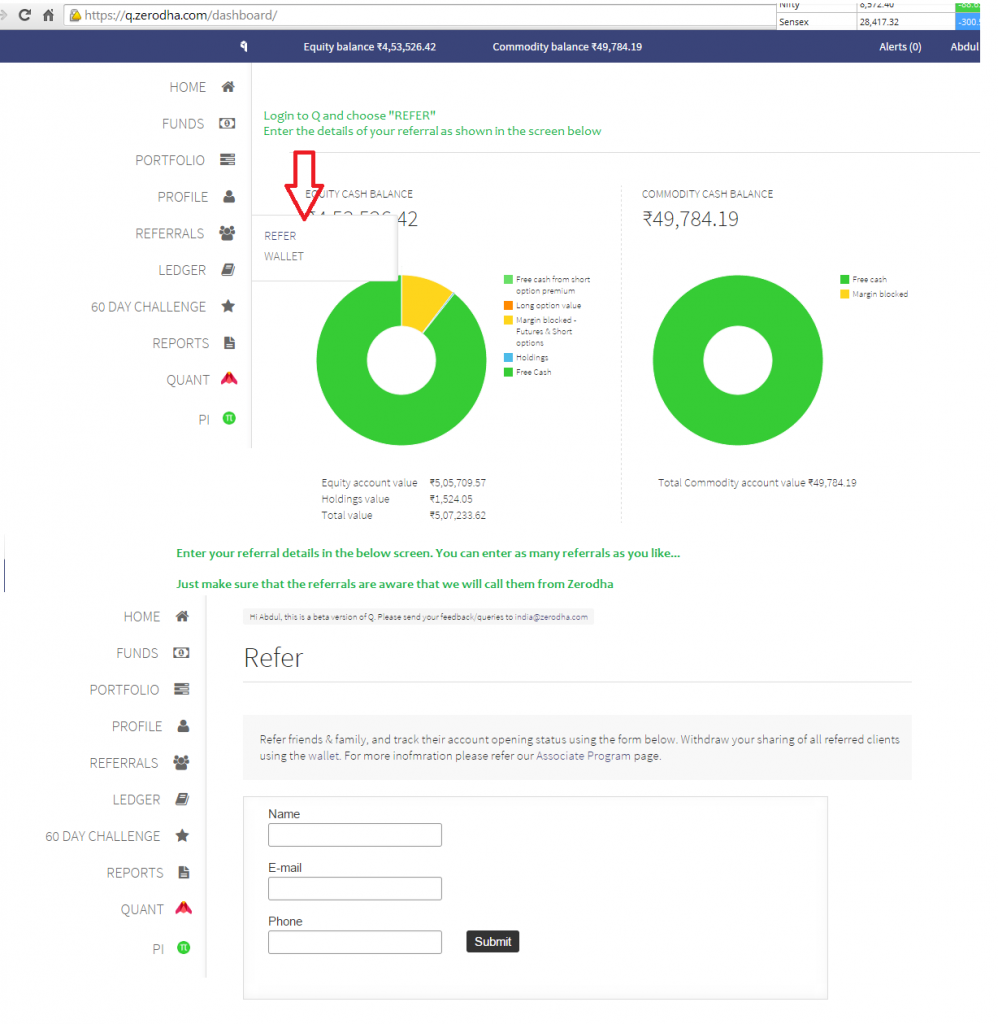 You can also enter your lead directly on our website by going to https://zerodha.com/associate. The Zerodha Lead Management system is intelligent enough to identify it's your referral no matter where you enter it from as long as you put in your Client ID. Check out the screenshot below to know where you can enter leads on our website.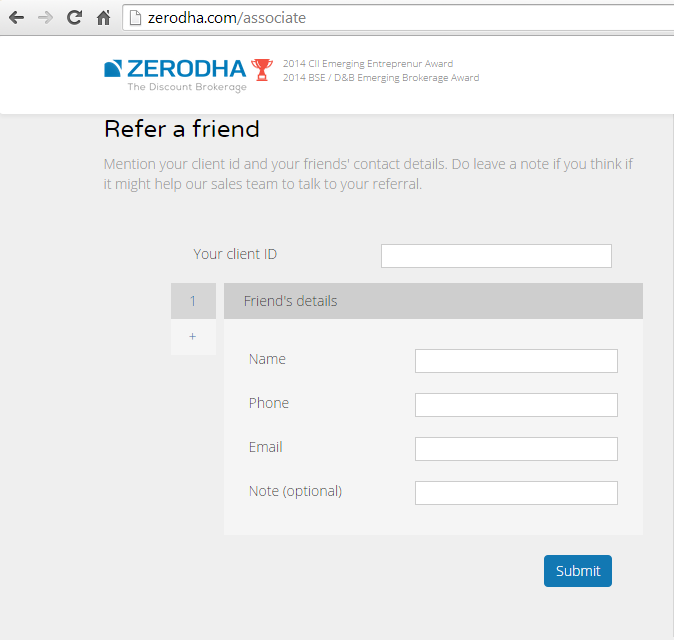 Please note that if the lead is already in our system, it will not let you enter it again. For us, a lead is either a mobile phone number or an email id and if it is already on our system, you will not be able to enter it again.
Step 3: Once lead is in the system, you can track the status of it by following these steps: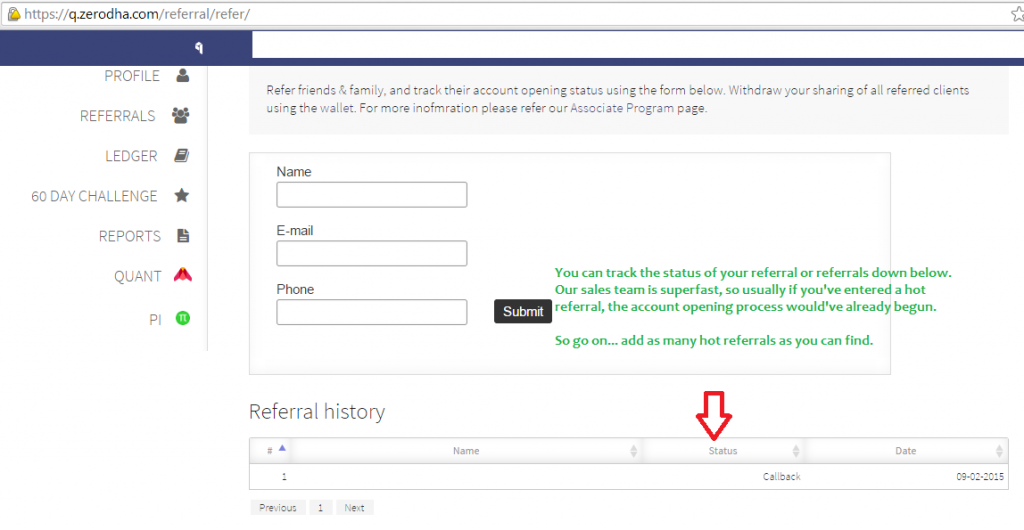 Step 4: To track your earnings and claim the same just access the Wallet option on Referrals and claim your earnings: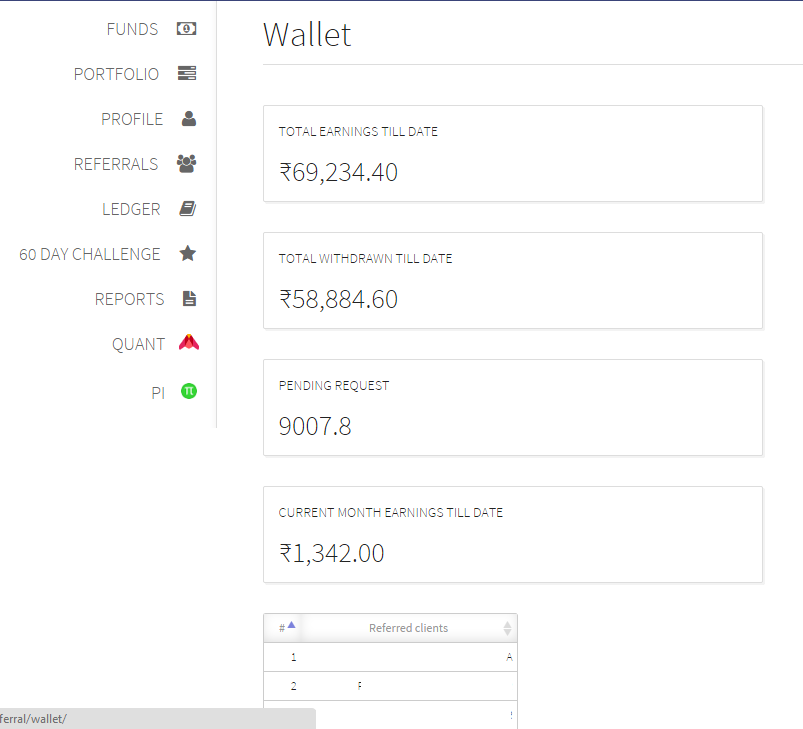 Please note that the leads entered by you will be valid for 60 days and if the client doesn't open an account in that time, referred client will not be eligible to receive the referral commission.
We need your support to grow our business from offering you a platform at lowest costs to tomorrow becoming a broker with the best trading platform, lowest costs and diverse trading tools, your preferred stock/commodity/currency broker. Do go ahead and start referring friends and family who you think will benefit from our brokerage model.
Summary of the Client Referral Payout Rules
1. To be a part of our referral program, firstly you need to be an existing customer of Zerodha. 
2. A client can participate in the client referral program by logging into Q (our backoffice) and entering the lead details under Referrals > Refer or alternatively by entering the lead details in https://zerodha.com/associate.
3. Each referred lead MUST open an account with Zerodha in 60 days, else the client will not be eligible to receive the referral commission.
4. By becoming an Associate at Zerodha, you agree to not pay and/or commercially advertise your referral link through Google, Facebook, Twitter or any other online/social media platforms.
*Minimum referral payout Rs 10000.
*Referral payout requires you to complete a one time registration process with us.
Update: (Effective 01st March 2017)
*Minimum referral payout Rs.2020.
*No one-time registrations required.
*Referral wallet will get updated on a monthly basis only. You'll be able to place your withdrawal requests on Q
*A one-time undertaking duly signed has to be provided for us to process your payout. The undertaking has to be digitally signed using the services of Digio. You can write to us at [email protected] if you need any assistance with digitally signing the undertaking.
*A copy of the digitally signed undertaking has to be emailed to [email protected]
*Withdrawl requests will be processed within 7-10 working days.
*TDS @ 5% will be deducted on the withdrawable amount, TDS certificates will be emailed to the registered email ID on a quarterly basis.
Happy Trading,