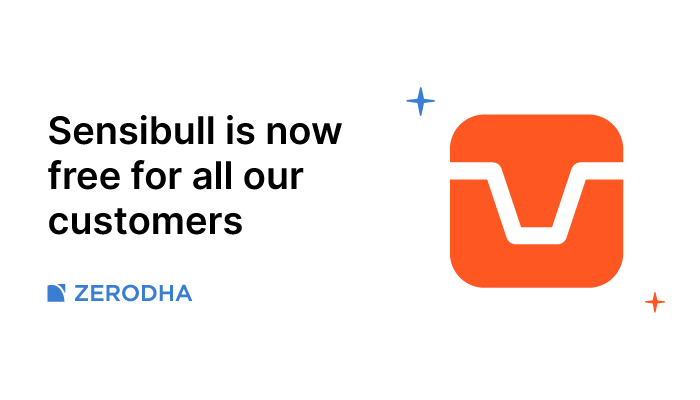 We first started talking to Abid (Co-Founder & CEO, Sensibull) in 2016 about building a platform that can help options traders do better. Since most people traded naked options, the goal was to nudge them to trade limited risk strategies with appropriate risk to reward and position sizes and even push them to take a break if things weren't going well. This was around when we launched the Kite Connect APIs for other startups to build on. Sensibull was our third partnership through Rainmatter Fintech and is probably the best options trading platform in the country today. But yeah, I have a conflict of interest saying this 🙂 
Why not build an options trading platform ourselves
You might be wondering why didn't we build this ourselves. When we launched Kite APIs, we realized that the Indian markets were shallow. The only way that the market could expand is if there were more entrepreneurs thinking of all the ways to bring new people into the market. Second, we didn't want to build anything where we weren't constantly thinking of all the ways we could improve it. In this case, we realized the best thing was a team thinking only about building the best tools for options traders to help them trade better. 
While both Zerodha and Sensibull have done well, the question on our minds is, have we done enough to help our traders and investors do better? With Nudges, Kill Switch, Tags, and other features in the pipeline, the goal at Zerodha has been this—to help people do better with their money. 
Abid and the Sensibull team always had the right philosophy in mind. From day 1, they've had a subscription pricing model (About Rs 7000 annually) instead of brokerage because it removed the incentive for them to push users to trade more. 
Sensibull today has about 200,000 monthly active users, but whenever I spoke to them, the questions that came up were:
How to make it accessible to more traders.   

How they could focus on building the best tools for options trades without worrying about anything else.
The answer was that maybe it would be possible if Sensibull didn't have to charge our customers and they didn't have to worry about unpredictability in subscription revenues. 
Sensibull is now free for all our customers
So yes, I am delighted to let you all know that starting today, we will be covering the costs; Sensibull will be free for all Zerodha customers. Abid and the Sensibull team have also promised that they will only work on one thing, which is to find ways to help options traders do better. 
Here is a link to the Sensibull announcement for more. 
Super excited to see the next phase of Sensibull. 
Happy Trading,
Note: If you have already paid for Sensibull, you can reach out to the Sensibull team here.