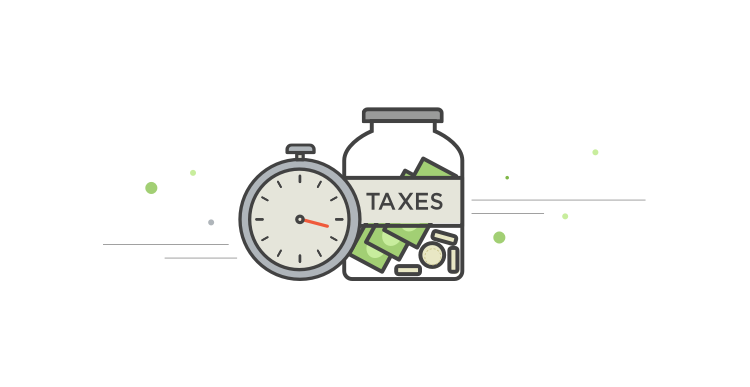 Traders,
If you hold stocks or mutual funds in your portfolio that have unrealised losses, you can set off these losses against realised profits on which you have to pay taxes. To do this, you can book the losses, effectively reducing the realised gains and hence also reducing the tax payable. This act of booking unrealised losses is called Tax Loss Harvesting.
While there is no explicit regulation in India that disallows tax loss harvesting. In the US, if stocks are sold and bought back within 30 days just to reduce taxes on realised gains, they are called wash sales, and taxes are disallowed to be offset. It is advisable for clients trading and investing in India to consult a Chartered Accountant (CA) while filing income tax returns, as they could potentially be questioned by the income tax authorities during tax scrutiny if the same stock is sold and bought back to save on the taxes.
Introduction to Taxation
When you invest in the markets, you potentially have two types of taxes —
STCG (Short term capital gains tax) or tax on gains made by selling stocks or equity mutual funds held for less than 1 year which are taxed at 15% of the gains.
LTCG (Long term capital gains tax) or tax on gains made by selling stocks or equity mutual funds held for more than 1 year. First Rs 1 lakh of LTCG is tax-free and gains above Rs 1 lakh are taxed at 10% LTCG per year.
Do go through the Markets and Taxation module on Varsity for a detailed understanding on taxation when investing or trading.
Tax Loss Harvesting report
We have created a report to help you spot tax loss harvesting opportunities in your account. So, if you have realised LTCG or STCG on which you have to pay taxes this financial year, we will show you the amount of unrealised STCL and LTCL you can book to reduce the tax outgo. You can check the list of holdings under unrealised STCL or LTCL on the holdings page. You can check the holdings breakdown and choose the stock you want to sell and book losses to the extent of the realised gains, thereby reducing your realised LTCG or STCG, and hence save on taxes that you would have had to otherwise pay.
To access the tax-loss harvesting report, visit Console. Check this example below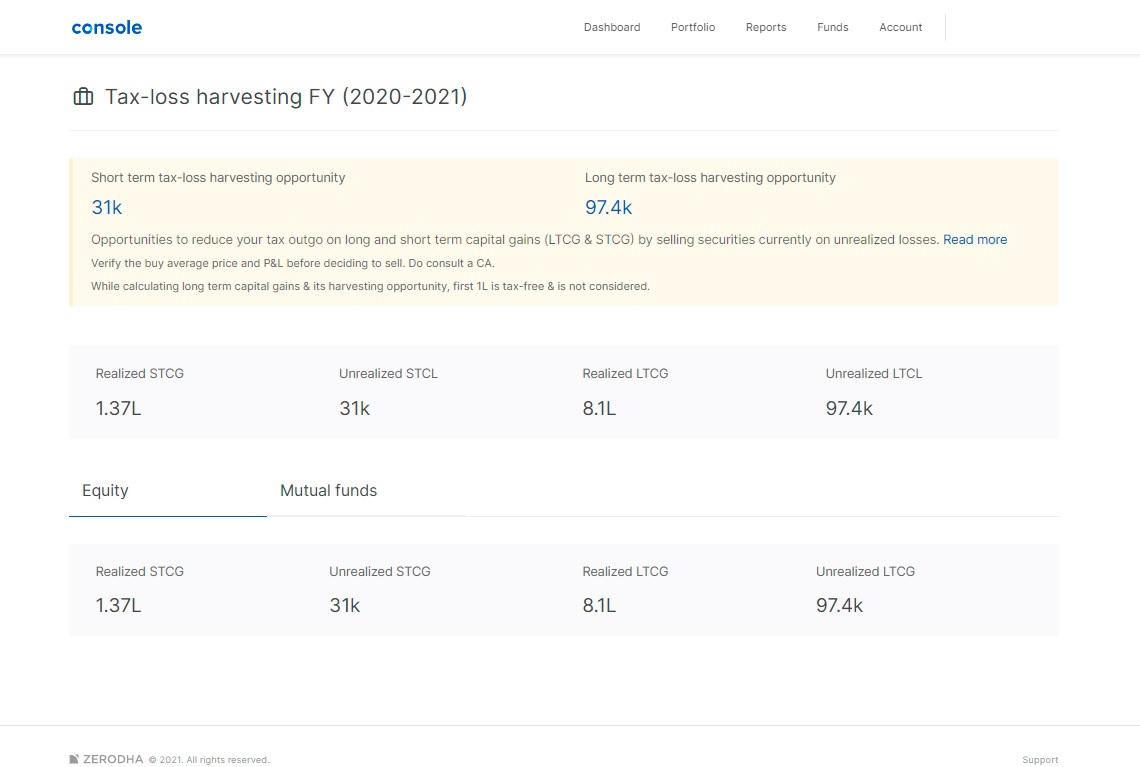 In the above case, the account has Rs 1,37,000 as STCG on which a 15% tax of Rs 20,550 is due to be paid; and LTCG of Rs 8,10,000 on which 10% above Rs 1 lakh of Rs 71,000 is due. This investor can sell any of the stocks from the list in this report, book the loss, reduce the LTCG/STCG, and save over Rs 91,550 in taxes. The investor would have to make this transaction before March 31, 2021, to harvest losses for FY 20/21.
If you intend to hold these stocks and don't want to sell them, you can buy the stock back after two days of selling. Two days because that is the settlement cycle when you buy or sell stocks. You can also potentially sell your stock holdings and buy similar stocks in the same sector immediately.
If you intend to partially sell a stock that you hold, bought on multiple days or multiple prices, FIFO (First in First out) is applied to determine the realized loss. So when you sell partially, the realized loss may be different to overall loss that you see on your holdings. Make sure to check the breakdown of your holdings in such cases.
Also as part of our Rainmatter initiative, we have partnered with Quicko to help you file your income tax returns. They have a special offer for Zerodha customers. Click here to know more.
Happy Trading,