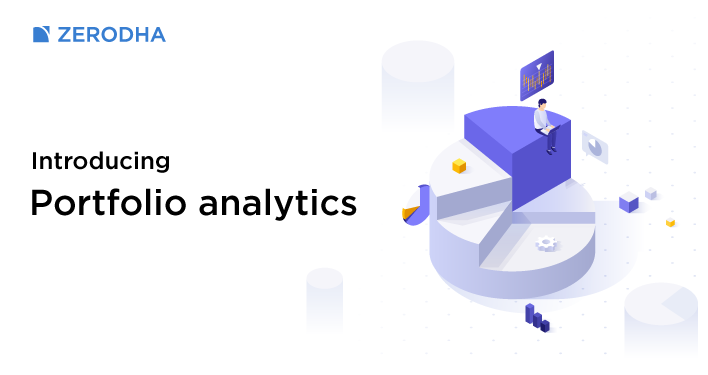 While all of us wish that all the stocks we hold go up, it seldom works out that way. There will always be asset classes, sectors, and stocks which underperform your expectations. The "putting all your eggs in one basket" risk with the hope of getting lucky is something all investors need to avoid to increase the odds of succeeding in the long run. Diversification is a technique that reduces this risk by allocating your investment to various assets, sectors, and stocks while also increasing the chances of reaching long term financial goals. 
All of us are also influenced by our cognitive biases which lead to concentrated portfolios. The biggest one being the disposition effect — selling investments that have gained in value while holding on to, or even adding more, to the losers. 
As Zerodha, we have focused primarily on building platforms, tools and utilities to help you execute a trade as efficiently as possible, or teach you how to trade on Varsity until now. We understand that this isn't enough; most of our clients don't have a background in finance, or the bandwidth to learn. We need to do a lot more to help our customers make the right trading decisions. Not by forcing our choices, but by using technology to create subtle, intelligent nudges that educate users, while not intruding on their trading and investing experience.
Introducing the portfolio diversification visualisation
Your portfolio can be comprised of:
Assets – Equity (stocks), Debt, Equity MFs/ETFs, Debt MFs, and Gold

Sectors – Financials, Energy, Materials, etc

Market-cap

– Large-cap (top 100), Mid-cap (101-250), Small-cap (251 onwards).

Stocks – Reliance, HDFC, etc.
The Console holding visualisation now lets you view your portfolio concentration across all of the above. If you are investing directly in stocks and also in mutual funds, the combined exposure to any stock or sector could be much higher than what you'd assume, as Mutual fund underlying holdings could be the same as what you hold directly. So the visualization comes with an option to see stock and sector exposure by including the underlying stock holdings of the Mutual funds you own. The underlying stock holding data from the MF is obtained by the holding disclosures that AMCs are required to make every month. 
Note: Since an MF can hold numerous stocks, we import only the top 40 stocks in value to avoid clutter, but we use the entire sectoral exposure for the fund. Since we don't import all stocks, if you have selected Equity MF, you will not see market cap breakdown of all the underlying stocks of the fund. 
Use the filter option to drill down further. 
Insights powered by tickertape provide important information on your direct stocks portfolio. 
What should an ideal portfolio look like? 
There is no single formula, but here are a few general rules of thumb:
Subtract your age from 100 and allocate that percentage of your portfolio to equity and the rest in debt. So if I am 35 years of age, 65% to equity and 35% to debt.

Across your direct stocks, MFs, and ETFs, maybe diversify across 10 sectors with no more than 25% in a single sector.

Across your direct stocks, MFs, and ETFs, hold between 25 to 30 stocks. Maybe lesser if the account size is small. But nothing less than 10 stocks if only direct holding with not more than 25% in a single stock

Not more than 50% exposure to small-cap stocks.
The above visualization is just a start for our Nudge project (named after a book with the same name by economist Richard Thaler). I hope that for all of you who haven't taken the effort to transfer stocks and mutual funds to Zerodha, this now gives you another added reason. 
Happy Investing,