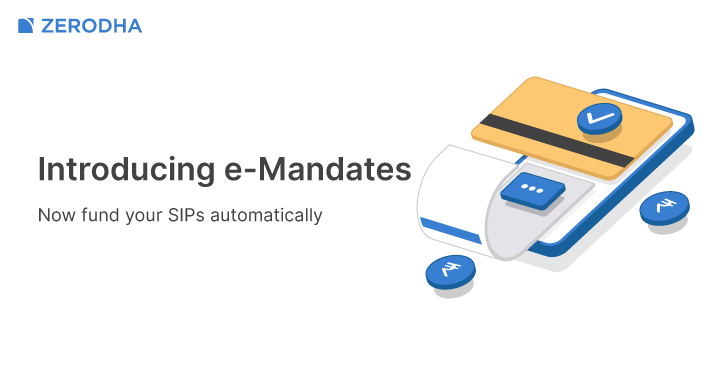 Using SIPs to regularly invest makes for a good personal finance habit. However, when you set up Coin SIPs, you constantly need to nudge yourself to transfer funds on the scheduled date. There is now an easier way to ensure your SIPs are funded on time – e-Mandates!
e-Mandates allow you to schedule automatic transfers from your bank account for your investments, mutual fund SIPs, etc. You can set up an e-Mandate in two simple steps:
Register an e-Mandate on Console using your net banking or debit card credentials
Schedule transactions to automatically transfer funds
e-Mandate registration usually takes up to 5 working days, in contrast to physical mandates which take about a month. You can register an e-Mandate with the bank account linked with your Zerodha account if the bank supports NACH e-Mandates. NACH e-Mandates are currently supported by banks on this list. In addition to these banks, State Bank of India also supports the e-Mandate facility.
Setting-up an e-Mandate
To set up an e-Mandate, go to Console. Click on Funds → Bank mandates. On the Bank mandates page, click on the 'Create new mandate' button as shown in the image above.
*Before you proceed, ensure that pop-ups are not blocked for the Console web URL. Click here to know how to disable pop up blocker in Chrome & refer to this link to do the same on Firefox.
After clicking on 'Create mandate', select the bank account from which you want the funds to be debited. Check the details of the eMandate displayed to you in the next window and click on 'Submit'.
You will then be directed to the mandate approval gateway. You can choose to authorize the transaction using net banking or debit card (if your bank allows it) as shown in the image above.
A token amount (Re. 1 or Rs. 2, depending on your bank) may be debited from your account for authentication. This amount will generally be reversed by the bank. Your mandate registration will be verified in the next few days after which you can schedule transactions.
Scheduling Transactions
Once your mandate is registered, you will need to create a Schedule by specifying the amount, account credit date, frequency and transaction name as shown above.
The 'Name' will be posted as a narration on your bank statement and your trading account ledger to help you identify the transaction. The 'Account credit date' is the date by which funds will be available in your account for your investments. This can be chosen to match your SIP date. The money is debited from your bank account one working day before the account credit date.
You can choose any 'Frequency' (weekly, monthly, alternate months, quarterly, or yearly). The transactions will be automatically scheduled as per the selected frequency. The 'Amount' you enter will keep getting automatically added to your trading account funds until you delete the schedule.
The maximum limit for transfers in one day is Rs. 1,00,000 (one lakh). You can set up schedules for multiple days. You can also set up multiple schedules for the same day as long as the total does not exceed one lakh.
Charges
There is a cost to NACH e-Mandates, but for the next three months, you can register and schedule e-Mandate transactions free of cost.
Happy investing,