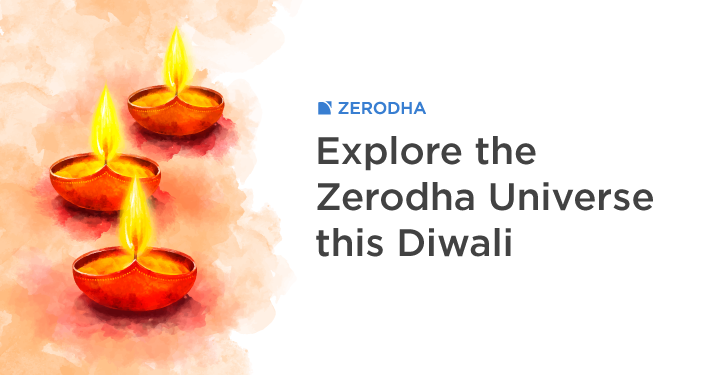 Happy Diwali!
Like every year, we have a few exciting offers on all our partner products this Diwali. The Muhurat trading session will be held on Sunday, October 27 2019, between 6:15 and 7:15 PM. As always, no brokerage will be charged for trades done in the Muhurat trading session. 🙂
Here is a list of all the products that you can avail offers for this Diwali:
smallcase
smallcase is a stock/ETF portfolio investment platform where you can invest in a basket of stocks that conform to an idea or theme. This Diwali, invest in any smallcase for no charge. If you're buying an equity smallcase, the one-time Rs.100 smallcase fee will be waived off. If you're investing in a smallcase with recurring monthly fees (like the All-Weather Investing smallcase) for the first time, the recurring fee will be waived off for as long as you continue to hold it.
What can you do with smallcases?
With a smallcase, you can invest in an idea that resonates with you. For ex. if you want low-risk but steady and stable returns, you can invest in the All Weather Investing smallcase. This smallcase combines equity, gold, and fixed income (bonds) to give you a steady ride regardless of the market conditions. Similarly, there are various smallcases, you can explore them here.
Tickertape
Tickertape screener allows you to comprehensively screen stocks based on fundamental parameters like earnings, marketcap, PE, etc., to make your investing decisions easier. Starting today, you can use all the paid features of the Tickertape screener (worth Rs. 100/month) for free until November 30th.
Sensibull
Sensibull is an options trading platform that lets you built and trade options strategies. Subscribe to any paid plan on Sensibull until November 30th and avail a discount of up to 40% on your subscription.
What can you do with Sensibull?
You can build and visualize trading strategies, screen for trades, view implied volatility charts, analyze FII, DII data, track events that may affect your trades and much more.
LearnApp
LearnApp makes high-quality financial education taught by industry veterans and leaders accessible to everyone. Learn from the experts with easy-to-follow video courses. Subscribe to LearnApp for 3 months and get 1 month extra, offer until November 30th. Use this link to avail the offer.
Streak
Streak lets you create, backtest, and deploy trading strategies live in the market without coding. Create and backtest up to 20 strategies per day on Streak until November 5, 2019 no charge. You can also use the Streak Scanner to scan across all stocks based on technical parameters like Supertrend, RSI, candle patterns, etc. Create up to 20 different scans for free until November 5.
What can you do with Streak?
You can create technical analysis strategies and backtest them in a few clicks. Once you are satisfied with your strategy and deploy it, Streak will alert you whenever there's a trade available for your strategy.
Once again,
Happy Diwali! 🙂