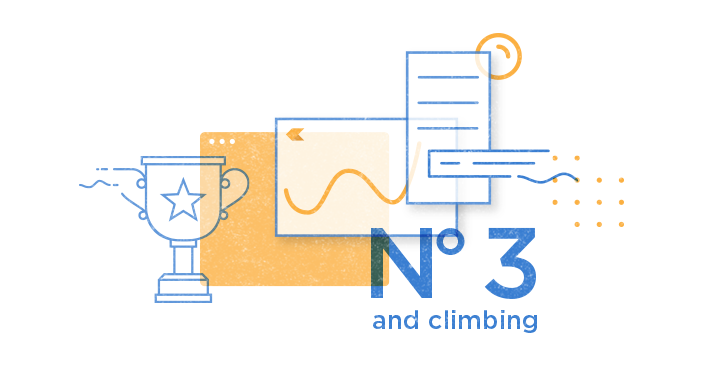 Dear Clients,
We are now the 3rd largest stock broker in India in terms of active clients. Thank you for helping us achieve this in just under 8 years. I also want to thank the exchanges, especially NSE, for the NOW platform that was launched almost a decade ago, that helped kick-start our business. Not to mention, SEBI, for bringing in regulations that have ensured lower leverages/risk in the industry allowing a level playing field for all to compete with established businesses.
We pioneered the discount broking model in India and are fortunate to have been able to scale it. Our growth and success is a testament to the viability and efficacy of our model and the integrity with which we conduct business. Not to mention, the recognition we've received over the years for our efforts.
Other than being the 3rd largest in terms of active clients, we are also probably the largest stock broker in India by retail trading turnover. We:
Contribute upwards of 8% of all retail trading volumes across exchanges.
Do upwards of 2 million retail trades daily, which would put us amongst the most active retail brokers globally.
Are in the top 20 investing related websites in the world.
We have over Rs 300 crores of our own capital in the business. We run a rewarding employee stock option program to ensure everyone working is also a stake holder.
Have invested in 8 different fintech startups through our incubator, Rainmatter, with the goal of expanding participation and bringing about innovation in the Indian markets.
Having said that, it has come to my attention that there are unscrupulous parties spreading rumours about our business on social media and other forums. I have put together a bunch of reasons on TradingQ&A on why safety shouldn't be a concern when trading with us, should anyone be curious.
With our innovative technology and platforms, educational initiatives, and the Rainmatter startup partnerships, we are giving a shot at bringing in the next 10 million Indians to the capital markets. Like we always have, we continue to seek your support.
Wishing you all a lot of health, wealth, and happiness in the new financial year. 🙂
Happy trading,