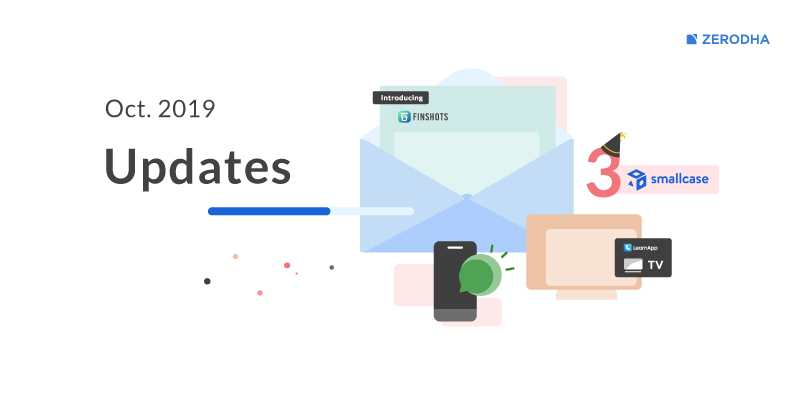 We have been working tirelessly over the past year to bring to you the best trading and investment experience. While we have posted regular updates on what we have been doing at Zerodha, we thought it would be a good idea to give you an update on all the latest goings-on at our partner platforms – smallcase, Sensibull, LearnApp, and Streak.
smallcase turns 3
The smallcase Platform is now 3 years old and has evolved from a modern investment platform to gradually building out a large ecosystem working with research firms & advisors. smallcases now serve over 4 lakh investors, 30%+ of whom have invested in stocks/ETFs for the first time
After-Market Orders
smallcases now support aftermarket orders – you can now buy, invest more or SIP into your smallcases even outside market hours and on holidays! Try it out here – smallcase.zerodha.com
Profile Improvements
In the spirit of being as transparent as possible, you can now perform the following actions on a specific smallcase page:
Export the entire historical series of a smallcase, along with the relevant benchmark
Go through download-able factsheets for smallcases – that summarises key info & pointers about the smallcase, for reference purposes
More info & ratios – easily compare ratios like P/E ratio, P/B ratio, Sharpe, Div Yield of a smallcase with the relevant benchmark, and see market cap distribution
Do more with Sensibull
WhatsApp price alerts
Now you can set a WhatsApp price alert on any F&O stock, future, option, and USD-INR with Sensibull.
10 F&O specialized watchlists
Special watchlists dedicated for F&O trading. Here's what you get:
Shows critical F&O info such as ATM IV, IV Percentile, PCR, Volume, and OI Change
Highlights big upcoming events such as results on stocks
Direct links to Option Chain, Strategy Builder, Open Interest, IV Charts for lightning-fast decisions
Sensibull research
Sensibull's own research showing some high probability, limited-risk trading set-ups using Options Strategies based on Technicals such as Price Action, Volume, Volume Profile, and Candlesticks.
Downloads in Excel format
Now you can download option chain data, ATM IV, IVP, volume, and futures OI build up in Excel format for analysing data the way you're used to. 🙂
Check out Sensibull.
Tune into LearnApp TV
Introducing LearnApp TV – Crisp, current, actionable content
LearnApp TV is a new section on the platform where industry leaders teach investing & trading concepts using current events.
For investing, the focus is on macroeconomics, investing strategies, and major events. For trading, it will be money management, trading strategies, and psychology.
Each episode will also give you research work (homework) to submit based on the topic discussed.
Check out LearnApp.
More features on Streak
Paper trading
Deploy strategies across markets with paper trading and see how it works without risking any capital.
Scanner
Scan for stocks based on technical conditions across the stock universe. Simply set up a scan and be notified of any stocks that meet your filters wherever you are. Not sure what to look for? Streak has several popular scans already built for you to use. Check it out here.