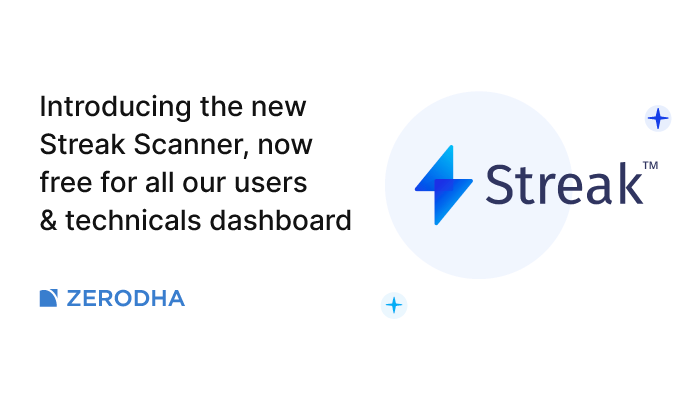 The new Streak Scanner allows you to create and run scans across equities, futures, and options using technical indicators and math operators. You can also discover popular prebuilt scanners. Streak Scanner can now be accessed for free for all our users at https://scanners.streak.tech/
Overview of Streak Scanners:
Discover Scanners
You can browse pre-built scanners based on popular indices, chart types, and various time frames,  or create your own scanners and run them across market segments. The pre-built scanners are based on parameters like top gainers and losers, candlestick patterns, range breakouts, long and short build-up for options, etc. All scanners run on 1 minute data.
To access the pre-built scanner: 
Go to the home page and click on the scanner you want to run.

This will open the scanner window, showing you the scan parameters. 

Click on

Run Scan

to load the latest results. For quicker access, you can set the scanners that you use the most as favorites ☆.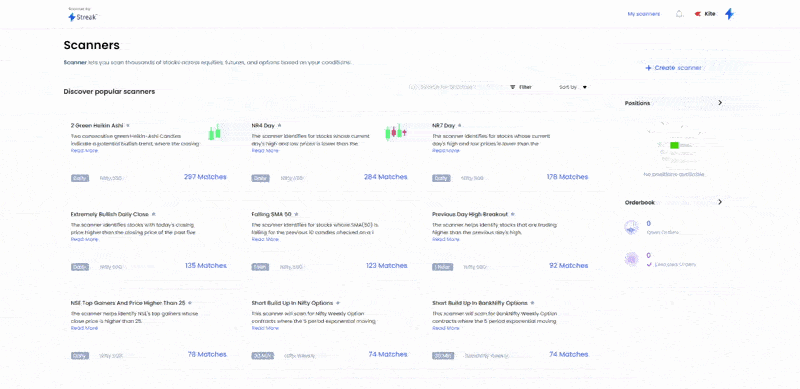 You can run Scanners on Indices, like Nifty 50, 100, and 500, Bank Nifty, and respective futures and options.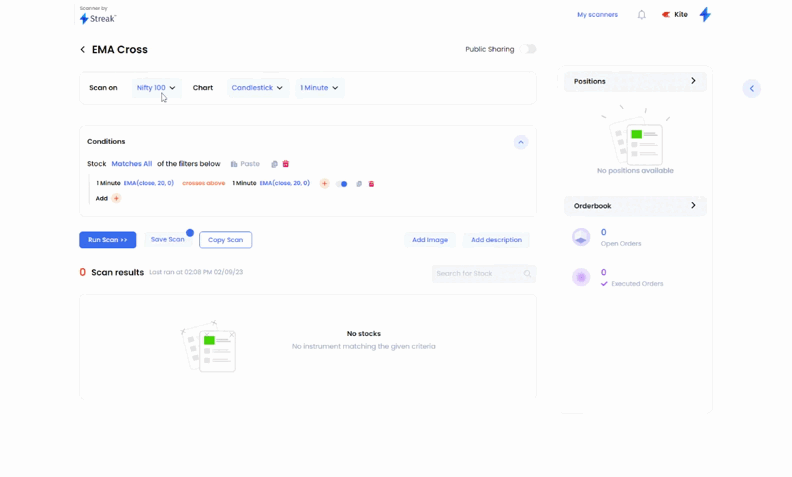 Streak Scanner supports over 100+ technical indicators, including Moving Averages, Bollinger Bands, RSI, Central Pivot Range, and more. Along with mathematical operators and functions based on which you can create and run scans.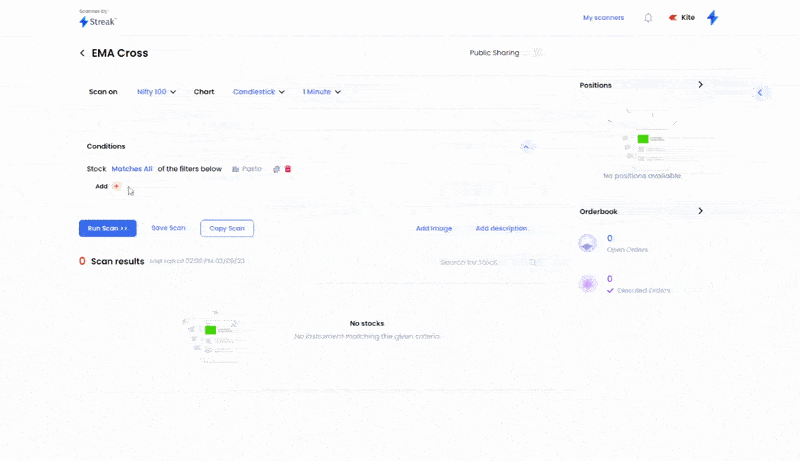 Check charts and stock-specific technicals
After running the scan, you can quickly check the stock-specific technical summary and charts by clicking on Technicals.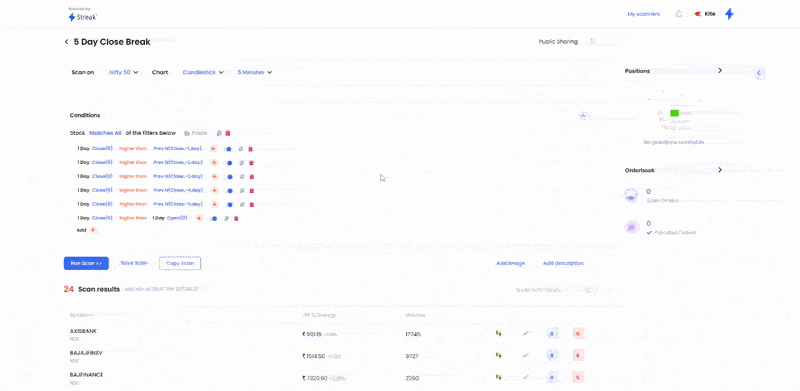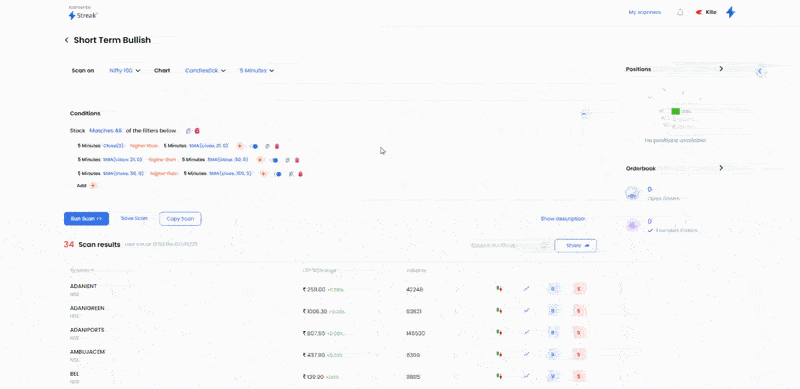 Place orders directly from Streak
You can log in to Streak with your Kite credentials and directly place orders after running the scans. Orders can be placed for both MIS (Intraday) and CNC/NRML product types and order types like Market, Limit, Stoploss Limit (SL), and Stoploss Market (SL-M). The orders placed using the Scanner and can be seen on both Kite and Streak orderbooks and positions.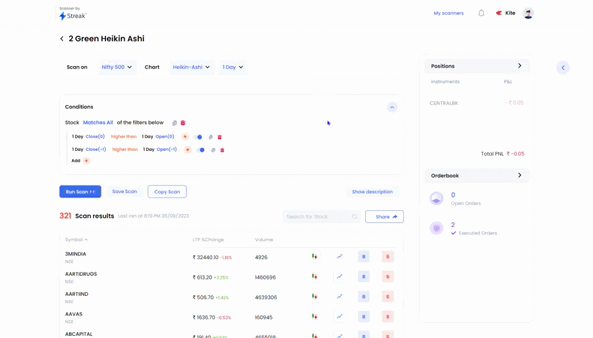 Note: You cannot use Streak Scanner for MCX and CDS futures.
Technicals Dashboard
Let us now talk about the Technicals Dashboard. Having a dashboard that can give you a quick sense of market trends and momentum can be useful when you are actively trading. You can now do this using the technicals dashboard powered by Streak, where you can track market summary based on technical trends  
You can access the technicals dashboard at technicals.zerodha.com
Accessing technicals dashboard from Kite;
On Kite app:
Tap on the instruments

Tap on Technicals and then on Market Technicals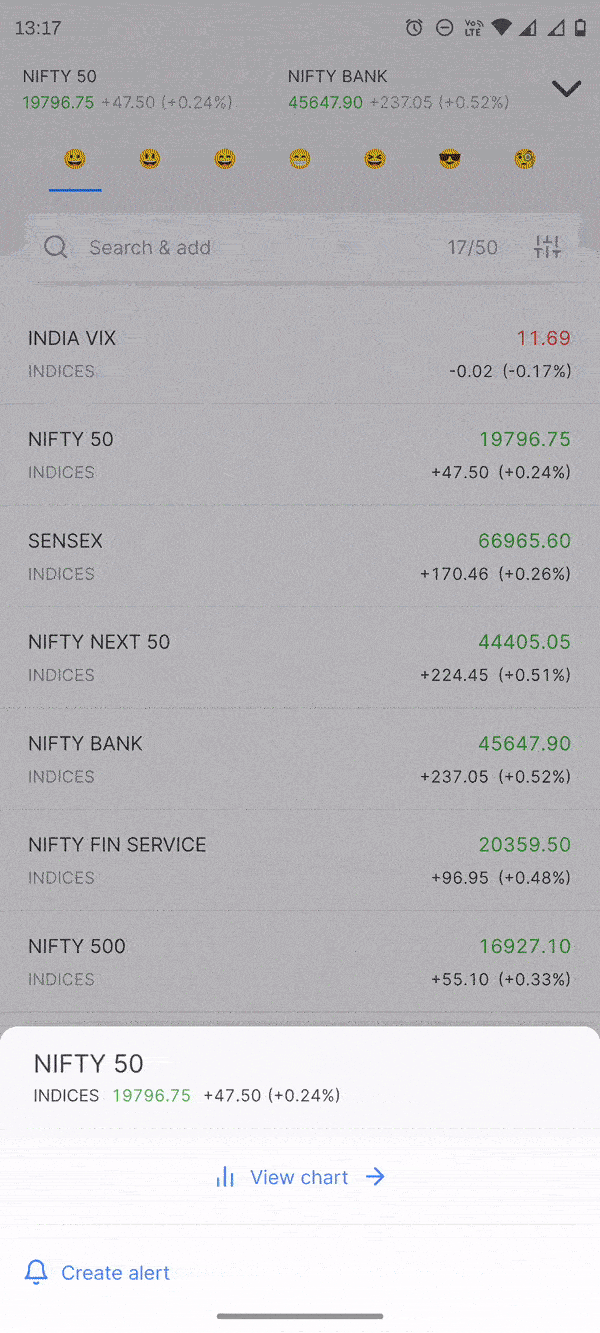 On the Kite web:
Click on More and then on Technicals 
Click on Market Technicals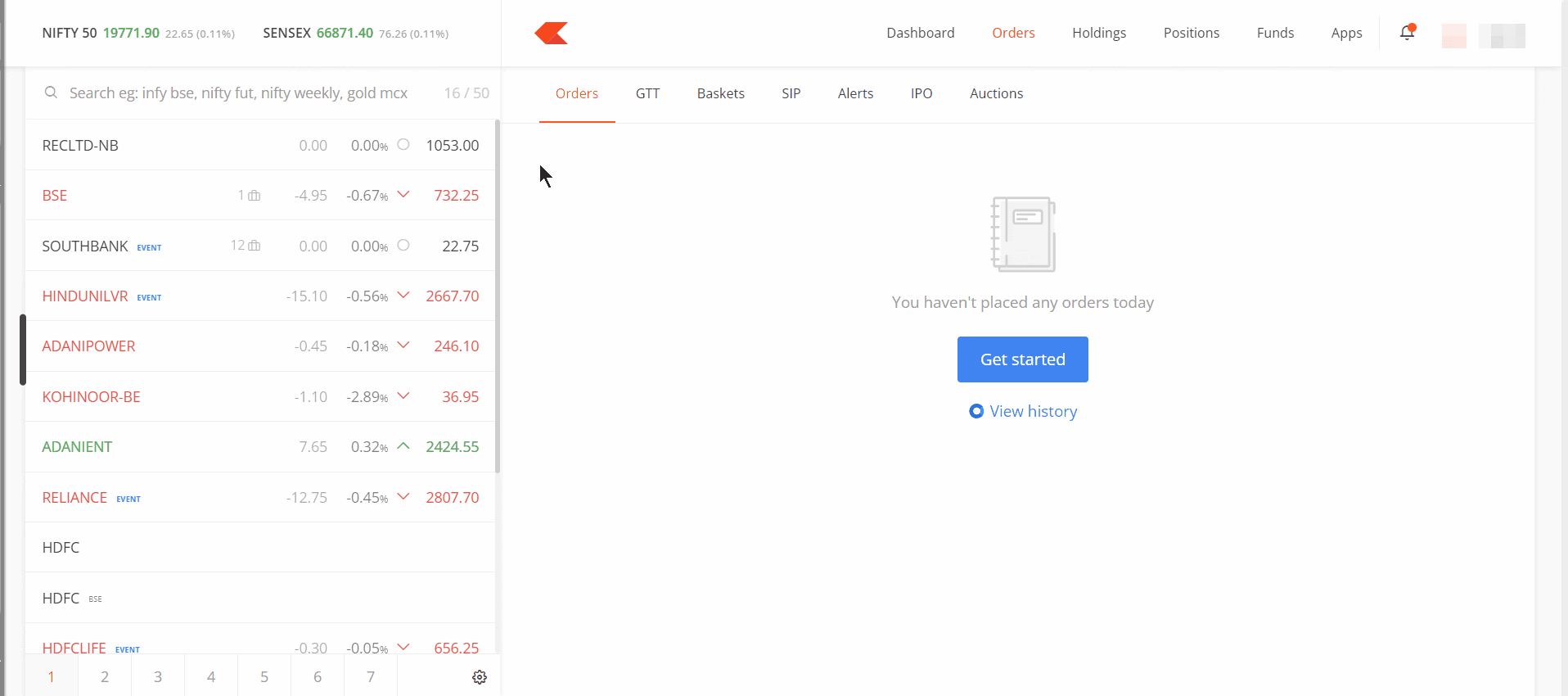 Overview of data points available on the technicals dashboard
Get a quick overview of Top Gainers and Losers, Volume, and Range Breakout across all the major indices like Nifty 50, Nifty 100, Nifty 500, and Nifty Bank. Along with major indices, you can also check major movers in the F&O segment by clicking on the dropdown -. This data is available for multiple timeframes. This data gets auto-refreshed every 5 minutes.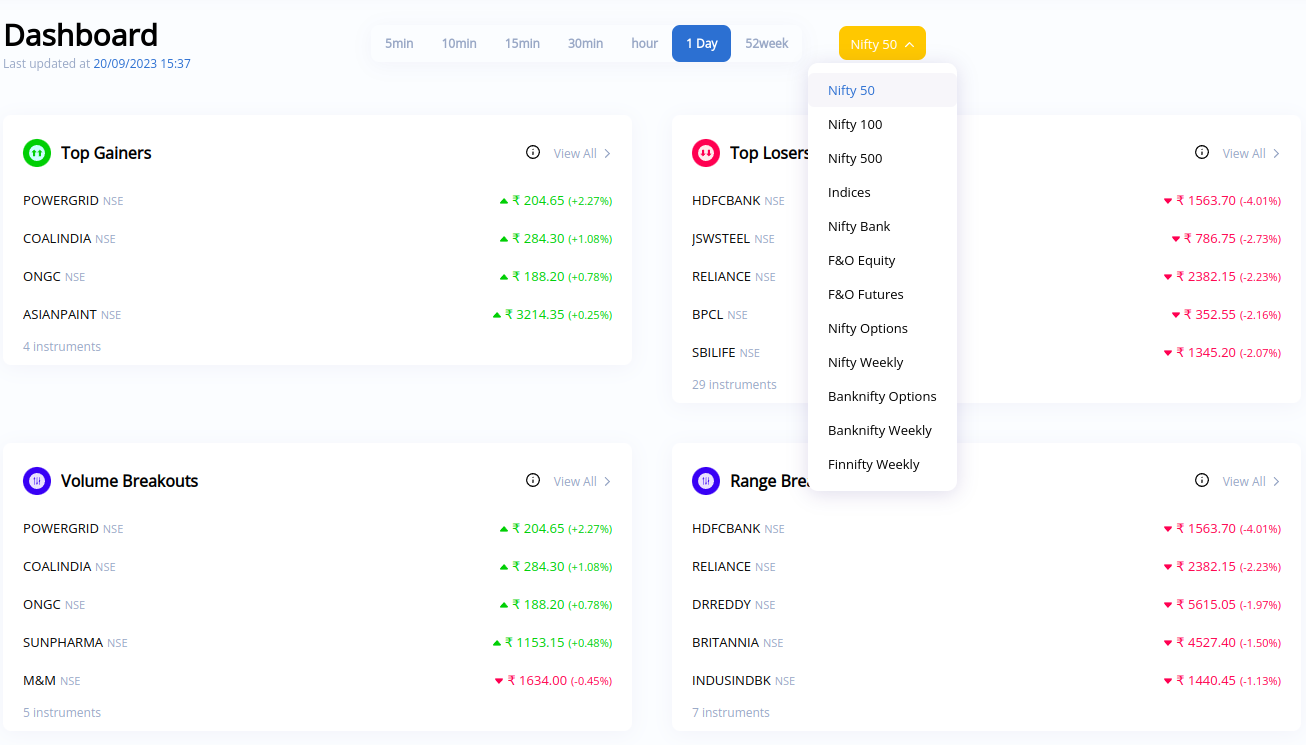 Heatmap
Heatmap is available for the Nifty 50, Nifty 100, and Bank Nifty indexes and shows you a quick overview of how the index is performing.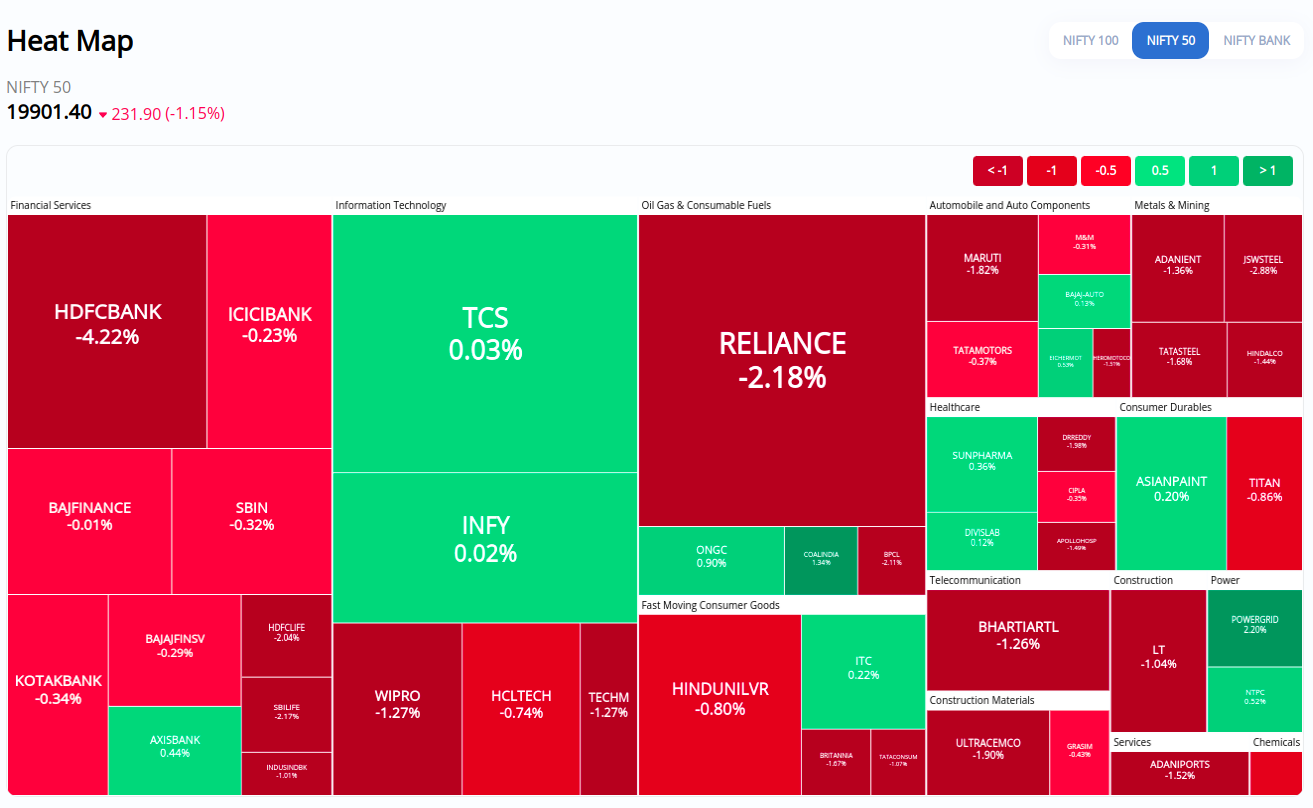 Check stock-specific market sentiment
To understand the trend of any particular stock or option, click on the instrument on the dashboard. It gives you a detailed analysis on Technical Indicators, Moving Averages, Support, and Resistances, which should help you make quick decisions.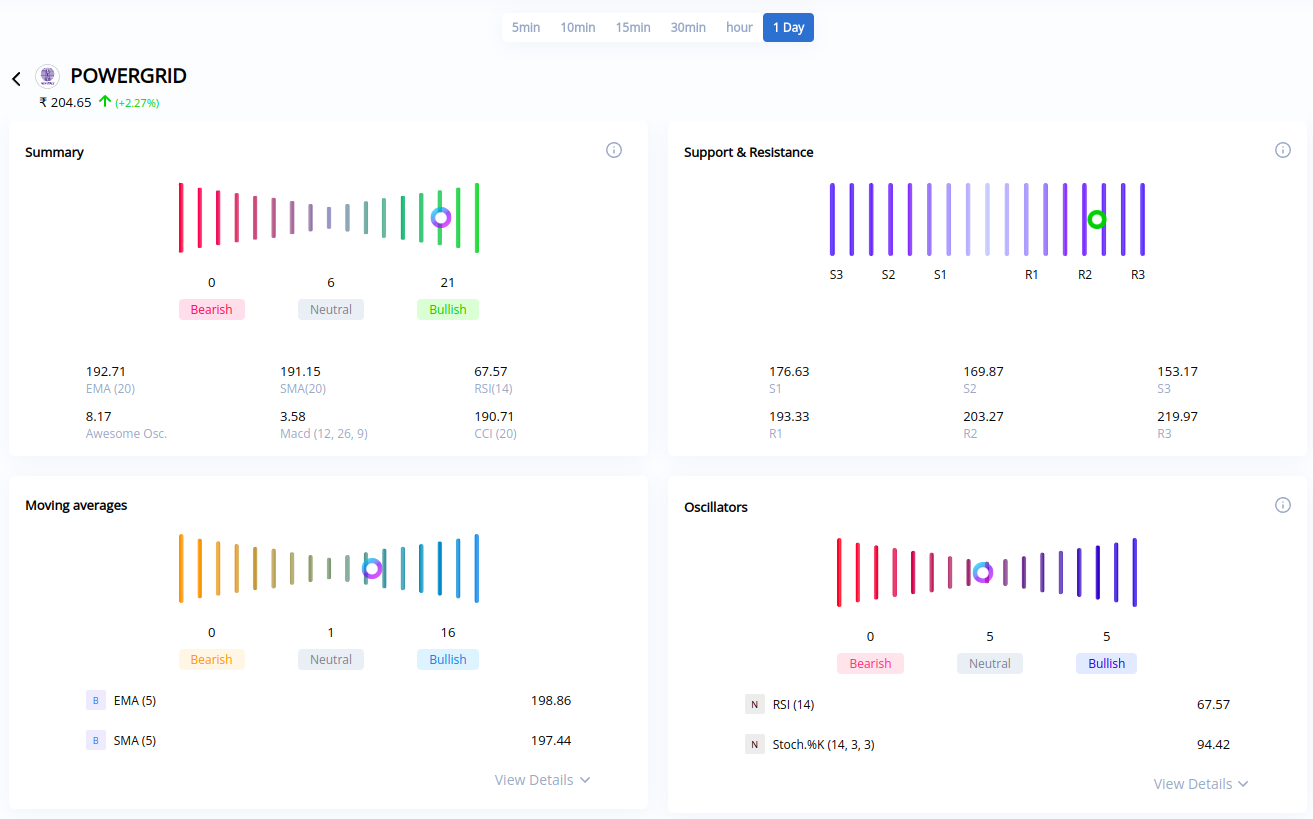 Further down you can see a quick view on Stocks and Indices trading above 200 DMA.