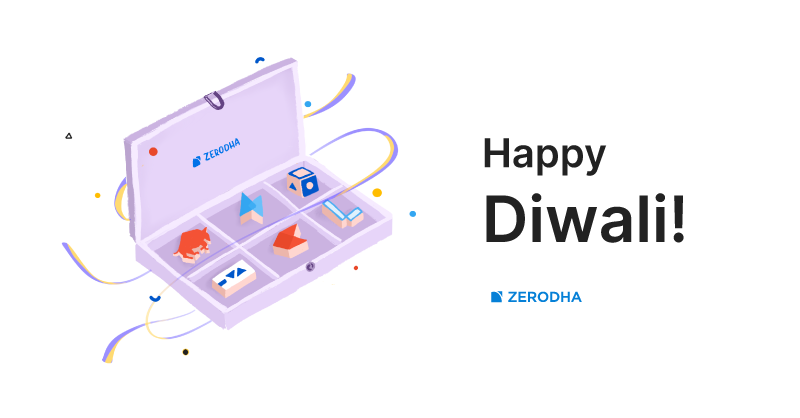 All of us here at team Zerodha wish you a happy Diwali! As has been our tradition, there won't be any brokerages for trades executed during the Muhurat trading session.
Our partners under the Rainmatter initiative are also offering some exciting offers and discounts on their products this Diwali season. These are some really cool tools to enhance your trading and investing experience. Here's a list of all the offers you can avail on our partner products this year:
LearnApp
LearnApp is a video education platform that has 100s of courses on trading and investing taught by industry veterans and subject matter experts. Subscribe to LearnApp and get Rs. 1000 off on their quarterly and annual subscriptions this Diwali. Click here to subscribe.
Sensibull
Sensibull is an options trading platform that lets you build and trade options strategies.
This Diwali, Sensibull Pro will remain free for a week so you can experience pro tools like the Strategy Builder, virtual trading, open interest charts, FII DII Data, and more with Sensibull Pro. You can try it for free here.
If you like the 7-day free trial and wish to continue, you can get Sensibull Pro at a 60% discount with their Diwali offer until November 5.
smallcase
smallcase is a thematic investment platform that allows you to invest in baskets of stocks and ETFs, that reflect different strategies, themes & objectives. With smallcases, you can build a long-term portfolio with innovative ideas.
For example, the Equity & Gold smallcase which has a 70-30 mix of large cap stocks and gold, is designed to create wealth with equities and also offer diversification with gold.
This Diwali, Zerodha is giving a one-time offer on smallcases to all investors. There will be no transaction fee (Rs. 100 + GST) levied on you on your first smallcase order during the Muhurat trading session. Also, check out this collection of smallcases to see what ideas are trending this Diwali.
Streak
Streak lets you create, backtest, and deploy trading and strategies live in the market without coding. You can also use Streak Scanner to scan all stocks based on technical parameters like Supertrend, RSI, candle patterns, etc.
Streak is offering a special Diwali plan to all users until November 6, 2022. This free Diwali plan allows you to:
Run up to 50 backtests per day
Run 50 scans per day on the Streak Scanner
Deploy up to 5 strategies
Streak is also offering a 30% discount and an additional free validity of 5 months on subscribing to the annual Ultimate plan + 5 Hand Holding Sessions of 30 mins each until November 30, 2022.
Happy Diwali!