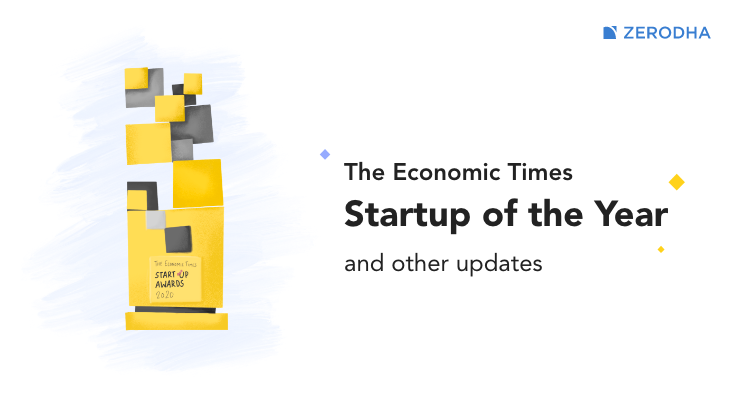 We just won the Economic Times Startup of the year award for the year 2020. This is the most coveted award in India for new businesses. This would not have been possible without your support and love. So thank you! The award only means that we will try even harder to wow you in terms of our product and service.
Here are a few more exciting updates:
Basket order
The ability to place multiple orders at the same time or the basket order feature has been one of our top feature requests. The beta version is now live on Kite web, and we will have it soon on the mobile as well. These baskets can be created and then saved on Kite to be used anytime in the future. Since we envisage usage of basket orders for F&O strategies, we have also incorporated margin required to place the entire basket within the order window itself.
Check the margin required for a short strangle.
Check this article to learn more about using basket orders.
Exchange toggle on the order window
Most stocks trade on both the exchanges (NSE & BSE) and there are times when there is a price difference for the same stock on the exchanges. You can save or earn more by buying on the exchange where the price is lesser or selling where it is higher. To help you make more informed decisions, we now show the last traded price (LTP) of a stock on both the exchanges, NSE and BSE, on the order window and you can choose the exchange you want to place an order on.
Margins on the order window
This has been a very popular feature request, and we started showing the margin required for an order on the order window in June on Kite web. This margin requirement shown is considering all your open positions and orders, hence extremely powerful for F&O traders. This feature is now also available on the Kite mobile app. Read more.
Change in margins
If you have followed this thread on Trading Q&A or the news on change in margin requirements by SEBI, you'd know that there will be a few small changes from Sep 1st 2020. We will have a more detailed post on this in the next few days, but here is a gist.
Intraday/M2M profits will be allowed to be used as margin for other positions; only after it realises on T+1 for F&O and T+2 for equity.
Credit from the exit of long option positions will be allowed only to take further long option positions on the same day. To use the credit to trade any other segment, you'll have to wait until T+1
Margin requirement to sell stocks on T1 day (BTST).
Change in the way pledging works. Instead of stocks moving out of your demat account to the clearing corporation, it will remain in your demat marked as a pledge to the clearing corporation.
And, we have another exciting update for all our web customers this weekend.
Hint: It is dark in colour. 🙂
Thanks again for all the love,
Happy trading!