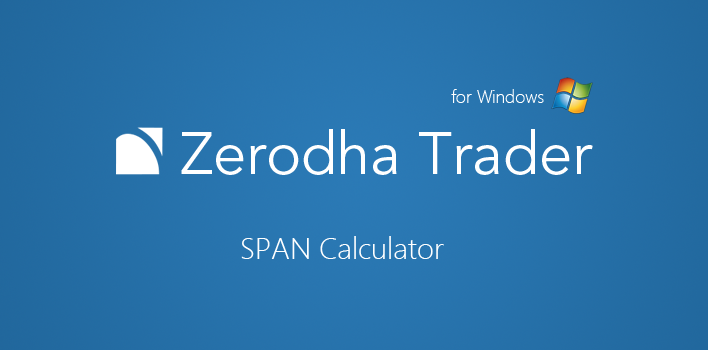 Nov 5, 2013: We have released a fully online SPAN calculator tool, the first of its kind in India. The tool is free for everyone, and can be accessed here.
Traders,
SPAN calculator is a unique tool designed to help you figure out margin requirements even before you take a trade. What is unique about this is that the calculator will show you the margin benefit for taking multiple positions at the same time. The exchange gives you a margin benefit when there are positions which are hedging others and we are amongst the first few brokers to offer a tool on a trading platform which tells you this before taking a trade. Find following an explanation on how to use the tool:
STEP 1: Ensure that you are registered onto NEST PLUS. Ideally you should be automatically be registered on NEST PLUS 24 hours from when your account is active at Zerodha. If you are not registered, look at this blog on how to register.
STEP 2: While logging into the platform, ensure that you have ticked on Launch Plus. Check out the pic below:
STEP 3: Go to the link Nest Auto Plugins (Ctrl + Shift + P). You can also do this by following the steps on the picture below:
Step 4: To start the SPAN Calculator, choose it from the drop down and then click start plugin as mentioned in the image below:
Step 5: You might get an error message like you see below, press OK to continue:
Find following an example of using the SPAN calculator. As we all know margin required to buy 1 lot of Nifty futures is around 25000 (when Nifty is around 6200), what happens if you buy 1 lot of 6200 put along with buying Nifty futures? You buying 6200 put reduces the risk on the Nifty futures and hence the margin blocked should reduce. Consider that Nifty futures presently is at 6258 and nifty 6200 put is at around Rs 82. Margin for nifty futures: 25,000 / Premium Required to buy 6200 put : Rs 4,100… Together the margin required should be 29,100, but since the position is hedged, the margin requirement should be?? Look at the illustration given below:
Step 6: After the above pic, you get the following window. Add the contract and click "Add to List". In the net quantity, add 50 (1 lot long) and add -50 (if you are shorting). In the above example, you are buying 1 lot futures and 1 lot puts, so add net qty as 50 in both the cases. See the pic below:
Step 7: After adding the first contract, add the second contract that you wish to add, see pic below:
Step 8: Click on the box next to the position and say get SPAN. See the total margin required:
As you will see in the example, the margin required reduces by quite a bit because your position is hedged.
Similarly find the following example where you are shorting Nifty futures and buying 6200 calls.
1. Add (-50) of Nifty October futures as shown below:
2. Add 50 (1 lot long) of 6200 calls as shown below:
3. Click on both positions and click get SPAN. See the actual margin required to take this trade:
Similarly you can see the margin requirements for trading commodity futures. Please note that when adding a contract for commodity in the net quantity column if you want to add 1 lot of silver don't mention 1 but mention 30( 1 lot is 30kgs of silver) or multiples of 30. So the net quantity can be multiples of, for Gold(1, as 1kg), Silver( 30, as 30kg), Lead(5, as 5MT), Lead mini(1, as 1MT), Zinc(5, as 5MT) so on..
Similar to the examples given above, you can add multiple positions and see what the margin requirement is for the combined/individual position and see the margin benefit exchange gives that you will automatically get while trading on Zerodha Trader. It is a unique tool and Zerodha Trader is amongst the first platforms in India which gives you this facility.
*Please know that if you are using product type as MIS while placing the trades, margin blocked will be only 40% of the amount mentioned in the calculator.
Know exactly what is the margin requirement, even before taking a trade.
Happy Trading,