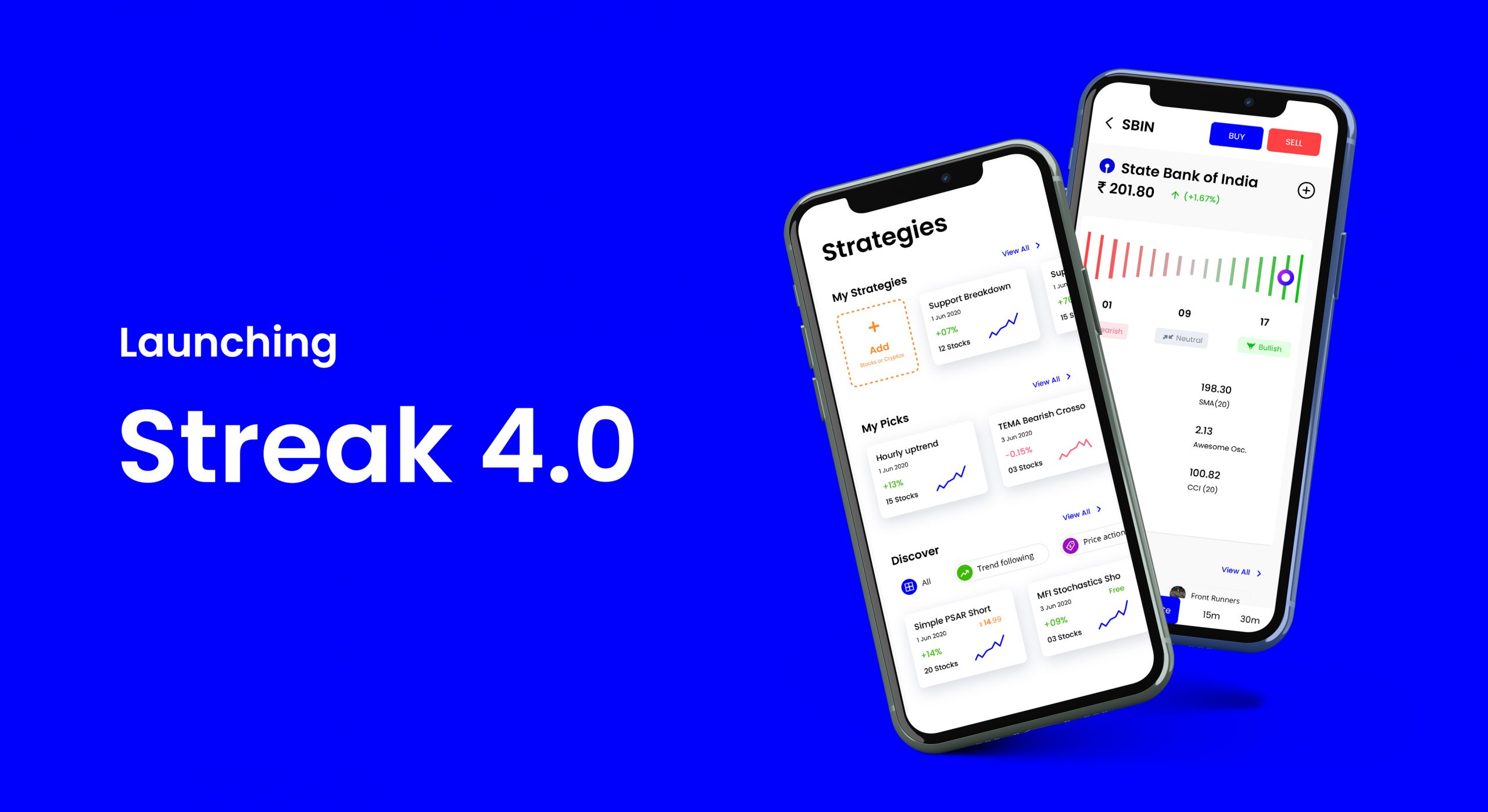 Ever since Streak came out in 2018, we have been constantly listening to you, our customers, to understand how to make Streak better for you. One thing that most of our users asked us was to make the app easier to use. And so, after incorporating two years of your feedback, we have completely redesigned the Streak mobile app. This is systematic trading at its best, and it is now available to you in an interface that is simply elegant, smooth, intuitive and super-fast.
We are giving out the platform for free with 50 backtests, 5 deployments, 50 scans daily, for 2 weeks, till November 8, 2020, for all Zerodha clients to try it out.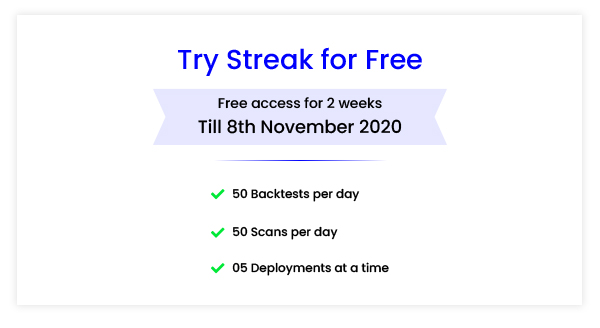 The new Streak app lets you do everything the old app allowed you to, but it has been re-designed and re-engineered to suit your needs and take you through your trading journey seamlessly. Now, let's dig into the app. The all-new Streak app focuses on 3 things that are most useful to a trader:
Strategies
Scanners
Technicals
Technicals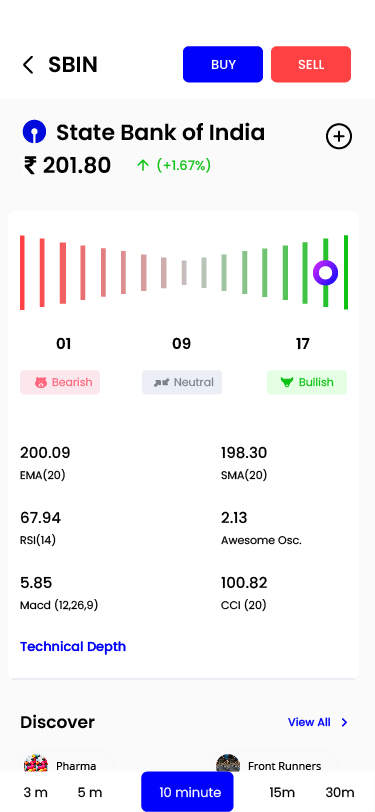 Technicals are the most simplistic section and the perfect way to start on Streak. This will help you familiarize yourself with all the most popular technical indicators and categories of technical indicators. Once you master this section you can easily transition to creating both strategies and scanners.
If you have used any modern-day trading app, then you would be familiar with creating a list of stocks and naming it to track them daily. The Technicals section allows you to do just that with a twist. Along with showing you the stock prices (LTP), it also shows you a quick "technical" snapshot of each stock you want to track.
You can go even deeper and read through all the technical indicators values that are pre-computed for different time frames such as 1m, 5m, …, 1D. Popular indicators include moving averages such as SMA, EMA, Hull, etc and Oscillators such as RSI, MACD, CCI etc.
You can directly place orders from the Technicals section and these orders will be routed through Zerodha and the same will be reflected in Kite as well as in Streak Orderbook and Positions.
Strategies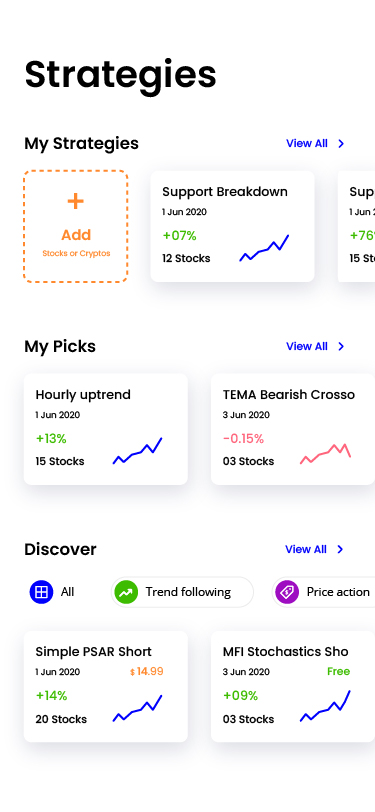 This section is your go-to section for everything pertaining to strategic trading. You will notice that it is divided into the following subsections:
My Strategies are strategies that you created.
Discover has strategies published by Streak for educational purposes.
My Picks are strategies that you picked from the Discover section to either edit, backtest or deploy.
Create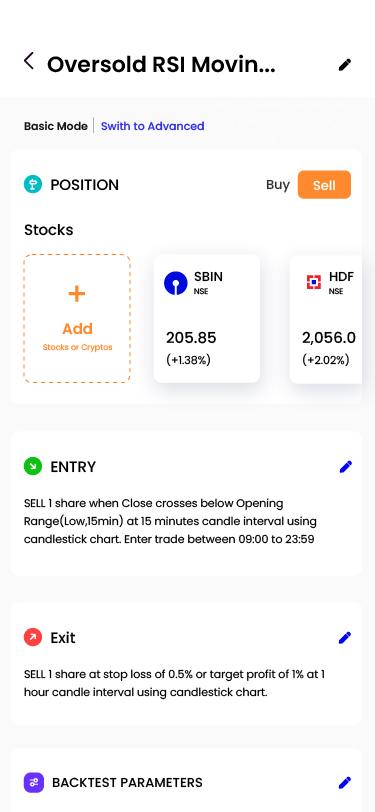 This is one feature we recommend you must explore! Creating strategies were never made simpler, not only does it look simpler it is also 10X easier to create strategies with this new strategy builder that we have created. It comes with 2 in-built modes – "Basic" and "Advanced". Both are powerful and fast, designed to cater to the different needs of the user.
The basic mode lets you create strategies in a pre-defined template format which you are well familiar with already, the pattern is to add an indicator followed by a comparator and then an indicator again. Although it looks simple you can create really powerful strategies such as volume-based price action strategies, trend followers etc. If you use the basic mode with the "Assist" feature (keep the toggle on), even a newbie who knows nothing about technical analysis can create strategies by keying in just one indicator, to begin with, and watch as the rest of the strategy is auto-completed.
The advanced mode is for our Streak users who want the freedom to create absolutely anything they can fathom in an extremely flexible way! Whether you want to use a complex mathematical operator or start the strategy with parentheses or create multi-layered complex nested conditions for entry and exit, this is the mode you want to choose. As the name suggests, this mode is for the advanced technical trader who wants to dive deep and test it all out.
Backtesting and Deploying remain as simple as ever and we still run the fastest backtests in the world. At the time of deployment you can choose to deploy live in the market or if you aren't confident enough you can just paper trade and still experience strategic trading.
Scanners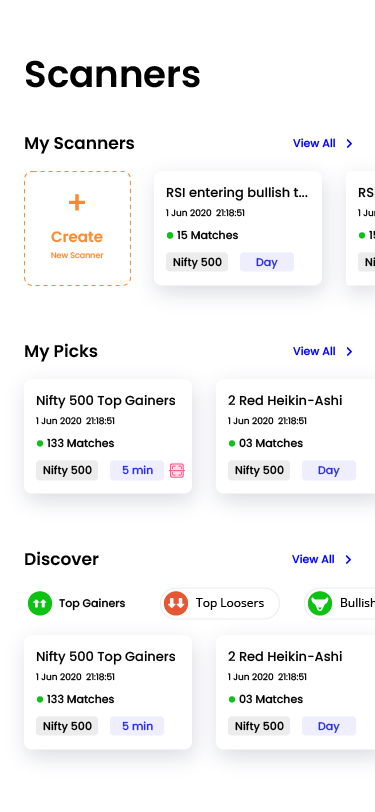 This section is similar to the strategies section as it also has "My Scanners", "Discover", "My Picks" and the all-powerful "Create" that comes in basic and advanced modes. It is differentiated fundamentally by its functionality wherein it allows you to scan the market sector-wise or scan baskets of stocks with the custom conditions that you create.
Once you finish scanning, you can buy/sell the stocks/future contracts that have met the scanning criteria or view their technical summary to double-check before making your decision.
It has additional features which allow you to convert the whole scanner into a strategy which you can then backtest and deploy or you can simply take the scanner live so that it can watch the market for you all day long at time intervals of your choice and get notified.
The new Streak app is complete with Orderbook, Portfolio and Profile pages which are best left for you to explore.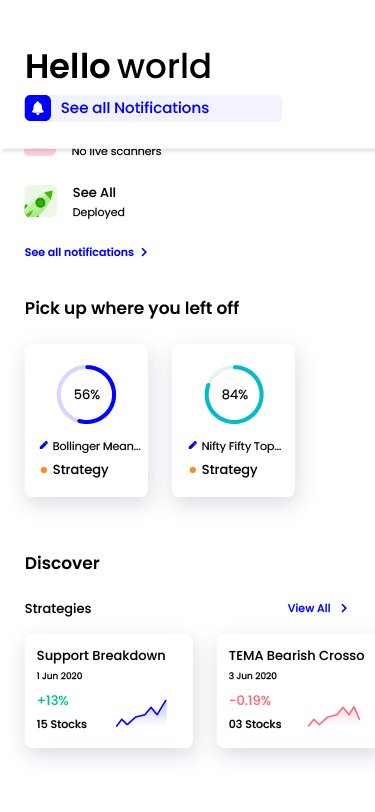 To sum it all up, the new Streak app has all the features and functionalities of the old app such as creating strategies, backtesting, deploying, paper trading, scanning, discovering new strategies and scanners etc. But it also has a whole bunch of new features that will make your trading life a breeze. In addition, it also has subtle little things which will catch you by surprise and we will leave that to you to discover.
We cannot thank you all enough because we would not have been able to evolve Streak app to this extent without your constant support, faith and most importantly your honest feedback on the product throughout these years.
We want to extend a special "thank you" to the Zerodha team, who have been part of our journey since day one, believed in our vision and gave us all the support.
Do check out this video tour of the app to learn more.
You can download the app here or search for it on the Google Playstore. We haven't released the iOS app for Apple phones just yet, it is scheduled to be released shortly in a couple of months.
For further know-how/feedback write to us at [email protected]
As always, stay sharp and stay safe.