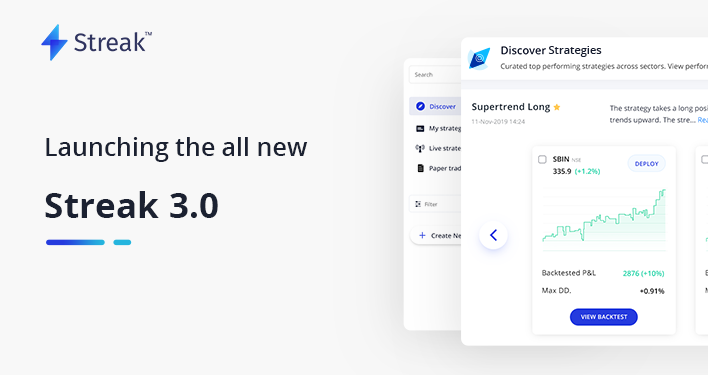 The Streak team has been working for the past few months on revamping the platform to make your experience better, based on your feedback. Here is a post from the Streak team introducing the new Streak 3.0 beta platform. You can write to [email protected] with any feedback you may have.
---
We have all come a long way as traders. Before Streak, our trading days pretty much looked like this: staring at the screen for 9 hours a day, trying out some complicated software that needed to be installed and maintained, trading based on impulse and hearsay, searching for that excel sheet where you had worked out a good trading idea and slamming your laptop shut at closing bell thinking about the "what ifs" and "maybes".
With Streak 2.0, magically all our trading problems were solved in an instant with a clean and easy way of trading strategically: from opportunity identification to covering your positions while getting notified along the way, allowing you to go about your day-to-day.
But it's time to up your trading game and your performance as the markets are getting more fierce with increasing algorithmic volume and new entrants to the stock market.
We are launching Streak 3.0, with the single goal of upping your trading performance. After a lot of consideration and internal debate with experts, we have launched the hero feature of 3.0 – "Discover".
Here's a sneak peek.

Discover Strategies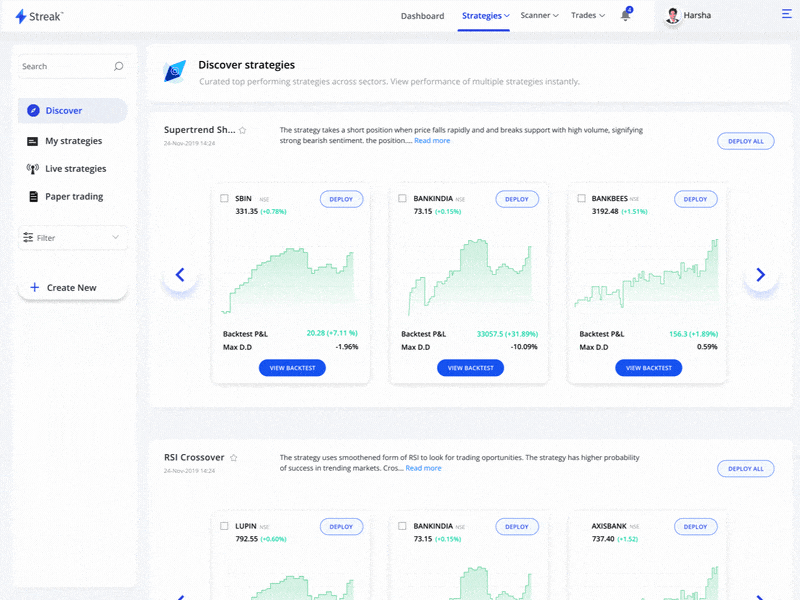 Trading ideas are dime a dozen, however, trading strategies that fit the right opportunity at the right time are not. For the first time in trading history, we are proud to say that we have built a strategy engine that allows you to take advantage of top-notch trading strategies that are personalised to your trading style and preference. The best part is, this feed gets refreshed every single day and factors in current market conditions and time frames.
Scroll through and filter out strategies and quickly view their performance across stocks, currency futures, futures contracts and commodities.
Use this section as a beginner's guide to strategic trading until you master the art of building your own strategies. Please note, these strategies are meant for inspiration and are not to be construed as recommendations. You can modify these strategies anyway you like before taking it live.
View Backtest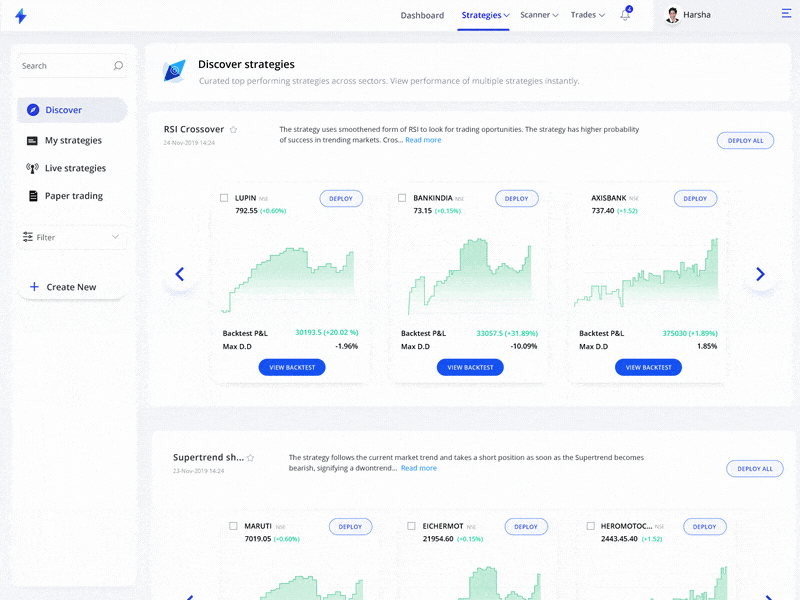 We understand that every second matters. Our new interface allows you to quickly slide through backtest results of multiple stocks in a single view for each strategy, whether it's a strategy you are discovering or whether it is a strategy you created yourself. As always, you can edit the backtest parameters to your fancy and re-run it again.
Paper Trade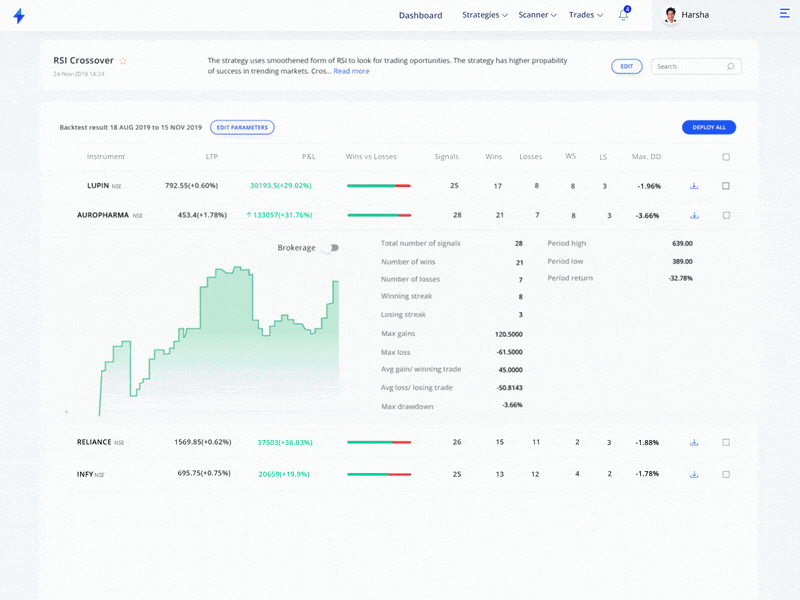 For those who don't know what a paper trade is, it's just another word for virtual trading or simply put placing hypothetical trades based on real-time stock market prices. If you are trying out Streak for the first time or if you are new to the stock market in general, we highly recommend you paper trade the strategies before taking it live.
If you are happy with your strategies, you can always deploy it again and take it live to receive notifications with an order window that lets you place orders with a single click.
As always, we are offering free access to the new Streak 3.0 Beta platform to all Zerodha users from 4th Dec 2019 to 10th Dec 2019. The plan will entail 20 backtests, 2 live deployments, and 20 scans per day.
We will be launching our mobile version of 3.0 soon and will keep you posted.
Do write to us at [email protected] for any assistance.
Quick links: