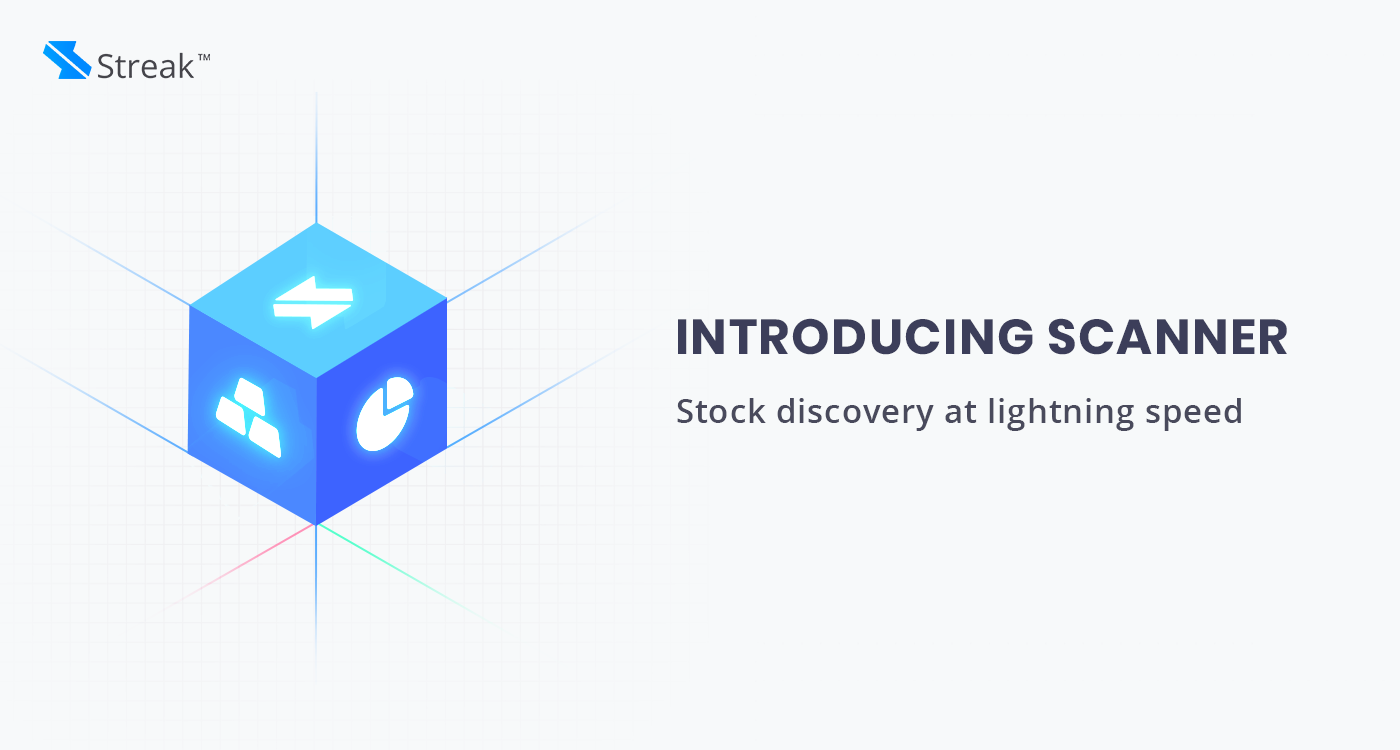 Scanners, typically, until now have been used to identify stocks using plain filters with limited functionality. Retail traders lacked a single source that allowed the use of custom conditioning while including mathematical functions and operators. A few who were able to provide complex conditions had to compromise on usability. Thus, making it very complicated and cumbersome for users.
Up until now, retail traders had to struggle through different charts, screens, and platforms. The lack of a seamless experience was affecting how users traded. The need of the hour was an advanced system with easy to use functionalities and an intuitive interface without the complexities of coding.
With this in mind, we've built Streak Scanner from the ground up to be as simple as possible. You can filter stocks based on pre-defined technical conditions combined with math functions across market segments, including Nifty 50, Nifty 100, Nifty 500, currencies and commodities.
Streak's Technical Scanner, lets you create more than a million conditions of your choice without getting into the complexities of coding. Our promise is to bring the latest technology at affordable prices.
Highlights
Popular scanners
Access over 70+ Pre-defined scans that are ready to use such as Top gainers, Top Losers, Bullish, Bearish, Range breakout, Crossovers and more.
Create custom scans
With Technical Indicators and advanced mathematical functions, you can now create custom scans with more than a million conditions to scan across thousands of stocks.
Harness the functionalities of built-in technical indicators, mathematical operators, and easy to use interface to skim through resulting scans. With Streak Scanner's, lightning-fast processing, you can now cut down your stock search time to less than a second, every time you trade.
Do more with scanned stocks:
Directly place orders from the order window or
Create a basket or
Create a strategy for preferred stocks.
Trading from the order window
You can now choose to Buy or Sell stocks directly from the order window. These orders can be tracked from Orderbook and Portfolio.
Create a basket
The basket feature allows you to save stocks by giving the basket a unique name. These baskets can be accessed from the 'Menu drop-down'. You can use these baskets to create strategies from the 'create' page any time.
Create a Strategy
With the scanned stocks, you can further choose to gauge the performance of the stocks by creating a new strategy and backtesting it.
We heard you!
We have also introduced a range of comprehensive plans for you to choose from. Here's a quick look at the Monthly, Quarterly, Biannual, and Annual plans.
Bonus tip: You can get unlimited scans with the Premium and Ultimate Plan.
All Zerodha clients will be able to access Streak free trial plan till 18 July 2019.
20 Scans per day
20 Backtests per day
2 live deployments
Check out Streak Help for more.
Happy Trading 🙂