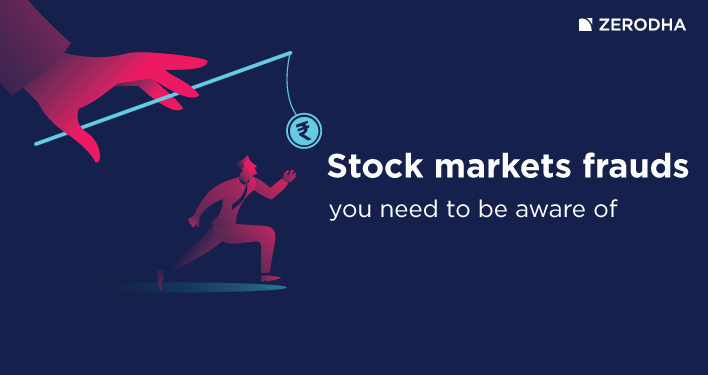 Hindi: इस पोस्ट को हिंदी में पढ़ने के लिए यहाँ क्लिक करें।
The lure of easy money is what attracts people to trading and investing, including yours truly. But like someone once said, "Stock markets are the toughest place in the world to make easy money in the long run". This realisation typically occurs when one is in a drawdown (the account is in loss). However, the sunk cost fallacy forces us to act irrationally in hopes of recovering losses. That weak moment is when even the sharpest amongst us fall prey to frauds. Below are the two most common ones that you need to be aware of. 
The fraud adviser who creates an intentional loss 
When on a financial loss, most of us instinctively tend to believe anyone who claims that they can help us get out of it. Of course, there are many good advisers and trainers who possibly can, but there are also many fraudsters claiming to be market experts prowling on social media and waiting to prey if you show weakness. 
While it is okay to pay a fee to a SEBI registered Investment adviser to help you out or to get trained by an expert on how to trade, what has to be avoided is sharing your login credentials to your account with any third party. While there might be many well-meaning advisers who might offer to trade on your behalf which might seem convenient, but it also exposes you to huge risk of a fraudster who can create a loss in your account using non-genuine trades and move your money to another trading account, making it very tough for you to even figure that you have been scammed. 
How?
Over 30,000 options contracts are listed on the exchange, but only a fraction of them actively trade, while the rest are illiquid. These options contracts where there is no other trading are used by scammers to place illegitimate trades (buy high and sell low with the same account and in quick succession) which creates a loss in your account and profit in the other trading account. You would assume this is a genuine market loss, but it clearly isn't. 
Apart from the loss, you are now also exposed to regulatory action. Any such trading activity in your account would be looked upon by the income tax department as money laundering (creating losses to avoid taxes, or convert white to black money or vice versa). SEBI considers such trades circular trading. Apart from the monetary penalty that such trades entail, you could potentially be banned for life from the markets by SEBI.
What can you do? 
Never share your login credentials with anyone enabling others to trade on your behalf.

Setup TOTP to add an additional layer of security to your account.

If you don't understand options, don't trade them even if someone is asking you to. Options are risky and you need to understand them well before you trade them. 

If you know options, know that when trading illiquid options, you can determine an approximate fair value of an option by using IV (Implied Volatility) of a liquid strike of the same underlying and using it in the

Black and Scholes (B&S) calculator

. You can see the IV on option chain on Kite.

If you had given access to someone who has created such an artificial loss, you can lodge a police complaint against the fraudster, let our compliance team know about it, and we will help you with the case. 
What are we doing? 
Since we have seen a rise in such scams recently, we now have an illiquid option check on the order screen to help you out even if you are being deceived by someone. Orders will get rejected on options contracts which we believe can be used for executing non-genuine trades to create a loss in your account. 

As a secondary check, we will also soon start running a background risk process to alert exchanges anytime orders are placed at a price which is far away from the theoretical price of the illiquid option (which will be calculated using IV of the liquid strikes). If trades are found to be non-genuine, we will request exchanges for trade cancellation and regulatory action.
Note: While we will run these checks and add new ones with time, they still aren't foolproof and it is critical that you don't share your login credentials with anyone, or place orders that you don't understand based on someone's instructions or advice.
The pump & dump scheme 
Pump & dump schemes have been made famous in many movies based on stock markets, and hence a much easier fraud to detect. But still, greed causes many to fall prey for it. Out of the 4900+ companies listed on the stock exchanges, over 1700 are what are called "penny stocks". Penny stocks are small companies with market caps of less than Rs 100 crores. While there are many genuine small companies, there are also many that aren't.
In a pump and dump scheme, the operators (people who hold the majority of the shares of the company) of these penny stocks move the price of the stocks up and down at will. To move the price up, the operators start placing small amounts of buy orders at higher prices incrementally, and since they own all the stock, the price starts moving up. Once it has moved up enough to make retail investors greedy – a buzz is created through SMS, social media, and online forums to push the price up even further. This is when typically most people get sucked into the stock and also when the operator starts selling the stocks. As soon as the selling is done at these high prices, the buzz stops and the stock falls back to the price where the upward journey started without giving anyone an opportunity to exit. Here are some recent examples. 
Again, apart from the loss, there is another issue to consider. The government introduced Long Term Capital Gains (LTCG) tax of 10% a couple of years ago to control money laundering fraud that runs through such penny stocks, a fraud estimated to be the size of tens of thousands of crores. The operator who moves the price of the stock from almost 0 to much higher before selling, would also do it by holding the stock for more than 1 year to benefit from lower long term capital gain (LTCG) tax (10% now, but was only 0% earlier) on the profits. So the operator isn't just potentially ruining many gullible investor's financial health, but is also potentially converting someone's black money into tax-free white money in the process. With LTCG now at 10%, this now becomes the cost for an operator to convert black into white. Govt is hoping that it could act as a deterrent. Income tax department keeps a close watch on everyone transacting in such suspicious companies. What this means is that, even if you made some money trading such a stock, you could get an Income tax scrutiny notice which potentially can lead to a penalty of more than the profits earned. 
What can you do? 
Don't trust stock tips that promise quick returns. Do your research before investing. At least, confirm if the business and promoters are legitimate.

Don't trust SMS asking to invest in penny stocks. Many scammers send SMS using shortcodes that make it seem like it is from a reputed brokerage firm. Variations of the name "Zerodha" have been illegally used by scammers recently.

If you receive an SMS asking you to invest in a penny stock, make sure to report it to TRAI and help save others from falling to the fraud.

Check this

on how to report to TRAI. Also, post it here, so we can alert all other users.

Stay away from penny stocks, and if you did decide to let greed take over, think of it as a lottery ticket which potentially can be worthless. So, invest only what you can afford to lose. 
What are we doing? 
We now have a penny stock nudge on our buy order window (currently on the web and soon on mobile). The idea is to alert you if you didn't know what you are investing is in a penny stock, and we will also have an additional warning for stocks which we think are currently being manipulated through SMS tips and social media buzz. Of course, you would be free to proceed, but hopefully, you won't, and even if you did you will reduce the trading size to as little as possible to reduce your risk. 
I hope you will share the above piece of information with as many people as possible and help them from falling prey to such frauds. If you are trading at Zerodha, we will do our best to ensure that you aren't duped through nudges mentioned above.
Happy Trading,