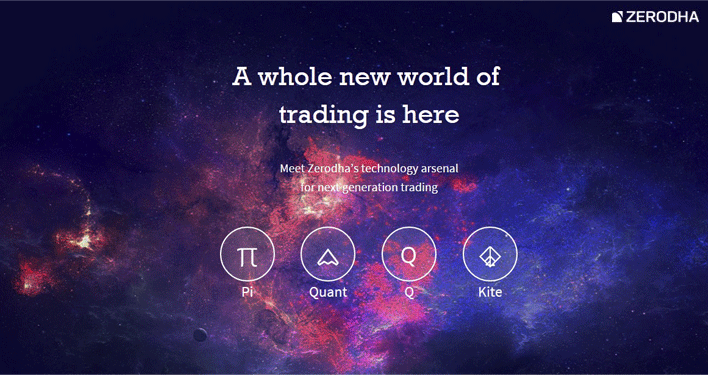 Traders,
Do read the introduction post on Pi. To have Pi enabled on your trading account, you have to be an active client with us. Active clients are those with at least Rs 10,000 in their trading account, or who have executed at least 30 trades in the last 6 months, or 20 trades in the last 3 months, or 10 trades in the last 1 month.
Please note, as of 11th August 2015, Pi has been made available to all clients of Zerodha, active or not. 
Request to enable
Login to our reporting tool Q, and click on the green Pi link to place a request to enable. If you don't satisfy the above mentioned criterion for an active client, you will not be able to click on this button. Once you place the request it might take up to 24 hours (on working days) before you are enabled and get a download link and license key to use Pi.
Installation
Click on download Pi in the above image and then follow the sequence of steps below.
Important
Prerequisites
Microsoft .NET Framework 4 (x86 and x64). Ideally your system should already have this, if not you can download directly from Microsoft or using our Google doc. Note that a system restart might be required. If you get an error saying ".NET framework 4 installer error (HRESULT: 0xc8000222), you need to install this patch.
Microsoft Visual C++ 2008 Runtime Libraries (x86). Again, ideally you should already have this. If you don't have it, click here to download.
Microsoft Visual C++ 2010 Runtime Libraries (x86). If you don't have it already, download either directly from Microsoft or use our Google doc.
System requirement for optimum performance
Intel Dual Core Processor or Higher.
Windows XP/7/8/10.
RAM required is 2 GB.
Display Resolution greater than 1024 X 768
HDD required is 2 GB free space in the installation directory.
Internet Connection >=512Kbps and should be seamless.
Additional Info
If you are already using Pi and want to install the latest version: Ensure you first uninstall the older version of Pi from the Control Panel (Windows key + X).
On Windows 8 if you get a message, "Windows protected your PC", click on "More Info", and then click on "Run anyway".
Some antiviruses may identify Pi_setup.exe as false positive (ex: 360 total security). Make sure you add it to the trusted files list.
Software like Magic Macro, AutoHotKey, AutoIT, FastKeys and similar should be disabled while running Pi.
If charts are not opening, go to "C:\Zerodha\Pi\", right click on "register_chart.bat" and click "run as administrator". Relogin to Pi.
For Windows XP users, before the Pi installation, please download and install Microsoft WIC (if not installed already) from the following links for 32 bit OS or 64 bit OS respectively.
For the best GUI (Graphical User Interface) or looks of Pi on Windows 7/8:  Click on Control Panel -> All Control Panel Items ->Display and change the size of all items to "Smaller – 100%". Check out the image below.
8. Also if the font seems to be different in your installation than what you see in the images above, open the "Open Sans Fonts" folder in the downloaded installation file (3rd image from top of this post). Once this is opened, you'll see two fonts, just double click on both these fonts and choose "Install" as shown in the image below.
Happy Trading,
P.S. Please note, as of 11th August 2015, Pi has been made available to all.