Registering on Nest Plus:
Your ZT will be pre-enabled for Nest Plus through which you can enjoy free charting and algoZ for life. This can take a maximum of 48 hours from when your account is opened. If you don't want to wait until then, you can go ahead and register on your own and this will take you just a couple of minutes. However, note that if you register with Nest Plus on your own as an individual, you will not get to use algoZ for free! It's best to wait for the automatic mapping from Zerodha as Nest Plus through us offers you a lot of free plugins as mentioned in the following link. If Nest Plus is not already registered on your system, please follow the steps below:
The following window will show up when you login. Click on No and then click Install Now. Once you click on Install Now a new window pops up, click on Yes.
You will see the below window, wait for a few minutes for the auto-installation to complete.
Once the plus installation is complete, you will see the following window. Please enter the details as mentioned below and you are setup with Nest Plus. If you don't see this, you can access the registration page by clicking on the Nest Plus link on ZT and then clicking on registration.
You cannot experience what Nest Plus is about without registering on it. If you do register as an individual, you'll definitely not get the benefits a Zerodha client gets, so ideally it's best to wait for your ID to be mapped by Zerodha directly so you can enjoy all features without any hassle.
What should I do if Nest Plus doesn't install properly?
Sometimes Nest Plus fails to install its updates correctly when you click Install Now if there is a conflict between the older versions of NOW and/or Zerodha Trader on your system. In such cases, there is a workaround you can use so that you can have the latest version of Nest Plus on your system at all times. It's important to have the latest version of Nest Plus to make sure that there are no bugs and that you're getting the most out of the tools provided. Your Nest Plus version varies depending on the version of Zerodha Trader.
Check out this image to ascertain which version of Nest Plus you should be downloading. This page can be accessed by going here.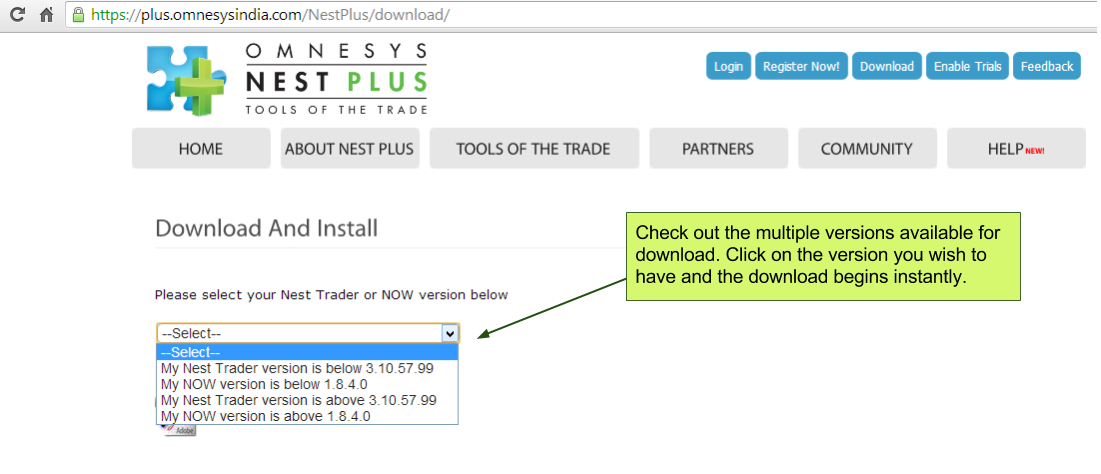 Once you've identified which version of Nest Plus you need to be using, here's how you can make it happen in just a few minutes.
First, you need to download and install – The file will have an extension called .msi and this can be installed by just double clicking it.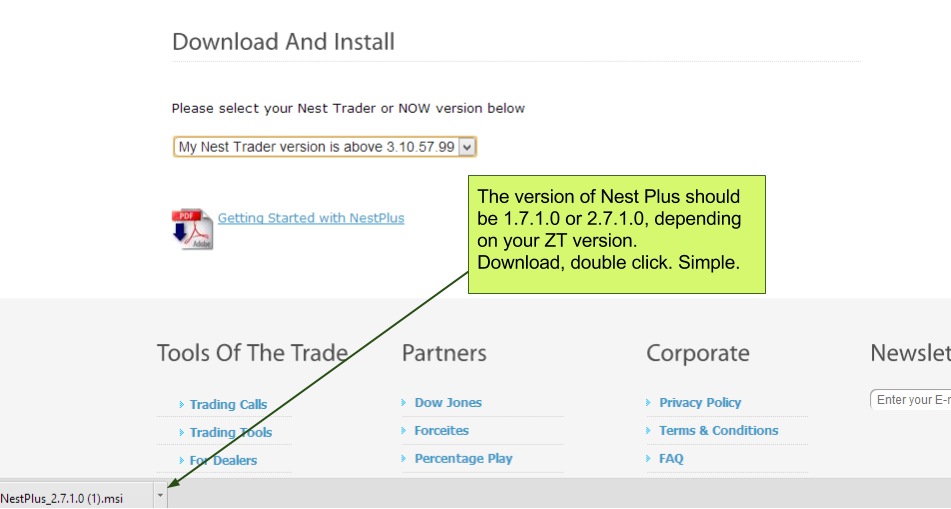 Once downloaded, make sure you install Nest Plus in the folder where ZT is. The folder where Zerodha Trader is installed usually is C:\\Program Files\Omnesys\NEST3 or it could be installed in C:\\Program Files(x86)\Omnesys\NEST3
Given below are a series of four images clubbed together describing the installation process.
1. Box 1: This is what you see first, click Next.
2. Box 2: Info on what's in store for you with this update of Nest Plus.
3. Box 3: Most important box – Change the destination folder for installing Nest Plus to the folder where ZT is installed. To know where ZT is installed, just right click on the Zerodha Trader shortcut on your desktop and select Properties. In the Properties window, you'll see the path where ZT is installed.
4. Box 4: Keep clicking Next until you get the Finish option.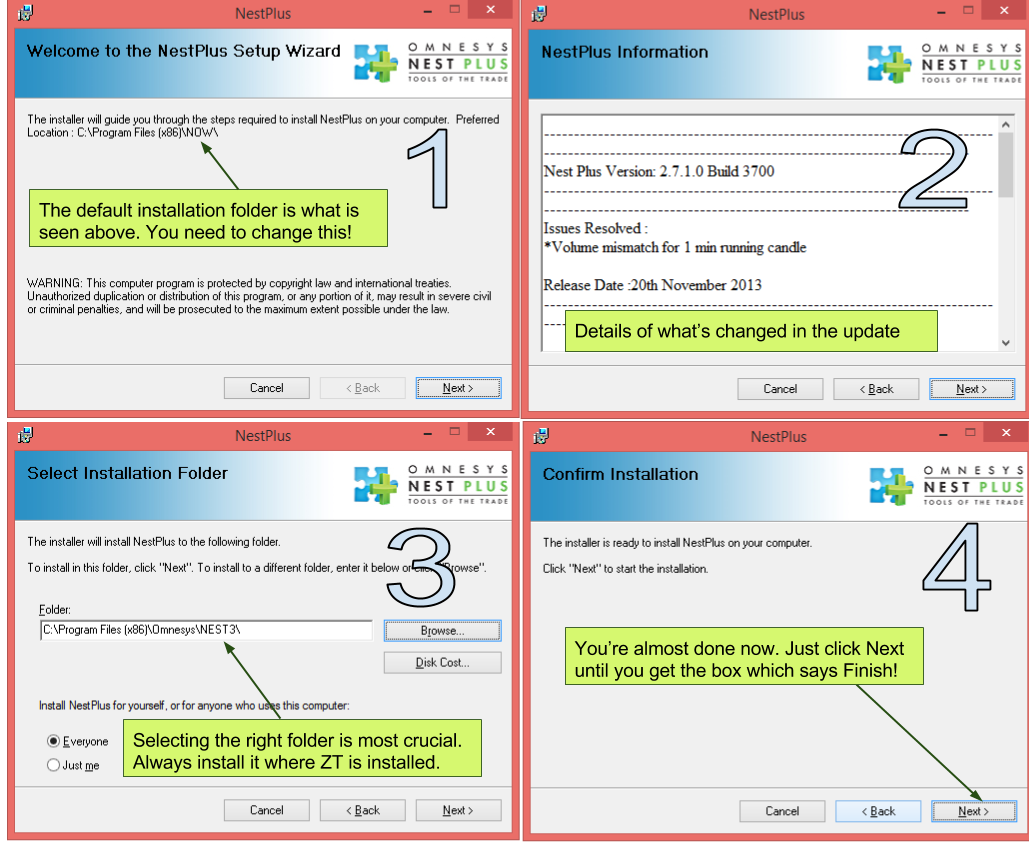 That's it. You're done. You now have the latest version of Nest Plus on your system. To cross check the version of Nest Plus on ZT, press Ctrl + Shift + P and you'll see a box like what you see below confirming your version.

At the end of it all, you'll think it was really easy. The key is to know how.
Happy Trading,
Team Zerodha