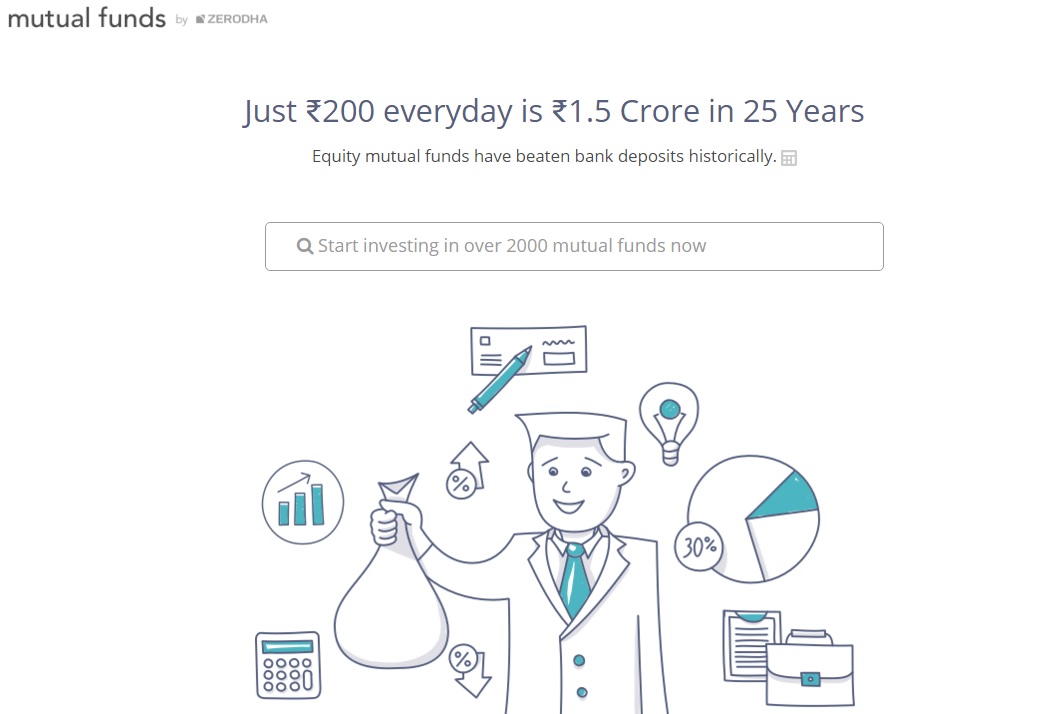 Traders and Investors, our mutual fund platform coin.zerodha.com is now live. Continuing with our tradition of innovation, there are many firsts.
Easy execution
Search any fund.
Analyze historical performance.
Click on Buy for lump sum or one time investment, and SIP (systematic investment plan) if you intend to invest small amounts of money at fixed interval automatically.
You are just one click away from buying any mutual fund after logging into the platform. To login use your trading (Kite) login ID and password. Currently  mutual fund purchases are enabled for only those clients who have Zerodha demat account (Not IL&FS or any third party demat account) mapped to the trading account. If you don't have a demat account opened yet, print the pre-filled form available here, sign, and courier to have the account opened within 24 hours.
For everyone investing in mutual funds for first time, it is important to note that unlike stocks where price changes every second, the NAV (Net asset value) price of mutual funds change only once at end of every trading day. Orders placed to buy or redeem a fund are typically executed based on the NAV price of the next trading day.
Mutual funds in Demat
Among the first few platforms in India to offer convenience of holding mutual funds in your demat account along with all your stock holdings. A single portfolio view for all your investments.
Investments using a demat account also ensure that your dependents get easy access in case something unforeseen were to happen in the future.
Similar to how you can pledge stocks, exchange approved mutual funds (list will be shared soon) can be pledged to receive margin for trading F&O. Essentially investing in mutual funds at Zerodha will be very similar to investing in stocks.
Zero fees
Mutual fund investments similar to investing in stocks at Zerodha will be absolutely brokerage free.
Order placing
All orders to purchase or redeem mutual funds placed before 1.30 pm are placed on the MF execution platform (BSE Star MF) on the same day (T day), and will be executed on the end of day NAV price.
Orders placed after 1.30 pm are placed the next trading day (T+1), and will be executed on the T+1 NAV price.
Buying mutual fund requires you to enter the value or amount in rupees whereas redeeming requires you to enter the number of units. This is different from stocks where you enter quantity of stock and price at which you want to buy or sell.
Out of the 40 AMC's in India, we are currently empanelled with most of them. If you are not able to search for a particular fund house, it means we are in the process of getting empanelled with them.
NAV tracking conditional orders
For the first time in India you can now set conditional orders which  track the NAV price. Whenever your preset NAV trigger price is reached, an order with value  to buy or redeem mutual fund units is placed.  NAV's are declared by mutual funds before 11pm everyday, and such NAV tracking conditional orders are placed before 1.30 pm next trading day if your set NAV trigger is met, to ensure you get to buy or redeem immediately.
These orders are good or valid until cancelled. An email alert is sent as soon as any conditional order is placed. This will ensure that you don't have to keep checking NAV prices, and can run your investments in MF on an auto mode.
You can place similar orders like above to redeem mutual fund units by visiting your portfolio and clicking on redeem. You can also cancel all pending conditional orders and view your order history as shown below.
Easy SIP
SIP or systematic investing plan is when you invest small periodical amounts instead of lump sums. This is a very popular way of investing and rupee cost averaging over long period of time ensures that investor gets maximum value even with volatility in the markets.
Traditional mutual fund platforms require you to sign up ECS or NACH mandate so that these small periodical amounts can be debited from your bank accounts. This is quite a tedious on-boarding process, and requires one mandate for every fund house.
On the Zerodha MF platform, you can start as many SIP's as you want with a click of a button without having to sign any mandate forms. As long as you have funds available in your Zerodha trading account on the buying date set by you based on your SIP interval, the SIP order will be placed. We will also send an email alert before the SIP date.
All SIP orders can be paused and restarted anytime by visiting the SIP menu as shown below.
Don't know where to start?
We have selected three funds for you to get started investing in mutual funds. A diversified fund for long term wealth creation with no lock-in period, a tax saving fund to create long term wealth but with a lock-in period, and a debt fund for fixed income with no equity exposure.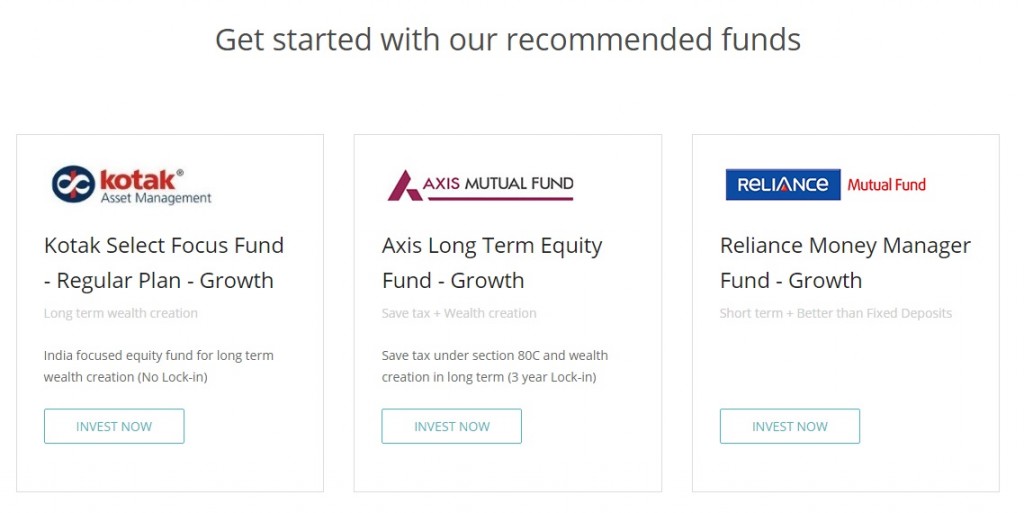 Visit coin.zerodha.com to start investing in mutual funds now.
Happy Investing,