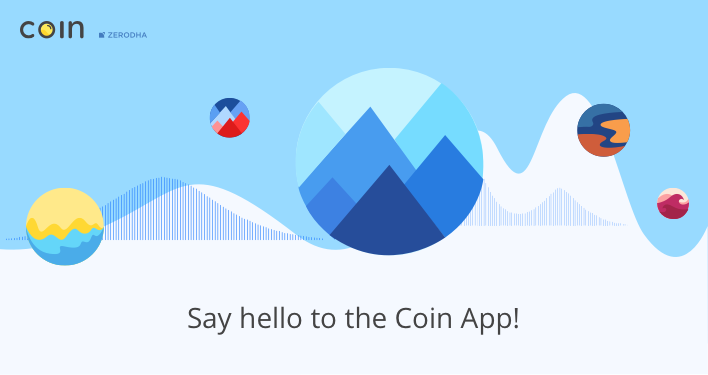 Investors,
It's been over 5 years that SEBI made it mandatory for all mutual fund houses to offer direct plans. Even so, around 90% of retail individuals still invest in regular funds as they don't know the difference between regular and direct plans — the ridiculous commissions paid out from their investment on regular plans for as long as they are invested. The reason for this is because businesses/distributors don't have any incentive to sell direct plans and let go of all the earnings that they make selling regular plans. Also, since we Indians don't like paying money for just advisory, it is extremely tough to set up a business just around selling direct mutual funds.
We started Coin with the goal of helping investors save commissions by offering them a platform to invest in direct mutual funds without any hassles. By offering them in demat mode, we not only offer the convenience of a unified portfolio across equity, mutual funds, ETFs, bonds, currencies and commodities, but we can also settle mutual funds similar to stocks – hence reducing our business overheads. This has helped us build a sustainable platform while still offering direct mutual funds where we don't earn any commission from the fund house.
We launched Coin web in April 2017, and just over a year later, 80,000+ investors have invested over 2000 crores collectively saving 30+ crores in commissions – making Coin India's largest direct mutual fund platform.* Special thanks to the BSE StAR MF platform for enabling all of this.
Dematerialise your existing investments and track them on Coin. Dematerialisation charges will be waived off until 31st October 2018! Read more.
Today, I am super excited to announce the launch of the Coin Android and iOS apps.
You can now invest in direct mutual funds on the go in just a few taps. The Coin app has been built to make the investing experience as easy and seamless as possible. Here's what's in store:
Login with Kite
You can log in with your Kite account to start using the app. Once logged in, you will see a brief snapshot of your portfolio, list of top funds being bought on the platform, and the best funds in the category to help you get started if you aren't sure.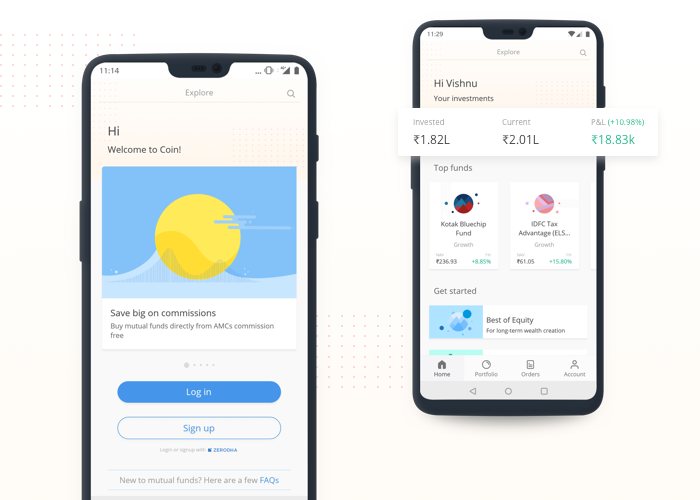 Intuitive search
In spite of the scheme re-categorization mandated by SEBI there are still over 3000+ mutual fund schemes in India, and choosing the right fund can be a tedious process. With that in mind, we have built the Coin search to make the process of finding and selecting a fund as easy as possible. Click on "Explore" once logged in.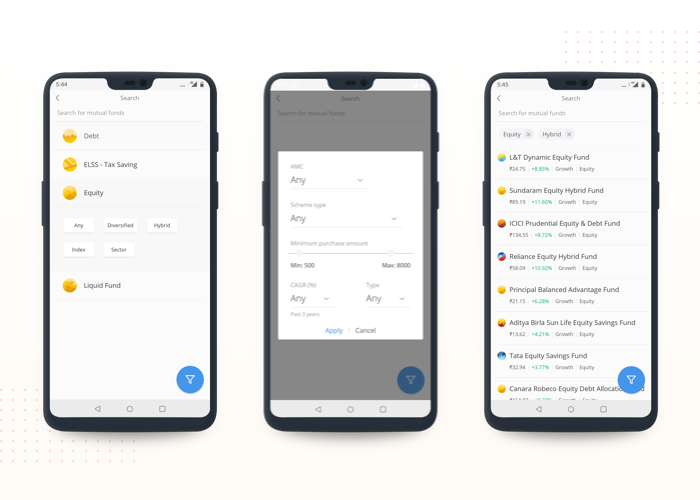 You can directly search for a fund or browse across debt, ELSS, equity, and liquid fund categories. You'll also see sub-categories under debt and equity to further simplify the process given, the wide array of funds under these 2 categories. You can easily filter funds based on the AMC, scheme type, minimum investment, CAGR and more.
New to mutual funds?
Investing on Coin just takes few seconds. Search for the fund, select the mode of investment – SIP or Lumpsum, enter the amount you wish to invest, select the frequency, and you're done.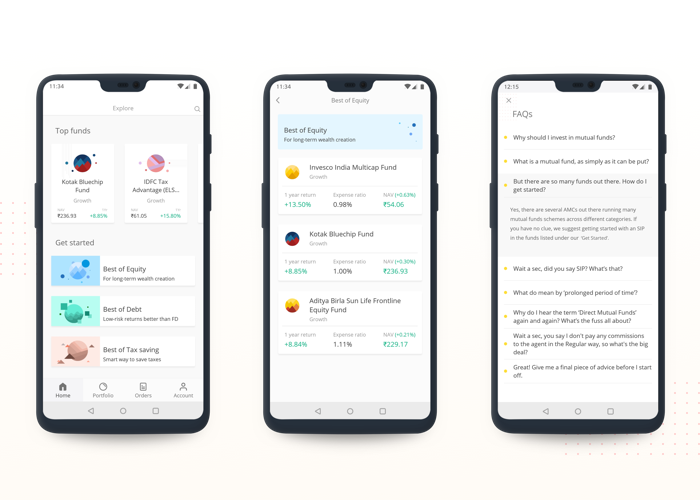 If you're new to mutual funds, then check out the "Get started" section. We have created a few FAQs to help you familiarize yourself with the concept of mutual funds.
Portfolio
You can check the funds invested and P&L in this section.  You can now also track XIRR of your portfolio along with absolute return % (By selecting your preference in the "Account" section).  If you wish to make additional investments or redeem a fund, just click on the respective fund. You can also filter your portfolio based on the invested amount, current value, and P&L.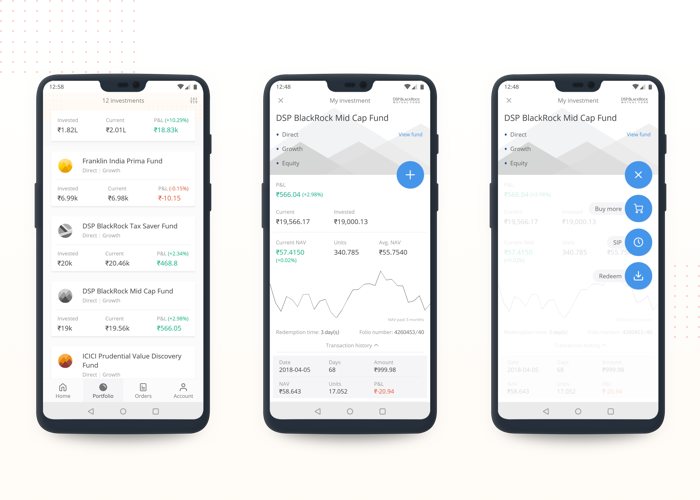 Check this post to know more about XIRR and right ways to monitor returns of your portfolio.
Easy order placement
Search for the fund of your choice and place an order or set up an SIP in just two taps.
You can also place a conditional lumpsum order to be executed once a certain NAV is hit, set order frequency and the number of instalments for SIPs or create SIPs that will stay alive until you stop them. View the funds 1, 2, 3 and 5-year CAGR, the current NAV, expense ratio, and exit load and place well-informed orders.
Tracking your orders
You can easily track the status of your pending lumpsum & SIP orders, and order history from the orders section.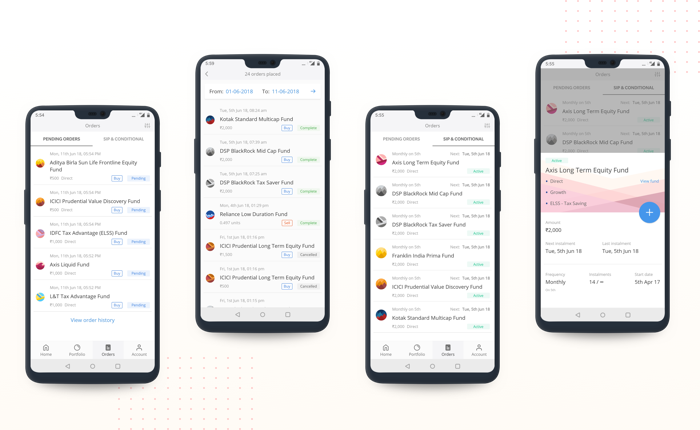 Your account
You can track your subscription, manage funds (add and withdraw), set the portfolio returns preference (absolute, XIRR) from the account tab. You can now transfer funds using UPI. Soon you will also be able to set NACH E-mandates online to debit funds directly from your bank account for SIPs. If you like Coin, you can also help us spread the word by inviting your friends.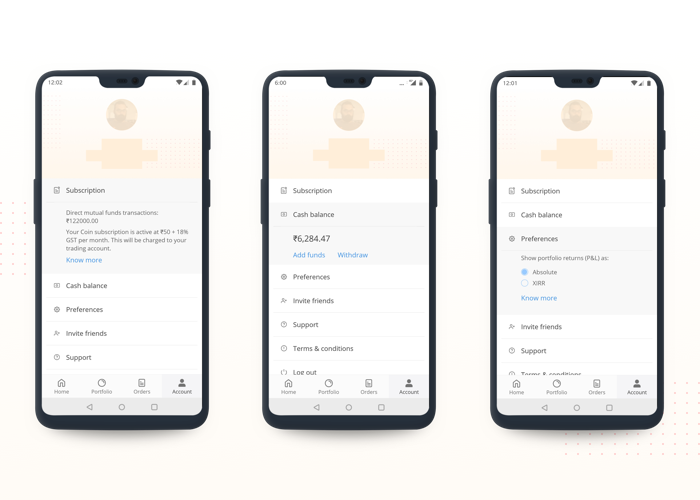 For more, you can check out app FAQs here.
Hopefully, all of you like the app. Download it here.
Help spread the word for direct mutual funds among your family and friends – you will be helping them save and earn a lot more in the long run.
Go Direct! ?
Happy Investing,