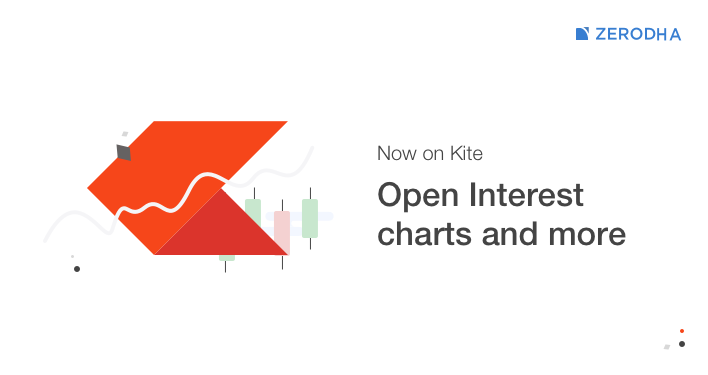 Open Interest (OI) is an essential factor to track when actively trading F&O contracts or their underlying stocks. You can check this chapter on OI on Varsity to learn more. Change in OI indicates the strength of the price move, as explained in Varsity. All trading platforms display only the current OI on any contract, but not the change, making it tough to use change in OI as part of the trading strategy.
We now have Open interest as an indicator on Kite charts. You can not only see the current OI but historically from when the contract went live.
Click on Studies on the Kite chart of any F&O contract and search for Open Interest
Open interest plot underlay
While tracking OI, it is crucial to know how OI is treated for institutional trades. This is the reason why you see a sudden change (mostly reduction) in OI after market closing every day. I have explained here in detail.
We have a few more updates:
There are many times we trade stocks without knowing if there is any stock specific event (Dividends, Corporate actions and announcements) around it or not, which can be detrimental to the trade. We have this covered for you going forward. You will now see an event alert on the Kite Marketwatch if there is any scheduled event within the next 3 days. For example, Infy went ex-dividend today 13th June 2019 by Rs 10.5 because of which the stock price is down by that much and not because of market reasons. If you did decide to trade Infy today, you would know this important piece of information which you otherwise may not have known. This is currently available only on Kite web and will take a few weeks before it shows up on Kite mobile. We will also try to have this alert for Indices for macro events (RBI policy, Inflation numbers, etc).
You can now initiate a chart, buy, sell, etc. without adding it to the Marketwatch and directly from the search window.
And yeah finally a very popular request, you can now initiate a chart for any scrip from an existing chart without having to add the scrip to the Marketwatch.
We have a lot more exciting updates and announcements lined up over the next few weeks for you, including the launch of Kite 3 mobile, which has the OI update on charts as well. The current Kite mobile app will also get these features in a couple of weeks. Do help spread the word through our new referral program.
Happy Trading,