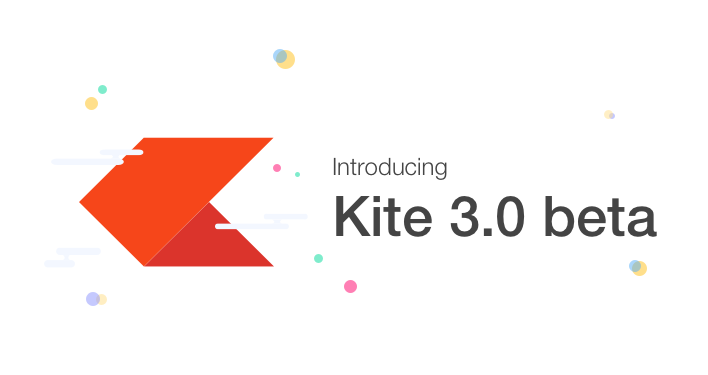 Traders,
Super thrilled to announce the launch of Kite 3.0 beta. It has taken our technology team one whole year to rebuild the vast Kite ecosystem from the ground up, all the way from the backend systems, APIs, and to the web front-end. We have learnt and adopted new technologies and have replaced the underlying ones completely. Kite 3.0 significantly improves on performance, design and UX, and comes with a host of new features.
We are today probably amongst the top brokerage firms in the world in terms of the number of daily users and trades (and most definitely in India). The biggest challenge for us, the one that has made updates and releases seemingly slower than before, is that more than just adding new features, we have to constantly innovate and evolve our technology stack to cope with the massive scale and volume.
Here's a gist of what's new in Kite 3.0. Visit https://kite.zerodha.com to get started.
All new login
The login page is now much faster and it is now customizable with your personal avatar for added security.
Personalise Kite with your profile photo
Just head over to the profile page on Kite 3 and set a display picture of your choosing. This will show up on the login page as well!
Browser notifications
Never miss any important notifications from us with the new browser notifications on Kite. You'll see all the messages we send on Kite no matter what application you're using.
Marketwatch & Dashboard
You can now customize your marketwatch to toggle the visibility of various fields to suit your liking. The dashboard now shows concise summaries of your accounts with a slick new visualisation of your equity holdings.
We have also increased the number of scrips that you can add to your marketwatch from 20 to 40.
Pin your favourite scrips as sticky global scrips on the top left header. I have Nifty and Sensex in the below image.
We've completely revamped the market depth view. You can now see dynamic market depth bars for a visual overview of what levels most orders are being placed and place an order at any price in the depth with a click on it.
Better Search/Filter
Search for specific scrips on your order book, filter by MIS/CNC/BO/CO, buy/sell order, etc.
Sparklines on Holdings (52 weeks)
See a brief overview of how the stocks in your holdings have performed in the last 52 weeks right from the holdings page.
Universal context menu
You no longer need to add a scrip to your marketwatch to invoke charts, view the market depth or the stock widget. Access all these functions from the universal context menu from the order book, holdings, and positions pages. Just click on the "…" button and you'll be able to do all of this.
This is what the market depth would look like when invoked from the order book/positions/holdings page. Place orders directly from the market depth view.
Floating order window
You can now reposition the order window anywhere on the screen and Kite will remember where you placed it next time you want to place an order. Just click and drag on the coloured header on the window.
Exit multiple orders/positions
You can now select multiple open orders/positions and cancel or exit them all at once. Use the search and filters described above to make this a lot easier.
Multiple chart view
You can now view up to 4 charts on the same screen using the multiple chart view. Just select the 2-chart/4-chart view from the display drop-down on the charts.
This will pop out a new tab with the charts of the 4 scrips you select. Apply studies, drawings, change timeframes,etc., for each chart individually as you see fit.
Trade from charts
This one has been a very popular demand and is now live! You can place trades from popped out charts without having to go back to the marketwatch. Click on the top-left corner of the chart to invoke the trading panel. Use the trade panel to view the market depth, your positions & open orders before you take a trade.
New order types
Bracket order with trigger entry
Another very popular demand we've had is to allow bracket orders with SL entry. This feature is now live with Kite 3.0 too! Check the example below, Buying SBI bracket with Trigger at 318 and limit price, when the stock is at 316.
Cover orders with limit entry.
This one has been live on Pi for quite a while now and with Kite 3.0, our web platform also allows placing cover orders with a limit price as the entry.
Repeat orders from the context menu
If you want to quickly to place an order which was already placed once again – both rejected and completed, use the repeat order option from the orderbook.
Equity aftermarket orders can be placed with the SL/SLM order types again.
Personally, it has been a pleasure for me to experience the new Kite 3.0 and I hope you enjoy it too! If you spot any issues, do report them on this form. We will soon update the Kite user manual and videos and phase out the old version.
Happy Trading,