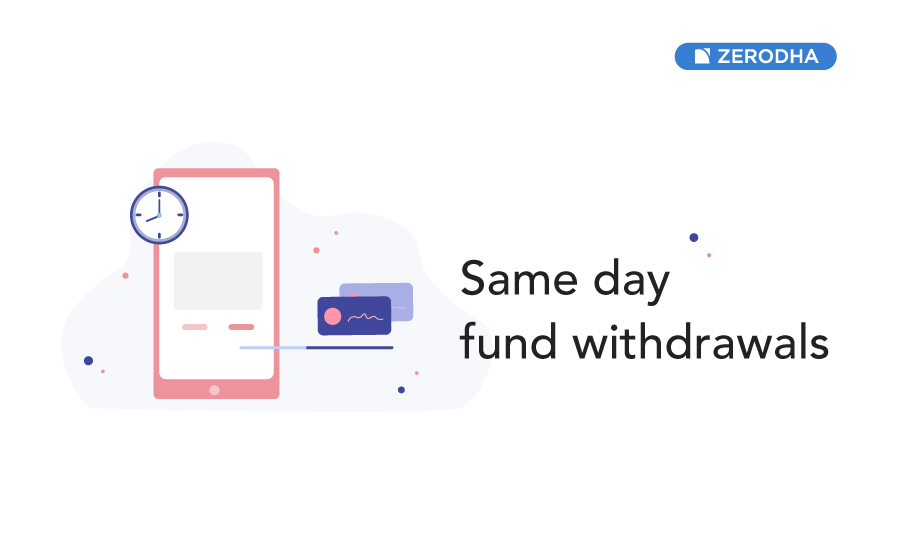 24X7 NEFT transactions are not available on the corporate portal of our banking partners yet. We are working with them to enable this for same day fund withdrawal for all our clients.
Introducing: Same-day fund withdrawals
Now withdraw funds from your Zerodha account to your bank account on the same day, any day of the week! The RBI recently published this notification instructing banks to make the NEFT payments system available 24/7 from December 16. With round-the-clock NEFT availability from December 16, you will receive funds in your bank account on the same day irrespective of what bank you hold an account with. Also, since NEFT is available on all days of the week and holidays, you needn't wait until Monday for withdrawal requests placed on weekends any more. We'll be working on weekends and holidays to process these requests so you get credit on the same day.
We currently process all fund withdrawal requests once, at the end of the day, after settling all trades and debiting charges. The fund withdrawals are then submitted to our bank to be processed using NEFT. Since we use HDFC Bank, our clients who also have HDFC receive funds instantly as it is an intra-bank transfer. All fund withdrawals to other banks typically get credited the next working day in the morning. This was due to the restriction of NEFT availability being only between 8 AM and 7 PM on weekdays and on 1st, 3rd, and 5th Saturdays of the month. Starting December 16, this will change, and you'll receive the credit of funds on the same day (contingent to RBI not extending the deadline and HDFC Bank being ready with this change).
Change to quarterly settlements
SEBI requires brokers to send back unutilized client funds from trading accounts to the clients' bank accounts at least once every quarter. Earlier, when quarterly settlements were due, funds placed for withdrawal would be credited to client bank accounts after the market opening (due to the aforementioned NEFT timings), which would have to be transferred back to take a trade, hindering trades at market opening and sometimes until late noon. This was a significant headache for active traders.
For clients who didn't want their unutilised money sent back to their bank accounts, we had offered an option to invest in liquid funds for one day in a quarter. Liquid funds are fixed income instruments, that would yield clients interest returns for the day.
While this was within the rules and regulations as clients explicitly instructed us to invest in liquid funds once a quarter by logging into our platform, we were advised by the exchanges to rethink this process. With the new 24×7 NEFT availability, the delay in funds being credited and deposited back is no longer an issue or an interruption to trading. Thus, we are revoking the option that allowed clients to opt-in for investing in liquid funds instead of fund settlement to bank Accounts. This will only affect a few thousand from our 1.8 million clients who had chosen this option. 
Coming soon: Instant fund withdrawals
And finally, you will soon be able to withdraw up to Rs: 50,000 instantly to your bank account. We are currently testing this and hope to make an announcement soon.
Update – December 16:
The banks are awaiting more clarity from RBI on the implementation of 24×7 NEFT. You'll start receiving the credit of your fund withdrawals on the same day post the implementation. We'll also start processing withdrawals on Saturdays and Sundays once this is live.
Happy trading,