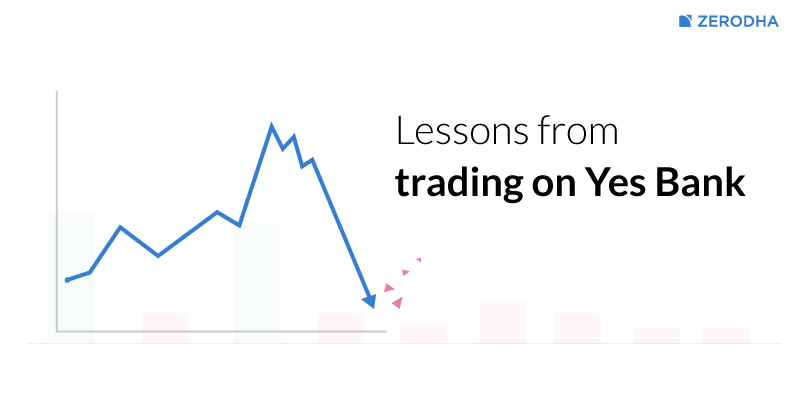 Over 7 lakh people currently hold stocks in their demat account with us. The current market fall has been quite sharp (especially in midcap and small-caps) and hurting most of our investment portfolios. While there has been wealth destruction across the board, three companies stand out not just in value lost, but also in the number of people who have been affected – Yes Bank, Ashok Leyland, and Tata Motors.
As a part of our risk management strategy, we monitor the aggregate movement holdings and positions across our client base. I am compelled to share some recent statistics given the crazy amount of wealth destruction. Nearly 2 lakh of our clients hold Yes Bank with an unrealized loss of over 59%; 1.25 lakh hold Ashok Leyland with loss of 40%;  over 1 lakh hold Tata motors with over 51% loss. Among the three, it's just crazy the amount of wealth Yes Bank has destroyed.
There are some valuable lessons to be learnt here.
What matters the most when trading isn't really the strategy or advice that gets you to buy a stock. I had bought a few shares of Yes Bank in my personal account during this fall myself considering it a value-buy, but the keyword here is "few". Even the best strategies never work 100% or even 90% of the time. If you toss a coin enough number of times you are right ~50% of the time. So, the strategy to enter a trade is not really that important, but what you do when the trade is on.
Here is the Yes Bank chart for the last year with the number of our clients who held the stock on different dates – 27th Aug 2018: 23681, 21st Sep 2018: 58909 (after the first fall), 22nd Aug 2019: 196417 (post all the blood bath).
Buy low – sell high is a myth
We have been sold countless discounts and freebies thanks to VCs/PEs pushing companies to do whatever possible to grow fast. This has generally put more money in the hands of all of us, which is a good thing. In the business of trading though, if a stock price is down and it seems like it is a cheap buy, odds are, it will continue to become cheaper. The optimal way to trade is to buy stocks that are doing well and sell them higher as they grow.
Avoid averaging down
Averaging down means continuing to buy a stock on its way down to reduce the average acquisition price in hopes of turning losses into profits with a smaller uptick in the market price.
This is the single biggest mistake made by traders not just beginners, but also the experienced. 1.96 lakh of our clients who currently hold Yes Bank have bought the stock on an average at least 4 different times, mostly on the way down considering how the stock has behaved the last year. Yes, there are many times where averaging down might have worked, but the issue with this strategy of averaging down is that one bad trade is enough to wipe out all previous earnings and more.
Have a stop-loss
In this entire fall, if someone bought Yes Bank, I don't think it was a very bad trade. It is a bank that has done well in the past and if the stock price is down over 80% from the top, it is extremely tough to resist the temptation. I got sucked into buying it as well. But, here is the most important aspect of trading stocks — before you put any money in, make peace with the maximum amount that you are willing to lose on it, or know your stop-loss. Follow either of the below rules.
Only invest money that you can afford to lose completely, where you are ready to hold it forever, where it does not make a material difference to your life. Here, your investment value itself is the stop-loss, which is what I personally follow.

Have a stop-loss to ensure you get out when the investment turns against you. For beginners, ideally, no single trade should result in more than a 1% loss on the trading capital. This 1% number can gradually grow with experience and profitability. That is, if your total capital was 1 lakh, only around 5000 should have been invested in Yes Bank, with a stop-loss of 20% (1000, 1% of 1 lakh). On breaching this stop-loss, the position should've been exited completely, booking losses.

 
You can use our GTT (Good till triggered) orders for long-standing stoploss orders on your holdings.
Taking such small trades might seem immaterial, but that is the only way to survive. Those who hit lotteries by being extremely aggressive typically end up losing all the winnings in the long run.
The disposition effect
The disposition effect is the tendency of investors to sell assets that have increased in value and hold on to those that have dropped in value. This is a real problem that traders have to fight against all the time. Check this link for more. One of the ways to avoid it is to practise hedonic framing, a mental exercise. Do look this up.
Mix technicals with fundamentals
I did a podcast with Jack Schwager last year (if you don't know Jack, make sure to read Market Wizards, a must-read for everyone who wishes to do anything in this trading business), check this link.
A big issue trading stocks with popular fundamental analysis strategies, especially for retail traders is that, when the stock price falls, the reason to buy the stock just feels a lot better. So if you bought Yes Bank thinking it was a value buy because the PE went from 40 to 20, at a PE of 10, it becomes much more attractive. This could tempt you into "averaging down". The best thing about technical analysis (TA) is that most strategies don't allow you to go against the trend. This means typically TA won't allow you to buy a falling stock. By incorporating simple TA strategies like moving averages into your trading as a means of building discipline, you can potentially avoid wealth destruction.
Should I hold or buy Yes Bank?
I have no idea 🙂 I don't think there are any out there who do as well. But if you are someone who has lost some money on this, think of the loss as a fee you've paid to learn the above lessons. 
Happy Trading,