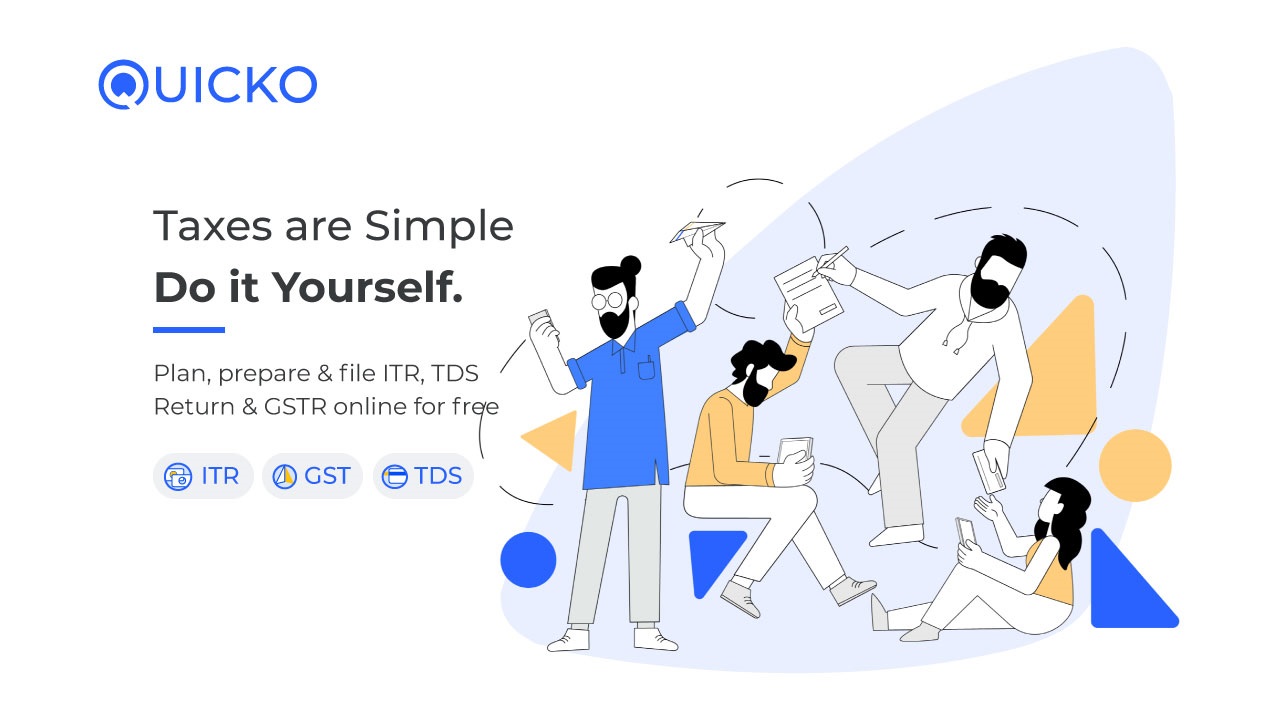 A super important part of trading is filing income tax returns (ITR), irrespective of whether you're profitable or have made losses. Through the Markets and Taxation module on Varsity, we have not only explained all aspects of taxation, but also answered thousands of queries. It was obvious that just education isn't enough, but we need to find a way to help all our customers file their ITR with ease.
With this in mind, we have partnered with Quicko, an online tax filing platform via our Rainmatter initiative. Below is a post from the Quicko team introducing themselves.
---
Quicko is an online tax planning and filing platform. We are a team of designers, programmers, accountants & content creators on a mission to simplify taxes for all.
We believe taxes are a summary of your financial year. You may have started a new job, changed a job in search of adventure, bought the perfect house for your family, invested in a long-term financial goal, or traded capital markets. We help you claim tax deductions for important life events, optimize your income so you pay less in taxes, pay taxes on time to avoid penalties, and when the due date comes, we help you file your tax returns with the utmost ease.
We have created a Form-16 App for salaried individuals to file Income Tax Return in 3 easy steps. Salaried individuals can simply upload their Form 16, review, and file income tax return within 5 minutes.
All our tech is built to make your tax filing experience easy and accurate.
Our "Tax Breaks Engine" optimizes deductions from over 50 Income Tax sections, saving you thousands in taxes.
We calculate taxable salary, house property, capital gains, and other incomes with ~100% accuracy, eliminating arithmetic errors.
The "Rules Engine" validates your Income Tax return against more than 421 rules prescribed by the IT Department and reduces chances of you receiving an IT notice.
Our simple, conversational interface is why more than 50K taxpayers have chosen Quicko to file their tax returns already! It is simpler, faster, and cheaper than going to a traditional tax professional.
We also help traders determine the right ITR form, the applicability of tax audit, due dates, and calculation of turnover as per the Income Tax act. We have set up zerodha.quicko.com for Zerodha traders trading Equity, Intraday, F&O, and Commodities.
We have also set up learn.quicko.com to inform & educate taxpayers on important tax matters such as Income Tax Forms, Due Dates, Penalties & Refunds. We are India's "Most Viewed Authors" on Quora with more than 1000 answers & 5 million views.
We are available on Trading Q&A to answer any queries you may have on taxes. Our New Year's resolution for 2020 is to bring webinars & courses on your favourite Zerodha channels. Stay tuned!
Check out this short video to know more about the platform: https://youtu.be/Ddi-4okR6wY