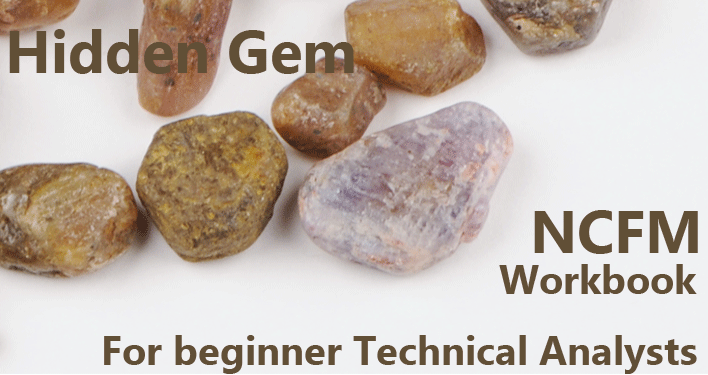 Traders,
Review: NCFM (NSE's certification on financial markets) workbook on Technical analysis
Price Discounts Everything !
Technical Analysis is the science or an art of forecasting the direction of prices through the study of past market data, primarily price and volume. Technical Analysts (TA) don't question the information that can affect the price like a Fundamental Analyst but believe that price movements are not totally random, and prices move in trends. TA's use charts to look at trends in the past and assume that prices will behave the same way as in the past under similar circumstances.
It is important that every beginner to intermediate trader follow and have a sound understanding  of technical analysis, which would mean avoiding taking counter trend trades, one of the foremost reasons for amateurs blowing up their trading accounts.
A hidden gem for everyone looking to learn the basics of Technical Analysis, and available completely free on the NSE website is: NCFM workbook on Technical Analysis. The book starts of  with an introduction to technical analysis and candlesticks just enough to not bore a beginner, goes onto pattern study like Head & Shoulder, Indicators and Oscillators like EMA and RSI, and introduction to Dow and Elliot wave theory. It also has a very interesting section on trading psychology, and risk management with introduction to concepts like Stop-loss and Risk Reward Ratio.
I would give this a 4.5/5 and would say is a must read for all beginner traders.
So before you spend another penny on a new book,make sure you download and read up the NCFM workbook on Technical Analysis.
Happy Learning,