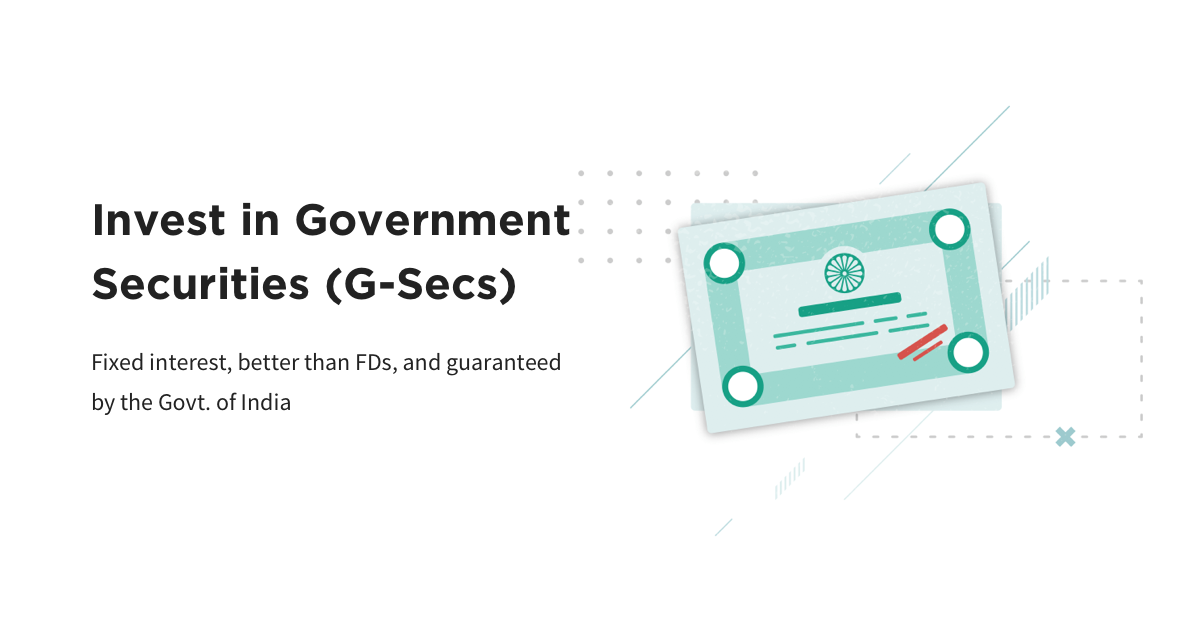 Investors,
We Indians love fixed income instruments, hence over Rs 110 lakh crores sit in bank fixed deposits (FD) and over Rs 10lk crores (over 50% of total MF AUM) in debt mutual funds. What most of us don't know are the various alternatives that exist which are better than bank FD's, namely Government Securities (G-Secs), Corporate bonds, Tax-free bonds, and more. 
Over the last 8 years, thanks to all your support, we have been able to become the largest retail stock brokerage by trading turnover and 2nd largest by active clients. We are now working on introducing fixed income instruments, educate, help you invest and optimize returns.
Introducing Government securities (G-Secs)
What are G-Secs?
In order to meet its fiscal expenditure, the government has to borrow money. The RBI issues T-bills and Bonds on behalf of the Govt to raise money by offering a fixed return on investment. Very similar to how banks give interest on fixed deposits and use that money to lend to others, Govt uses it to run our country. G-Secs is a collective term for these two type of securities: maturities less than 1 year are called T-bills and those more than one year are called bonds.
Make sure to read this chapter on Varsity which explains about G-secs in detail.
Why G-Secs?
G-Secs across maturities offer higher yields compared to bank FD's. You can potentially lockin the interest rate for as long as 40 years whereas FDs have a maximum tenure of 10 years. 
G-Secs are guaranteed by Govt of India and are virtually risk-free, unlike bank FDs. Did you know that if a bank defaults, deposits are only guaranteed up to Rs 1 lakh under deposit insurance and credit guarantee scheme of India. Debt mutual funds can lose value, as you must have realized in the last few months during the NBFC crisis. 
How to invest?
The exchanges open a non-competitive bidding window every week for G-Secs. Bids for T-Bills are collected from Monday to Tuesday and for Bonds from Tuesday to Thursday with cut-off time at 8 PM. Apply using your Zerodha account and the funds will be deducted from your trading balance. G-Secs will be credited to your demat upon successful allotment within 2 days and all interest payments will be credited to your bank account.
Head over to coin.zerodha.com/gsec and click on Invest now.
Place an order against the G-Sec of your choice. The minimum amount is Rs 10,000 and multiples of 10,000 up to Rs 2 crores can be applied at one time. 
Ensure to have sufficient funds in the trading account on the bid closing or application date. 
Help spread the word on a much better alternative to bank fixed deposits. Based on the response we will start working on offering other instruments like corporate and tax-free bonds. Make sure to check out for taxation and more on varsity module on G-Secs. 
Happy investing,