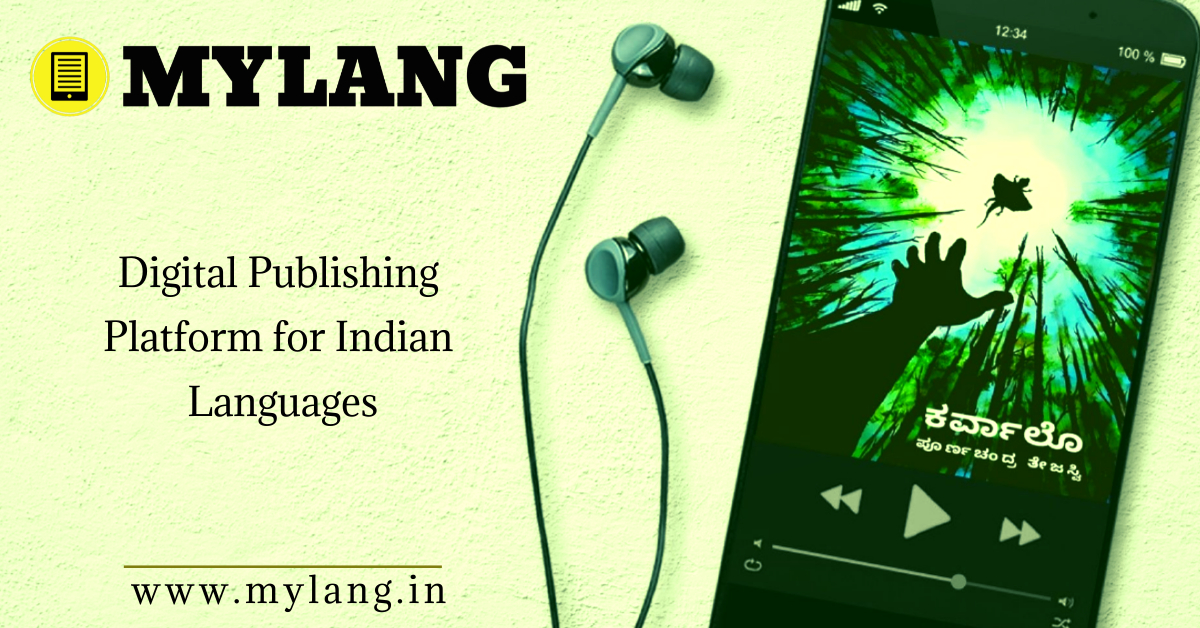 When I saw MyLang's website for the first time, I beamed. An Indian platform that creates, hosts, and promotes literature in Indian languages (beginning with a neat Kannada catalog). When Pavaman described to me how the project had taken shape over two years, it was impressive. The platform was already bringing together authors, scholars, storytellers, publishers, voice artists, and studios. It immediately felt like a project that should exist, that should have existed a long time ago, for literature in all Indian languages. We are happy that as Rainmatter, we are able to support MyLang in its pursuit of creating a digital platform for Indian literature in all languages. – Kailash
Here's an introduction by Pavaman Athani, the Founder & CEO of MyLang.
---
I grew up in a small town in Karnataka in an era when literally my only window to the big, mysterious world was via Kannada books. Whether it was timeless Jataka tales appearing in Chandamama magazine or the thrilling contemporary detective stories appearing in Kannada weeklies, our lives were filled with stories of the world, told in Kannada, the only language we really knew. Even my curiosity towards such fields as anthropology, ecology, and astrophysics was kindled by Kannada books written by such greats as Tejaswi. In short, I can say, whatever I am today is majorly influenced by what I read in my childhood. 
Then something happened. I started consuming more and more content in English. Undoubtedly, this broadened my horizons. I did not stop consuming in Kannada either, but increasingly a pattern started to emerge for me. If I wanted something modern and contemporary, I would consume that in English. If I wanted something for the soul (aka "right brain"), I would consume that in Kannada. Now, both are essential, no questions about that. This looks fine for someone like me, who is literate in both languages. But, is this an ideal circumstance for everybody?
Cut to 2019. After exiting my previous software consulting business, I got some time and space to ponder the above question again. This was the moment of conception for MyLang. My business partner/co-founder Vasant joined me at this stage. Vasant, having come from a similar background as me, was in instant alignment with me on the need to disrupt publishing in Kannada with an aim to re-open windows to the world via Kannada, to make it a medium for not only enriching our souls but also to bring contemporary knowledge and imagination to Kannada minds. But, as it turns out, a window opens both ways! There is as much that Kannada can give to the world as it can receive. This is true of all Indian languages. Indian languages are the carriers of timeless wisdom, the greatest imagination, and the highest desire for a rich and meaningful life. 
We built MyLang with all Indian languages in mind, though we started out with Kannada, closer to home. Simply stated, MyLang is a modern digital publishing platform for Indian languages. We launched in March 2020, and have come a long way since then. We have made available thousands of content pieces in text and audio formats to our users in Kannada. These span evergreen classic novels to serious non-fiction books to contemporary serialised audio stories. We have provided a platform for young and aspiring writers and creators to gain audiences for their creative works. Not only that. We have generated a royalty stream for our publishers big and small, and for our independent writers coming from small towns and villages. All this was powered by ground-up technology that we built to deliver content instantly, digitally, and securely to our users.
Earlier this year, we decided it was time to take MyLang to other Indian languages. It was time to scale! Thanks to our angel investors, we had come this far to gain devoted users, committed creators, and publishers. But, now, we needed our next level of funding to scale to other languages and to invest in deeper and disruptive innovations, by leveraging technology. So, we started talking to potential investors. 
As a part of my reach outs, when I wrote to Nithin (Zerodha!), I didn't even actually ask for money! I only told him about our vision and sought advice. He responded literally within minutes and connected me with Kailash (Kailash Nadh, or K). In the next couple of days, I found myself sitting and chatting with K on opposite benches in a neighbourhood park (with masks on! They were COVID-19 times). K has immense love and concern for Indian languages, apart from being a hardcore techie. He has worked on and supported truly remarkable initiatives around Indian languages. By the time we met, he had already looked at MyLang, and he told me in simple terms that projects like MyLang are important and must thrive. I got a solid investment commitment from him right then and there! It was dreamlike for me and will remain a pivotal moment in my entrepreneurial journey. Supermorpheus joined the round at this stage as did some of my truly supportive friends in an individual capacity, who all believed in our vision. 
This seed round of funding, led by Rainmatter, will greatly help us in expanding MyLang to many other Indian languages, but also to create technological breakthroughs to help unleash immense latent creativity in Indian languages waiting to be liberated. The journey ahead looks exciting and exhilarating for team MyLang!