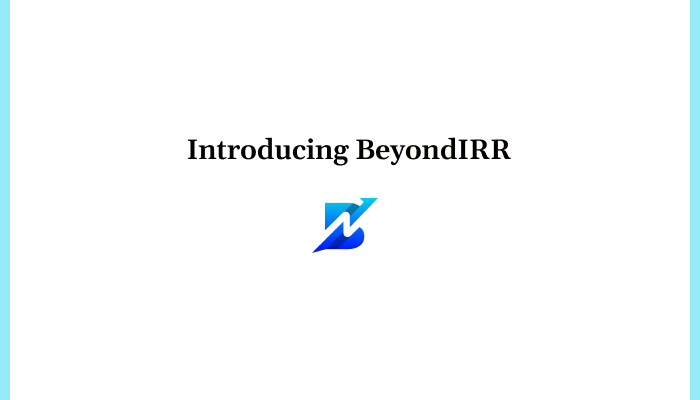 Like we've alluded to multiple times in the past, without a vibrant advisory ecosystem of advisors and distributors, there's only so much the Indian markets can grow. Sure, the investor base has grown quite a bit in the last couple of years. But if the markets have to continue growing, we'll need lakhs of advisors and distributors to attract new investors who can't invest on their own to help them stick around when things get rough. But Indian advisors and distributors today face serious challenges across the board, from the right tools to manage their practice, data and analytics to help them deliver better advice and easy access to more financial products.
Parag and his colleagues started BeyondIRR to solve some of these challenges for advisors and wealth firms. Listening to Parag and the team over the past few months has also given us a deeper understanding of the challenges in the Indian wealth management industry. We are super optimistic that what they are building can not only make the lives of advisors easy, but also hopefully attract new advisors.
---
Over the last 15-20 years, we witnessed the challenges faced by investment specialists, relationship managers of wealth units of large financial institutions as well as IFAs, RIAs and MFDs. We are building BeyondIRR with an aim to solve the challenges that these investment specialists face while running their wealth business. 
Many of these challenges are related to making sense of current market conditions, selecting the right product for the client, creating insights into client portfolios for discussions and offering differentiated investment product options to wealth clients.
At BeyondIRR, our vision is to build a B2B wealth-tech business to assist investment specialists in delivering a better advisory experience to their wealth clients. Our tech-enabled and insight-driven platform would enable them to have engaging conversations with their clients on markets, products and portfolios. Our tools would help them prepare for client meetings with actionable insights and our proprietary tool would empower them to deliver high-quality portfolio proposals and review presentations instantly. We also aim to provide them access to products that are currently accessible to only a select few so that they can offer such niche products to their clients. 
We are extremely happy that Rainmatter has shown confidence in what we are building. We are sure that with their support and guidance, we will be able to deliver an even stronger platform enabling RMs and IFAs to deliver what is right for the client.
Follow Parag and BeyondIRR to keep track of what they're up to